New title sponsor, new Schumi partner for Haas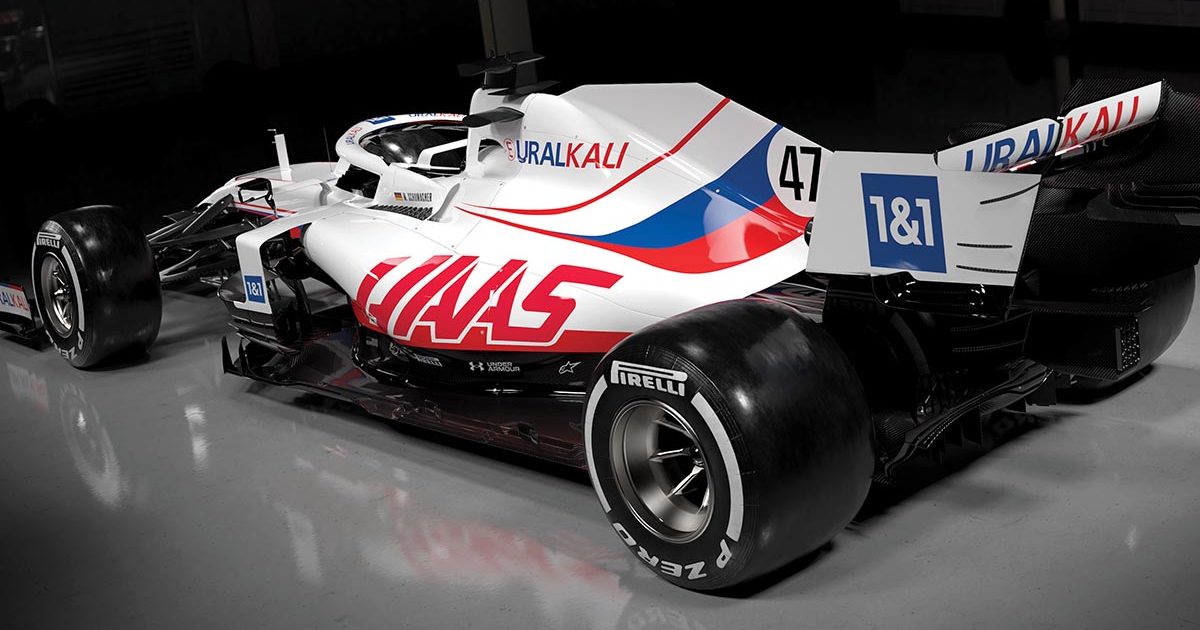 Haas' VF-21 livery launch coincided with two major announcements of a new title sponsor and a new partnership involving Mick Schumacher.
If one element was made abundantly clear when the virtual covers came off the American outfit's 2021 challenger, it was the immediate impact and influence of the Mazepin family and the significant funds they bring to the team.
Father Dimitry Mazepin has found his son, Nikita, a seat on the Formula 1 grid and with that also comes Uralkali, Dimitry's potash fertilizer production and exportation company, becoming the new title sponsors of Haas. Not to mention the colours of the Russian flag being adorned on the new VF-21.
"I'm very pleased to welcome Uralkali to Formula 1 as title partner to Haas F1 Team," said Gene Haas, chairman of Uralkali Haas F1 Team.
"We look forward to representing their brand throughout the season. It's an exciting time for the team with Uralkali coming onboard and having Nikita Mazepin and Mick Schumacher driving for us.
"It's definitely a case of all change but I'm hoping that we get back to being in the mix for scoring some points at these races. It's been a tough couple of seasons, but we've also got our eye on the bigger picture, in particular 2022 and the implementation of the new regulations."
Team principal Guenther Steiner added: "I happily echo Mr. Haas's comments, we are pleased to be partnered by Uralkali this season and beyond.
"We approach a new season with a new title partner and two new drivers, it's going to be an exciting year head – hopefully exciting only in a good way though. We face a year of learning with the drivers while technically we look ahead to the future.
"It's no secret that the VF-21 will not be developed as we focus our energies now on the 2022 car and, what we hope, will be a more level-playing field.
"We all know roughly where we expect to be this season in terms of the competition, but we must ensure we're there to capitalize on opportunities when they present themselves.
"But first we have to get the guys dialed in at testing. Time behind the wheel is short – so it'll be a steep curve, but I'm personally looking forward to seeing their development as drivers and as team members within Uralkali Haas F1 Team."
An American team with a Russian livery and a German driver. Now that's quite the mix!

Here are a few more shots of the new VF-21 livery…#F1 pic.twitter.com/mVvMXUbq6h

— Planet F1 (@Planet_F1) March 4, 2021
Sign up to the official Formula 1 store and save 10% on your first order!
But the draw of Mick Schumacher has also come to fruition via the way of a new partnership with 1&1, a leading German telecommunications provider, which will see the son of the seven-time World Champion, Michael, become the brand ambassador. The 1&1 logo will also feature on the VF-21 car.
"Uralkali Haas F1 and Mick Schumacher complement our sports sponsorship activities perfectly," Ralph Dommermuth, CEO of 1&1 Drillisch AG, said.
"The team is starting the new season with a fresh energy. With the reigning Formula 2 world champion, Mick Schumacher, one of the most up-and-coming drivers is on board.
"Add to that innovative engine technology from Ferrari and five years of Formula 1 experience, Uralkali Haas F1 Team has many exciting elements which we hope will make for an exciting and competitive 2021."
Follow us on Twitter @Planet_F1, like our Facebook page and join us on Instagram!