New Renault CEO reminds Abiteboul of 'Ford v Ferrari'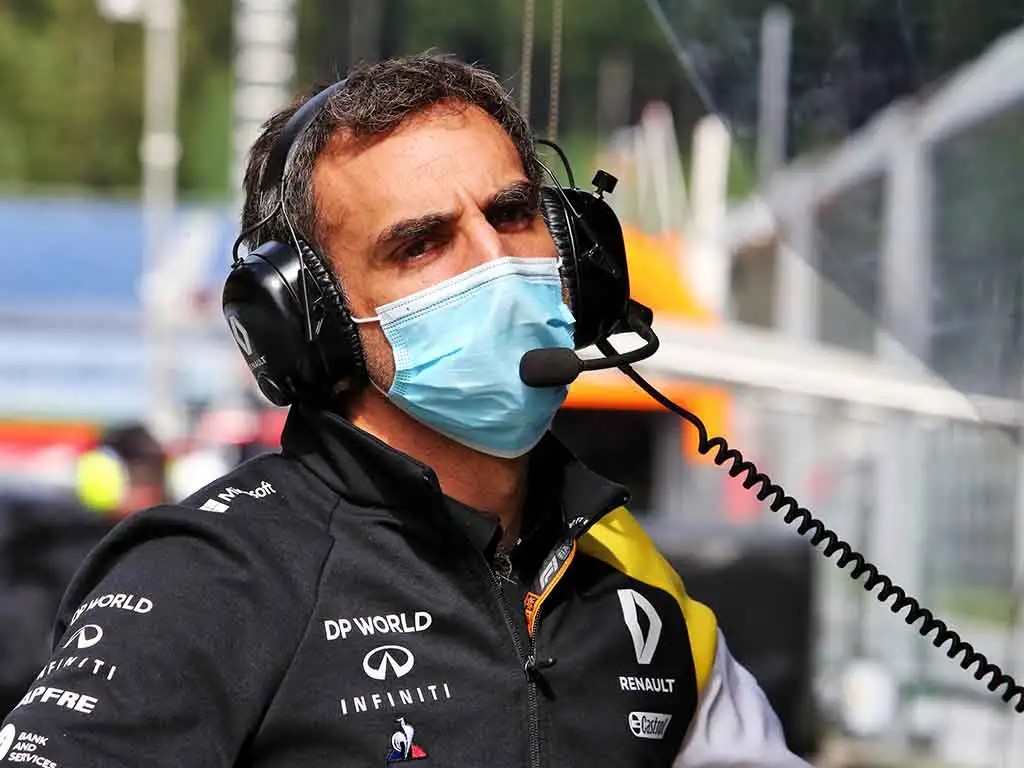 Renault F1 boss Cyril Abiteboul sees similarities between the company's new CEO and the 1960s rivalry between Ford and Ferrari.
Renault's future in Formula 1 has been secured with the team set to rebrand to Alpine from 2021. New CEO Luca de Meo sees Formula 1 as a vital marketing tool for the Alpine name.
There is clear ambition behind the team, and that has got Abiteboul making comparisons to how Ford built the GT40 in the 1960s which went on to triumph over the dominant Ferrari team at Le Mans in 1966, the first of four consecutive wins for Ford in the famous event.
That rivalry was of course turned into the wildly successful 'Ford v Ferrari' movie, and Abiteboul thinks de Meo brings a similar spirit with him to Renault in 2020.
Who knows, one day we could have 'Renault v Mercedes'.
"Even if he is not going to interfere on a day-to-day basis, it's a game changer for me to know that I have someone in the back expecting that the team delivers, which is absolutely fundamental, but who is also here to help at any point in time," Abiteboul told Motorsport.com.
"He has got a good knowledge of sport, and a good knowledge of the people. Also his knowledge of the sport means he values and he appreciate the difficulty and the competitiveness of this sport.
"For me, if I draw a little bit of a comparison, it's like the movie Ford v Ferrari. For me he is approaching it not purely as a business, but also with the emotion and the determination that Ford had in the past when they decided they wanted to beat Ferrari."
Barcalona test 2021… @alo_oficial first outing.

What if Alpine ran with a proper French racing blue instead of the dark chrome..

Model: @RaceSimStudio #f1 #f12021 #formula1 #alpinef1team pic.twitter.com/g1hlAABPzB

— Daniel Crossman (@dnlcrssmdsgn) September 17, 2020
Get your hands on the official Renault 2020 collection via the Formula 1 store
Renault are interestingly enough winning a battle of their own with Ferrari in Formula 1 this season, but right now it's for P5 in the Constructors' Championship.
And Abiteboul made it clear that going forward he expects more from the team, even though this year they are consistently hovering just outside the podium places for the first time since returning to the sport in 2016.
"It is a sport where only the result of laptime and ultimately the championship matters," he said.
"And in that, it is still not that not good enough. But if there are some good sign of progress that is good.
"I think we had a few years back some good progression, and I think that progression sort of stopped, due to what was probably at the time a wrong aerodynamic concept of the car.
"So we made the decision to go for quite a different aerodynamic concept, which is always a risk, in particular for an organization size like ours. But actually we've been able to not only to recover what you lose in changing concept but also progressing. And we see that it's working.
"We've had good upgrades, good development in the winter, good upgrades at the start of the season. And there is a bit more to come.
"What we see is that the team is starting really to work better together with all the changes that have happened, and we have a better understanding of the car.
"But the reality is that I think we are still unable to extract all the potential of the car and the team.
"We have failed to score what we should be scoring and therefore to be where we would like to be, so I'd prefer to focus on the negative rather than on the positive in a field that is so competitive."
Follow us on Twitter @Planet_F1 and like our Facebook page.