Latifi's engine woes started with avoiding Gasly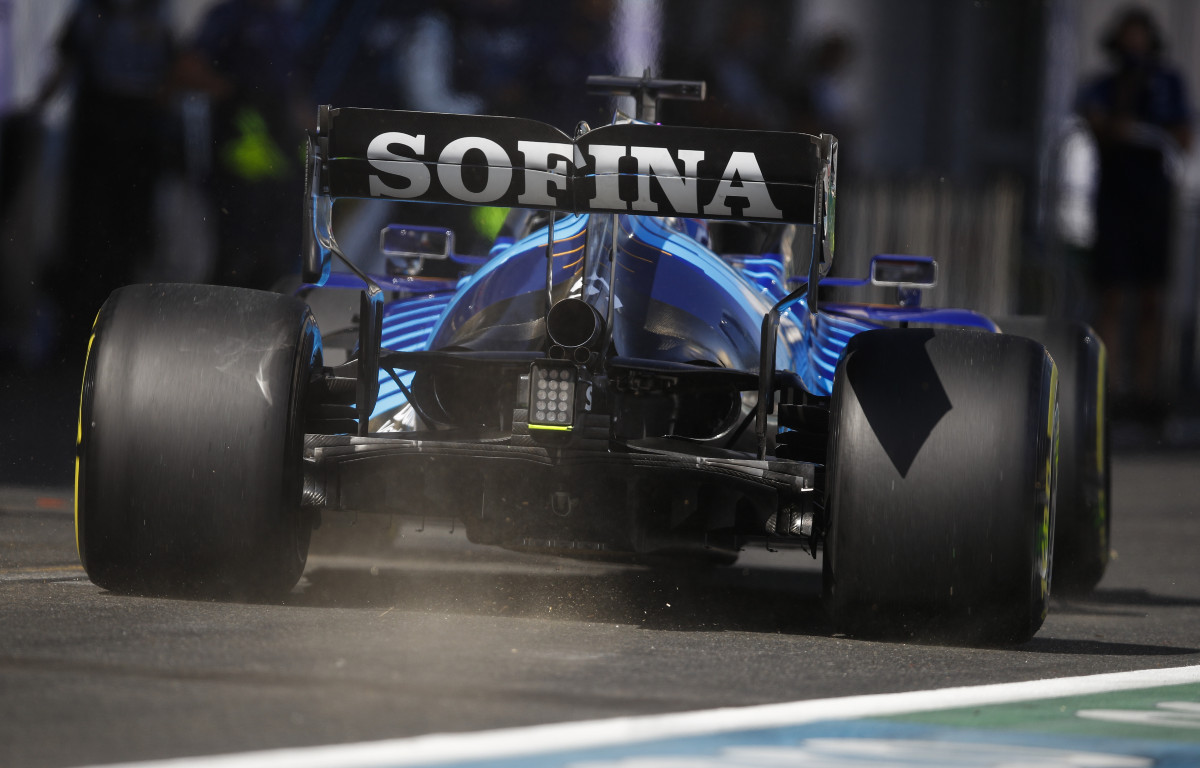 Nicholas Latifi's new Mercedes engine did not get off to the best of starts as he brought out the red flags in Baku.
Mercedes and Ferrari introduced a new power unit for their cars and their customer teams for the Azerbaijan Grand Prix race weekend, meaning Latifi at Williams was one of the drivers who had the chance to test it out.
But early in FP2 the recovery truck was needed to retrieve a stranded Latifi down at the Turn 15 run-off. The Canadian stated that the "engine just died" over team radio.
And once he returned to the paddock, Latifi confirmed that the engine had cut out for safety reasons, since it had overheated in the escape road.
He had ended up there after trying to get out of the way of Pierre Gasly.
"Basically I just got a late call that [Pierre] Gasly was on a push lap and I was not, I was doing some switch changes," he said.
"Then when I heard Gasly was right behind me my reflex was to move out of the way, because I can't really see him, so I turned right, trying to give him the line, and then basically I couldn't turn back left to go on the track.
"So I took the escape road, and then just from being in the escape road, the time that it took for me to reverse and come back on the track safely, the engine just overheated, so there are safety measures in there in place so you don't damage it when you get that much heat soak.
"Engine just shut itself off, nothing I could do, unfortunately that ended the session."
F1 TV are offering PlanetF1 readers 10% off their Access and Pro subscriptions! Click here and use the code PLANETF10 at checkout*
*offer expires midnight on Sunday, June 6
Baku scenery, sunshine and the FW43B on track. What's not to love?! 😍 pic.twitter.com/eSfLUdiqDJ

— Williams Racing (@WilliamsRacing) June 4, 2021
So with only five laps completed Latifi's session was over, and with the Canadian propping up the FP2 standings, there was nothing special going on at George Russell's side of the garage either.
The Briton revealed that he was hampered by braking issues during both Friday practice sessions in Baku.
"Struggling a little bit with the brakes, we thought we had a small problem in FP1 which we thought we resolved, but it was still an issue for me in FP2," he revealed.
"Nicholas didn't quite have the same issue, so obviously we just need to review, brakes are quite important around here so that compromised me a little bit.
"A tough day, our competitors are looking pretty fast, faster than we expected, but I think with the right changes overnight we can find a lot of lap time.
"I wasn't pushing the boundaries massively today because it's practice, just about getting the laps under my belt, getting into a good rhythm and get everything out of the car when it matters really."
Russell said that Q2 is now the minimum expectation for each round, but believes that it will be during the race on Sunday where things will get "pretty spicy".
"I think Q2 is always the minimum for us now," he stated.
"It's not been clear cut in probably three out of the five races this year for us, and it's only when we put absolutely everything together, but that's the aim, that's what we come here to do.
"But above all I think the race on Sunday is going to be really interesting, the soft and the medium tyres are tricky ones, so I think it's going to be pretty spicy."
Follow us on Twitter @Planet_F1, like our Facebook page and join us on Instagram!