Latifi: Best F1 qualy could have been better still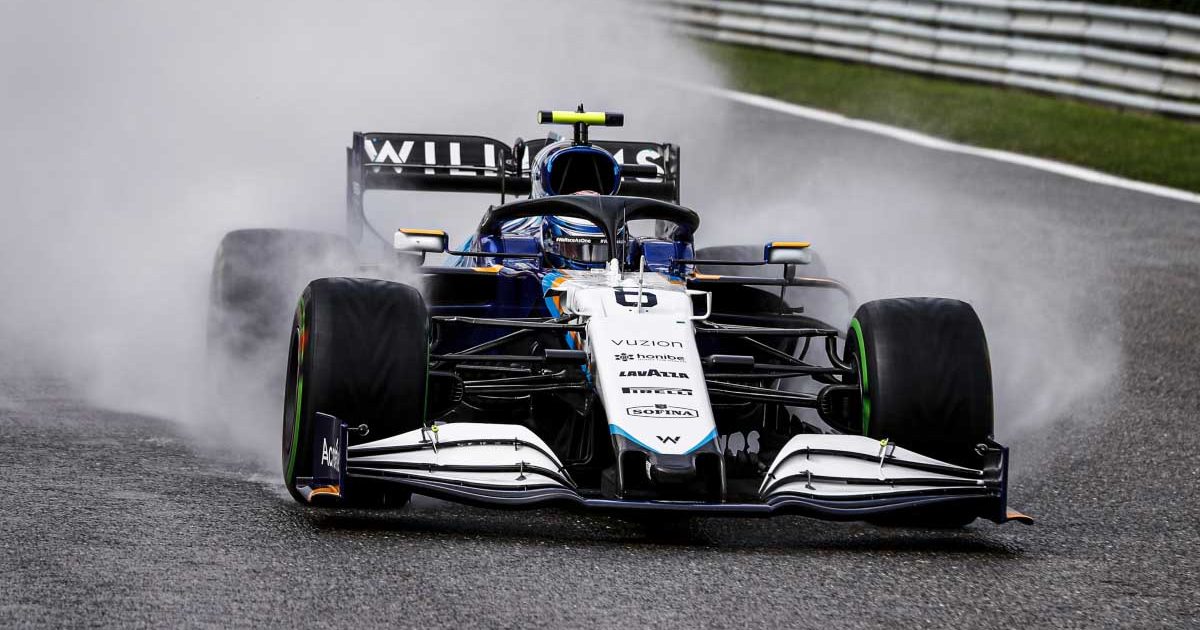 While Nicholas Latifi qualified a career-best P12 at Spa, he felt getting into Q3 was a real possibility for him.
The Canadian was on form in the first part of qualifying as both Williams cars stole a march on their rivals by going straight out on intermediate tyres, offering a pace advantage from the off.
Latifi's grid position will rise to P10 after Valtteri Bottas and Lando Norris take five-place penalties for respectively causing a first-lap collision in Hungary and a gearbox change. And while he enjoyed being able to run in wet conditions for his team, Latifi felt a better result was possible had he set another flying lap at the right time.
"Above all else, obviously my best result in qualifying in F1, but just more happy I got some proper experience running in the wet," the Williams driver told Sky Sports after qualifying.
"It's one thing I felt I'd been lacking a lot of confidence with in our car, the wet driving. We only really had Austria last year and Turkey, which was something else at the time.
"This year at Imola I didn't do any of the laps of the race and just haven't felt comfortable in our car when it's rained.
"This was a good moment for me to get comfortable, get laps and get experience, so quite happy in the end with my best result and more so that I know there's a lot more to come from me.
"There were a few little mistakes I made on my final lap and overall a positive result. The wet makes it more challenging for everyone and although both cars made it through, it makes it easier to get wrong from a driving point of view and I think I was the first to set my final lap on an ever-improving track.
"So I think we could have been in Q3 if we had maybe just timed it a bit better and with a better lap from my side. That as well brings confidence, but very happy nevertheless."
Into Q2 again and starting P12 tomorrow 🤩@NicholasLatifi appreciation post 👏 pic.twitter.com/HcH2eTCSWo

— Williams Racing (@WilliamsRacing) August 28, 2021
F1 TV Pro is half price for two months! In order to claim this fantastic discount, click the following link and use the promo code SPA50 at checkout!*
*Offer expires at 23:59 on Sunday, August 29. Offer only available on Pro. Customers will need to take out a monthly subscription and this offer can only be redeemed on web. Offer not available in NL, FR or NZ.
Latifi's Williams team-mate, George Russell, pulled off what was arguably one of modern Formula 1's great wet laps to put his car on the front row of the grid in a frantic qualifying session.
Max Verstappen took pole position, but Q3 was stopped after Lando Norris' enormous impact in the tyre barriers at Raidillon. While he had a precautionary X-ray on his elbow, Norris has since been cleared to race on Sunday.
Latifi was able to sympathise with the McLaren driver, acknowledging it was a tough day all round for drivers up and down the grid.
"All day it's been on and off raining, sometimes very hard, and just as I was walking over to the weighbridge I heard Vettel saying it should be red-flagged.
"It's obviously a very high-speed track, I don't know if he aquaplaned or what happened but it can be quite dangerous. It's obviously a very tricky session."