Latifi blames dirty mirrors for Grosjean crash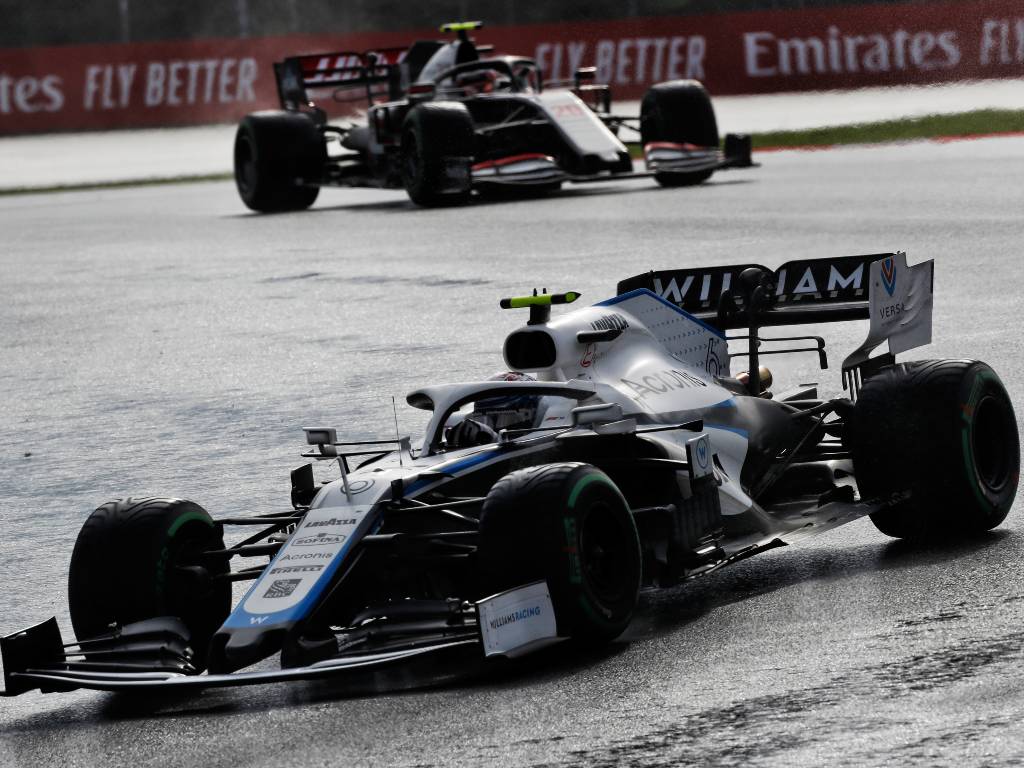 Nicholas Latifi has accepted the blame for the Turkish Grand Prix crash that ended the race both for himself and Romain Grosjean.
The Williams and the Haas came together going into turn nine at Istanbul Park, with Grosjean attempting to overtake Latifi on the outside.
Latifi was off the racing line having just allowed Daniel Ricciardo to lap him but when Grosjean also tried to get past, the Canadian, on the wetter side of the track, understeered into him and sent both into a spin.
As a result, both cars suffered damage and with no prospect of scoring any points, they were retired by their respective teams.
Immediately after the incident, Grosjean issued an expletive-laden outburst over the team radio in which the only discernible comment was aimed at the slippery circuit, saying: "I'm doing my best but that track is a ******* absolute joke."
The stewards later reprimanded Latifi but did not penalise him on the basis that "his actions were mitigated by the very challenging track conditions in that corner".
LAP 43/58

Nicholas Latifi has retired, two laps after *this* collision with Romain Grosjean#TurkishGP 🇹🇷 #F1 pic.twitter.com/jBhDJ4NoWt

— Formula 1 (@F1) November 15, 2020
Get your hands on the official Williams 2020 collection via the Formula 1 store 
Visibility was another problem for Latifi, who explained: "First off it was my mistake, but I think the first thing worth noting is other drivers were struggling with the same thing, as I heard afterwards… I couldn't see out of my mirrors from basically lap one. Not from rain or fog, they were just coated in a layer of dust and dirt like the rest of the car.
"It was very tricky to manage. You can only rely on the radio messages so much [with] gaps and stuff.
"I know when they are within a second because of the beep from the blue lights, but then so much of letting the drivers by is seeing and using your eyes.
"It was just unfortunate that I got the gap, whichever Renault it was, Grosjean followed, I pulled off to the side, broke on the inside line to let them have the racing line, but they were much further back than I thought as I couldn't see them.
"When the Renault went by I was by the turning point, but had no grip and understeered into Romain.
"It was my mistake but it was unfortunate. You could argue I could have braked earlier, but at the same time it could go either way as you still have to judge where they are on track."
Grosjean's take? "It was tricky as expected, very slippery," said the Frenchman.
"We struggled all weekend to generate tyre temperature and I didn't feel very comfortable in the car so I couldn't really push the way I wanted.
"Sometimes in the race it was getting better, sometimes it wasn't, and then Nicky crashed into me and the floor was very heavily damaged so we retired the car."
Follow us on Twitter @Planet_F1 and like our Facebook page