Latifi: Most dangerous half a lap I've ever driven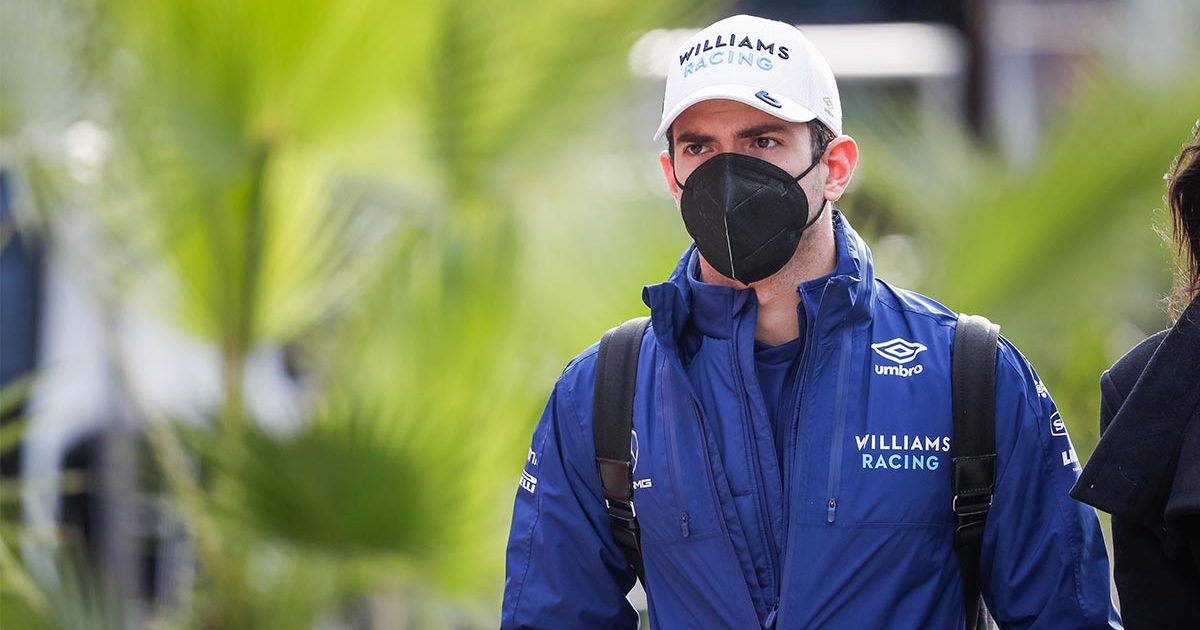 Nicholas Latifi felt the wet conditions in Imola made it the most "dangerous half a lap" he has ever driven, prior to his crash.
The Williams driver enjoyed himself during qualifying, finishing above his team-mate George Russell in Q1, before then taking P14 in Q2.
Things did not go well for him during the Emilia Romagna Grand Prix itself, though, as before he knew it he had crashed out of the race on the opening lap.
Conditions certainly played their part on the day, with the surface of Sector 1 in particular having a lot of standing water from the Italian rain, and Latifi felt the danger of that when out on track.
He told Formula1.com: "It was very tricky, to be honest with the laps on the grid it was difficult. It was wet but I would say that was probably the most dangerous half a lap I've ever done in any of my driving.
"The spray was the worst I've ever seen it. I could not see anything up until the moment I had the first off. I'm just a bit surprised because normally when we don't get any running in the wet, the race would normally start under Safety Car, and we have these new rules now that allow you to then restart [with a] standing start at least for the proper excitement which is fine.
"But I think it maybe would have been a benefit to at least give the drivers an opportunity to see what they're going to get with all the cars on track. As I said it was the most dangerous half a lap I've done in history, I could not see anything.
"You could not see the rain light of the car that was right in front of you. I've been unfortunate but in the end it was my mistake, so really sorry for the team for that but it's just one of those things you've got to move on from."
Massive apologies to the team today after an amazing job all weekend. Visibility was extremely poor and just couldn't see. Car was on it all weekend and we're heading in the right direction. Onwards to Portimao!👊🏻 pic.twitter.com/QW3QSQUusr

— Nicholas Latifi (@NicholasLatifi) April 18, 2021
Show your support for Williams with their latest official merchandise collection
The incident which ended his race early saw him spin off, and while he waited for the busy traffic of those behind him to pass, he then came back onto the track only to be hit by the Haas of Nikita Mazepin, who could have done nothing to avoid the collision.
Latifi, though, was not aware he had made contact with another car.
"In the end [it is] not the result we want, not even to do any laps in the race is for sure very frustrating from my side," he added.
"For sure [it was] my mistake in very, very tricky conditions. I had the first off and then tried to come back on the track from the left side. Obviously the line naturally takes you to the right side of the track, so I tried to come on staying on the painted side and then I just felt when I rejoined the track I got a kick of wheel spin.
"But I've been told now that I had contact with Mazepin multiple times which I haven't seen any replay [of] yet. I didn't even see Mazepin, I thought I was the last car on track because I saw [Sebastian] Vettel going by, I know he was starting from the pit-lane so I assumed he was there or thereabouts the last car."
Follow us on Twitter @Planet_F1 and like our Facebook page.