Nico Hulkenberg felt 'some human degradation' towards end of his first Haas test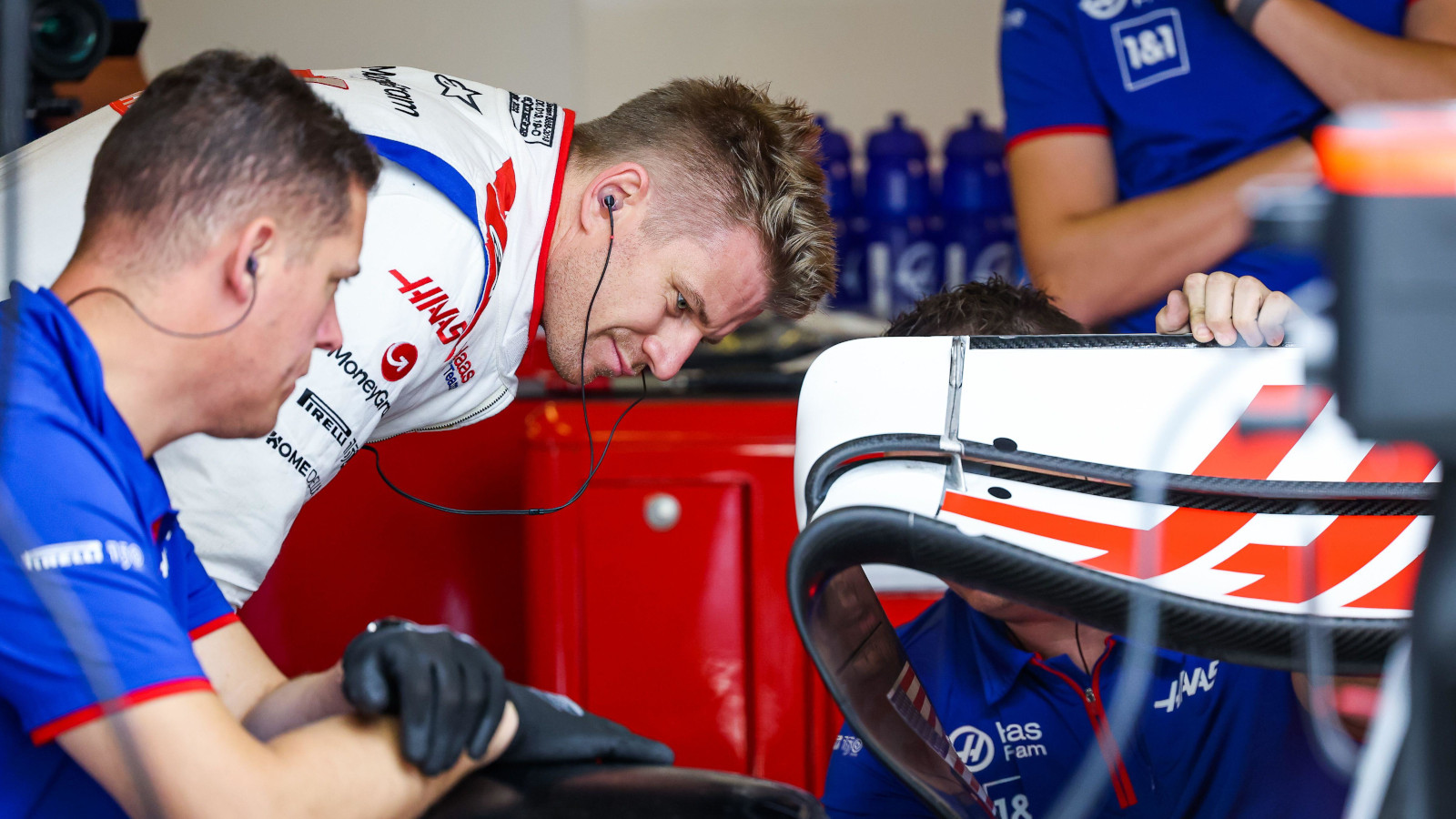 Returning to the Formula 1 grid after three years as a reserve driver, Nico Hulkenberg felt "some human degradation" towards the end of his 110-lap stint at the Yas Marina circuit.
Signed by Haas as Mick Schumacher's replacement for the 2023 championship, Hulkenberg spent his first full day in a Formula 1 car on Tuesday as he began his preparations for his comeback season.
Taking part in the post-season Pirelli tyre test, he covered 110 laps with a best time of 1:27.000, the 35-year-old admitting towards the end of the day his body began to feel the strain of not being Formula 1 racing-fit.
"It's not just the neck, it's the body too," he told the media including PlanetF1. "The glutes have to work a lot.
"It was hard, it was tough, I was feeling some human degradation towards the end of the day too. But that was to be expected.
"Actually, I felt better than I expected, so that's good but obviously, [I've] three months of hardcore preparation now."
Although the German often posts videos on social media of him working out, he says Tuesday's aches are a timely reminder of what he needs to do before the start of the 2023 season.
"Obviously it's good, it does remind you, it does show you again the intensity these cars have and then you add the race to it, the competition, and it's another story again," he said.
"But I have a plan and I know what I have to do."
As for his day's running, which included a stoppage in the morning that Haas billed as 'testing gremlins', the driver said it was "nothing really unexpected or out of the blue.
"I think I adapted pretty quickly and felt comfortable soon.
"Yeah, it feels like a different car, it starts already when they crank the engine and the engine comes alive and the kind of the vibration from the power unit, every power unit is different.
"But no, I think I got used to that pretty quickly."
" I felt limitations, which wasn't unexpected to be honest," he added. "It's not about lap time.
"The basics, the comfort happens parallel, but the important stuff is the performance stuff that you identify well. Where can we do better? How can we go faster? And pinpoint that very well and try to work with the engineers to try to find ways and solutions with that.
"Obviously next year, there's going to be a new car so the cards are going to be shuffled a bit again and we'll see what we get when we start working."
What can Haas, and F1, expect from the Hulk in 2023?
Thrown a Formula 1 lifeline by Haas, Nico Hulkenberg has one year to prove he's more than just a super sub, he's a driver that Haas can bank on.
Just months after reportedly telling Jolyon Palmer he believed his chances of ever getting back on the F1 grid were over, "I'm done", the German will partner Kevin Magnussen next season.
Magnussen made his comeback this season, returning after a year out, and scored in three of the opening four races. Haas will be wanting something similar from Hulkenberg or you can bet the pressure, and commentary, will begin.
But after three years of not racing full-time Haas need to give the driver a bit of leeway at the start of the championship.
Yes Hulkenberg did wow when he subbed at Racing Point in 2020 but that was his first year away from the grid, not his third. In his third, he did another two sub performances for Aston Martin but failed to score in either.
You can argue that his record is 50/50 in top-tens as F1's super sub but both those results came in his first year out. Haas need to give him time, and of course a decent car, and in turn he'll give them points.
And let's be honest, who isn't wishing he breaks his podium duck and turns his most race starts without a podium, of which he currently has the record with 181, into the record for the most race starts before a maiden podium.
But as the saying goes, only time will tell.
Read more: Post-season Abu Dhabi test: Ferrari end with 1-2-3; Alonso and Piastri debut