'Max and Lewis playing chess at the highest level'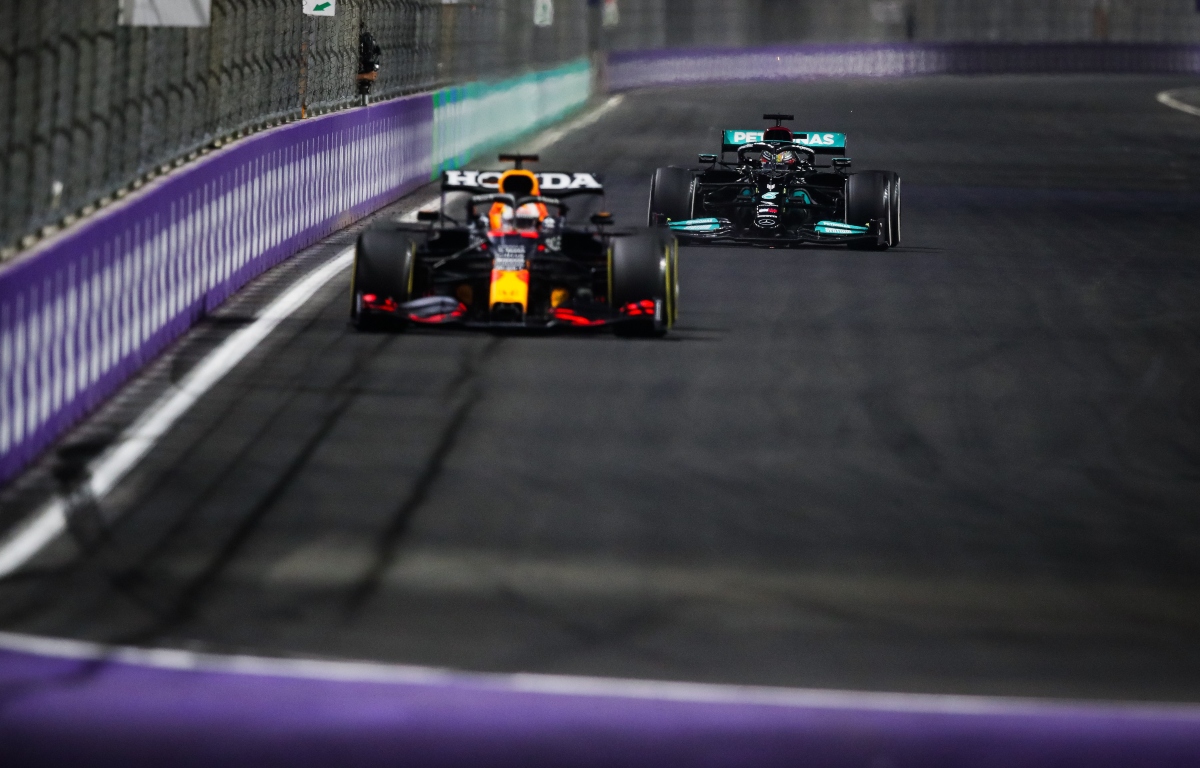 Nico Hulkenberg says that in their battle in Saudi Arabia, Max Verstappen and Lewis Hamilton were playing "chess at the highest level."
The two title contenders went wheel to wheel a number of times in the penultimate round of the 2021 campaign, with the Mercedes man prevailing to go level on points with the Dutchman heading into the final race.
Their battle reached boiling point 37 laps in when, after forcing Hamilton wide, Verstappen was told to give him the position and tried to so at the end of the lap, slowing down in front of the Brit, to ensure he'd get DRS for the straight that followed.
However, the seven-time World Champion hesitated to go past him, causing the leader to slow even more and the two to crash into one another.
Hulkenberg found it all "fascinating" and says it was like the two were playing a game of chess.
"That's Max Verstappen. He fights like a lion for the championship and he gives everything he has," the German said on Servus TV.
"He knew he wouldn't be able to overtake Lewis if he let him pass. That's why he prepared and planned it so cleverly. Lewis smelled a trap. That's why he didn't want to overtake Max at the point he was following.
"That was chess at the highest level. Those two race at 300 km/h and still think things like this."
😱 Oh. My. Word. 😱

Max Verstappen was told to let Lewis Hamilton past and he slowed but then Hamilton ran into the back of him!! His front wing is damaged!

🗣 "He just brake tested me!" says Hamilton

📺 #SaudiArabianGP live on Sky Sports F1#SkyF1 | #F1 pic.twitter.com/mBY6G6hd0P

— Sky Sports F1 (@SkySportsF1) December 5, 2021
Mercedes' initial argument for why Hamilton didn't go past Verstappen was that they hadn't yet told him that the 24-year-old was going to hand him the position.
However, the driver later stated that he didn't want to overtake and give his rival DRS for the following section.
Hulkenberg has little doubt that was indeed the reason for his hesitance, but isn't sure if it was the best tactic by the reigning champion given that he was the faster driver.
"I'm sure it had to do with DRS," he added.
"The DRS measuring point is before the last bend. Max wanted Lewis to overtake before that point so he could get DRS and overtake Lewis right away. These are strategic games. Lewis knew that, of course, and that's why he stayed behind, but then it got a little too close.
"Both played it too extreme. However, from Lewis's perspective, I don't quite understand why he didn't overtake immediately and continue his race."
Verstappen taking all the risks
Ralf Schumacher claims he likes the risks that Max Verstappen takes.