Nico Rosberg 'seriously angry and hurt' after major Lewis Hamilton battle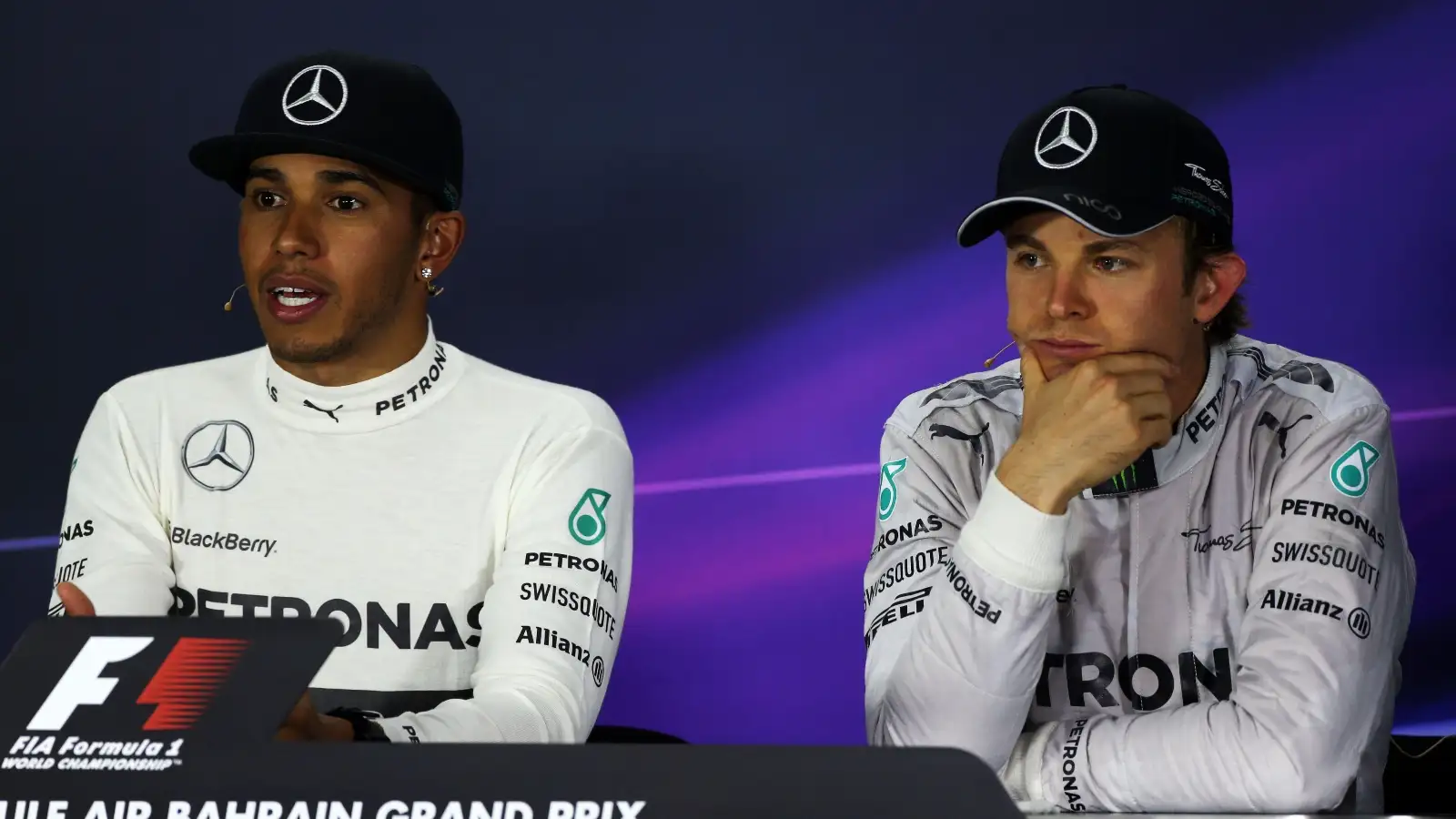 Nico Rosberg said he felt "seriously angry and seriously hurt" after finishing second to Lewis Hamilton at the 2014 Bahrain Grand Prix.
Dubbed the 'duel in the desert' the early season battle would go on to dictate the fortunes for year ahead with Hamilton beating Rosberg to the title.
The victory in Bahrain was second in a run of four consecutive triumphs for Hamilton, allowing him to take the championship leader after the Spanish Grand Prix and although Rosberg took it back, Hamilton would win six of the last seven grands prix to secure his second championship.
Nico Rosberg reveals not telling the truth in his post-race interviews
The race was just a brief sign of what was to come and Rosberg has admitted that even though he finished second in Bahrain, he felt "seriously angry and seriously hurt" from losing out against his former karting rival.
"I remember myself in Bahrain," he told the Sky Sports F1 podcast. "I said after the race 'wow, that was the most fun I've ever had in a racing car.' But actually the truth was that was the most far from the truth possible.
"Because the truth was I was seriously angry and seriously hurt from finishing second to Lewis and it was zero fun.
"As race drivers, we always have to be a bit Hollywood. You can't always say the truth obviously because it's going to backfire otherwise."
Rosberg got onto the topic after discussing the form of the Ferrari drivers at Monza with Charles Leclerc finishing behind Carlos Sainz after a close battle.
Afterwards, Leclerc spoke in good terms of the battle but Rosberg pondered how genuine that was.
"I was watching Charles, he just had got beaten by his teammate who also ran him off the track once. Charles is sitting there and saying 'yeah, that was super fun. Happy days, having a beer with Carlos.'
PlanetF1.com recommends
F1 driver contracts: What is the current contract status of every driver on the 2023 grid?
F1 2023: Head-to-head qualifying and race stats between team-mates
"And I was like 'Is this now genuine? Or is he pulling a Nico you know?' And saying the complete opposite of what he's feeling.
"But I think it was pretty genuine. In which case I was thinking [it seems he is] a little bit too nice guy somehow.
"Because, [he lost out] already on the strategy. He lost out the day before by allowing the team to give Carlos the slipstream twice in the end of qualifying rather than it being split.
"It should have been one person first run the other person the second run and yet he allowed Carlos to have double slipstream in the qualifying already. So I'm not sure. Maybe he's just a super nice guy but that would be a little bit too nice."
Read more: George Russell reveals three key factors dominating latest F1 driver meetings