Mazepin 'not in bad books' after latest Haas clash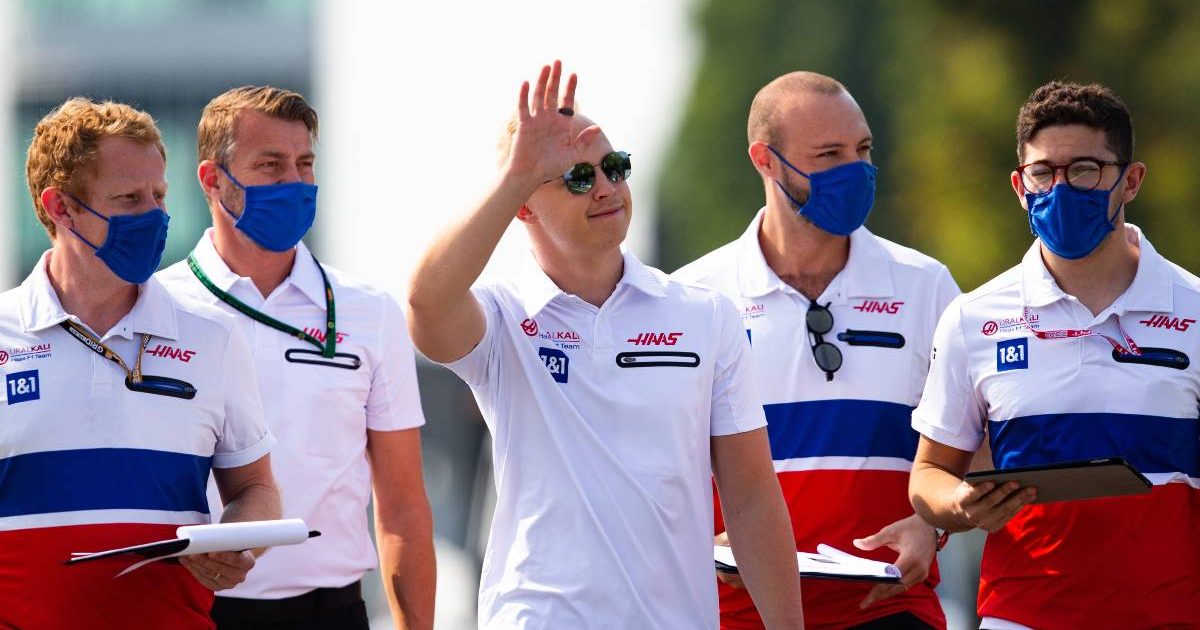 Nikita Mazepin insists he is not "in the bad books" at Haas – especially as he has not broken any FIA rules while fighting team-mate Mick Schumacher.
The relationship between the Moscow-born driver and his Haas colleague has disintegrated into barely concealed contempt, with the latest incidents occurring during the Dutch Grand Prix weekend.
In qualifying at Zandvoort, Schumacher angered Mazepin by overtaking him as they were about to begin their last flying laps. Mazepin said this had broken an internal team rule about the order, from race to race, in which each was due to be in front of the other in that situation.
Then in the grand prix itself, Schumacher accused Mazepin of nearly putting him in the pit wall when they diced – an incident that caused damage to the front wing of the German's car – and also of doing the same to other drivers.
Team principal Guenther Steiner subsequently suggested it was six of one and half a dozen of the other, while Ralf Schumacher, Mick's uncle, claimed Mazepin was being defended for "financial interests" as his father is Haas' main sponsor.
Check out the Haas collection via the official Formula 1 store
Taking a wander round Monza 🇮🇹#HaasF1 #ItalianGP pic.twitter.com/tNC6RkTGyX

— Haas F1 Team (@HaasF1Team) September 9, 2021
Mazepin jnr, speaking at his press conference for the Italian Grand Prix, did not want to discuss exactly what had been said privately between the various parties, but believes he is not in trouble with his team – and that nor should he be, not having been punished by the FIA.
"It's good to know I'm not in the bad books, so that's positive," said Mazepin, quoted by GPFans. "But I want to respect the privacy of those discussions.
"The doors were closed and I don't think it would be comfortable for all parties if it was an open discussion, so I'll keep it in."
Mazepin was a little more forthcoming in his interview with Formula 1, saying he had not spoken to Schumacher during the week.
"I think Mick was a little bit stressed after Sunday, so I let him be," added the 22-year-old. "I think he enjoys his downtime. He's not having an easy time with me, so we didn't speak.
"Like he said on Saturday, he didn't see anything wrong and I didn't see anything wrong on Sunday, word for word, and let's keep going."
Mazepin said nothing had changed regarding the team's approach to their on-track tussles and pointed to the FIA rulebook in his own defence.
"We've deemed that I haven't broken any sort of rules or [recorded any] violations within the FIA sporting and racing regulations," he explained.
"Therefore, I think we will work as a team to try and fix that."
In a clearly pointed remark to Schumacher's incident, he added: "But perhaps sometimes you need to lift when you see a bollard in front of you instead of damaging your car, but we'll see."
Planet F1 verdict
What is happening at Haas?
Nikita Mazepin and Mick Schumacher seem to be having on-track and off-track battles.