Mazepin: No 'smooth ride' in Mick relationship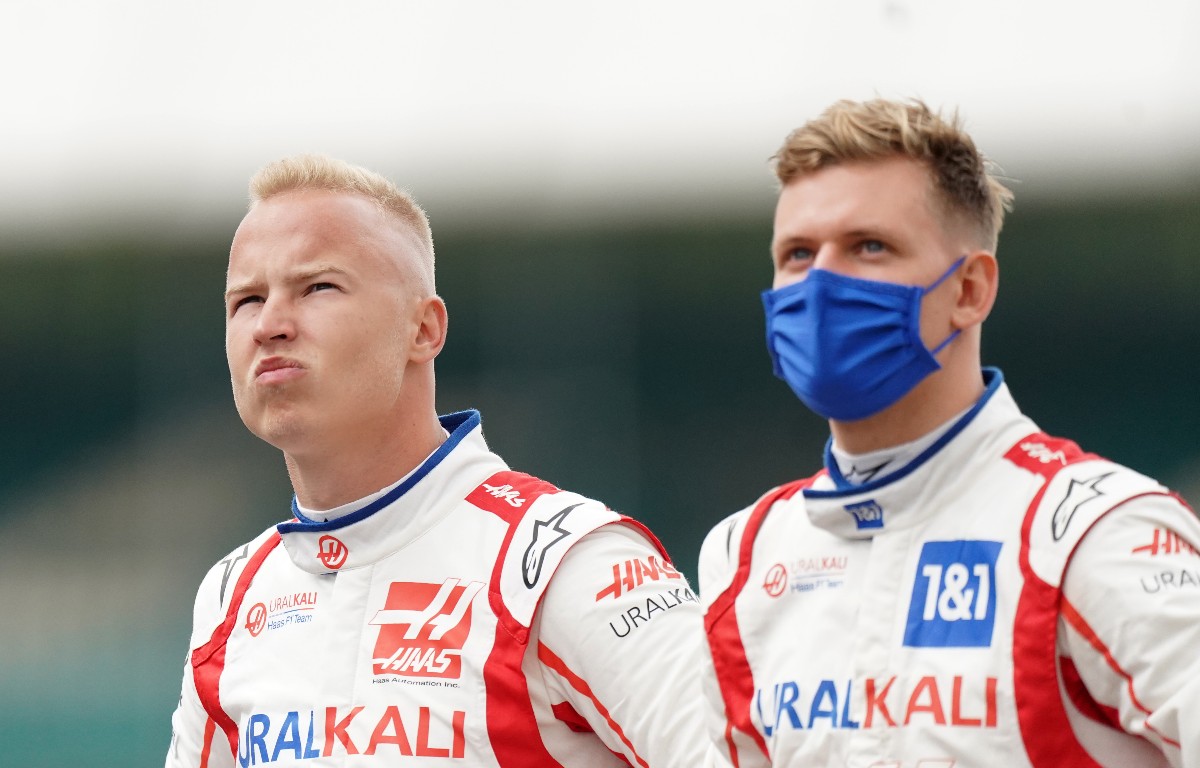 Nikita Mazepin acknowledged that through the rest of his working relationship with Mick Schumacher, it will not be a "smooth ride" for the pair.
The Haas duo have clashed on multiple occasions during their rookie season, mostly because they race among themselves at the back of the field in a car which has been well off the pace of the rest of the field.
Schumacher spoke recently about how he hopes there will be a way to diffuse the off-track relationship between the two of them, but Mazepin is not sure there is a way around it at the moment.
"There's a lot going on. A lot, and nothing at the same time," the Russian said on F1's Beyond The Grid podcast.
"I think it's just two young drivers who are willing to get to the top of Formula 1, and who have been put in a difficult position where, realistically, as the year goes on, more and more we can fight with each other only.
"For me, finishing P19 can be a highlight and finishing P20 can be a very bad point of the weekend.
"In any other category, what's the difference between P19 and P20? But because it's like all or nothing.
"I think that potentially impacts his approach to me, but I struggle to see more than that. It is what it is.
"I don't know how many years we've got left together, but I don't think it's going to be a smooth ride."
Schumacher ⚔️ Mazepin

When the @HaasF1Team drivers went wheel-to-wheel in Sochi 😍#RussianGP #F2 pic.twitter.com/i8rr17qD4l

— Formula 2 (@Formula2) September 20, 2021
F1 TV are offering PlanetF1 readers 10% off both monthly and annual subscriptions! In order to claim this fantastic discount, click the following link and use the promo code PLANETF10 at checkout!*
*The offer ends at midnight on September 26 and excludes Netherlands
Schumacher and Mazepin's paths have crossed throughout their earlier careers too, having been team-mates while karting and duelling on multiple occasions through the junior categories.
While the Russian said he likes his team-mate as a person, but that changes when the visor goes down in racing conditions.
"I met Mick later in my life, racing with him in karting, and it was the same. People don't remember but it wasn't a smooth ride, even then," he said.
"I wanted to get to Formula 1 and win races and so did he, and sometimes it was easier, sometimes it was more difficult, and sometimes we had tough moments.
"Even so now, I like Mick, to the bottom of my heart. I think he's a super-talented kid, who has done an incredible achievement in his career. But that's outside of the circuit.
"On the track, I don't really care who I'm racing with. I'm racing against the competitor car, that is the only car in the last few races I was able to get in front [of], so on a personal level, it really doesn't impact me."
Will Haas score points this season?
Will Haas score points this season?
Sochi Preview Can Haas score points this weekend to get them off the mark?