Mazepin's warning to Schumacher after Baku clash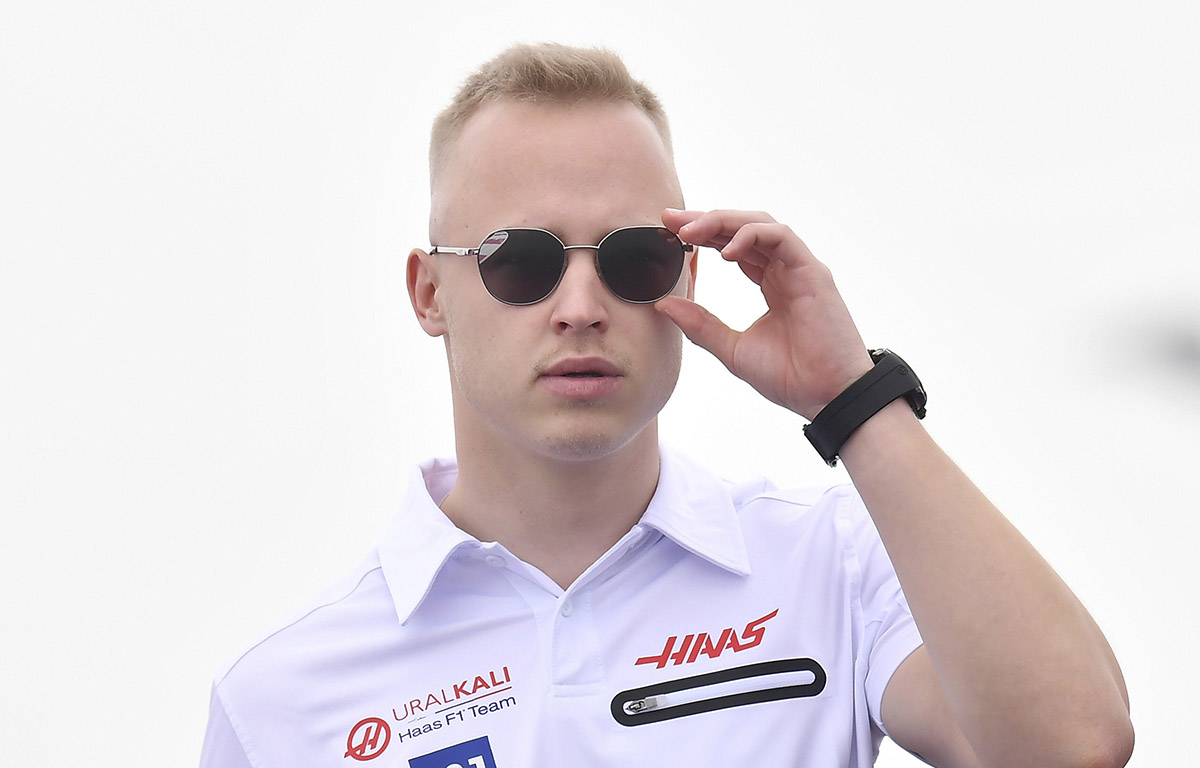 Nikita Mazepin has warned Mick Schumacher he should not "expect to have it too easy" against him in their battle at Haas.
The duo continue to have contrasting views about their last-lap incident at the Azerbaijan Grand Prix, even if Mazepin has apologised to Schumacher for his role in the near-miss during the mad dash to the finish line in Baku.
Mazepin, though, has said he is never just going to let his team-mate by if they are fighting wheel-to-wheel again in future – the most likely scenario given the Haas car is very uncompetitive against the rest of the grid.
"Our discussions that go on within the team I believe should stay within the team," Mazepin said at the French Grand Prix drivers' press conference.
"However, if it was already brought out, I would say that I apologised to him, as that's how he felt and he clearly was very upset.
"But I would just say that it's very important that he doesn't expect to have it too easy, and I'm never going to not block, for one reason or another. But I clearly just didn't expect him to be where he ended up being.
"If he felt the way he did, I said sorry, because that's what I think I should be doing. However, it wasn't for my particular doing."
Mick taking in the history 🏎

How many of these F1 teams can you name? #HaasF1 #FrenchGP pic.twitter.com/gUzmbC3bQA

— Haas F1 Team (@HaasF1Team) June 17, 2021
Check out the Haas collection via the official Formula 1 store
Mazepin has denied he intentionally swerved to try and put Schumacher into the wall, instead saying he reacted to his team-mate taking a different line than he initially thought he would take.
"I thought he would choose the inside line and he chose the outside line, and when I saw that he committed to it, I ducked out of it, because in the end we're not fighting for any points and the team's result is the priority," Mazepin said.
"I think we have a positive vibe, if I can call it like this, in the team, and it has been like that since day one and it continues to be so. We're both young drivers pushing the limits, you get to a point like this.
"But like I said in the beginning, as long as both cars are returning in one piece with each other, I feel that's fine with the team boss."
Schumacher, though, is expecting "harsher consequences" if a similar incident occurs again in future.
"If it happens again, probably there will be harsher consequences," Schumacher said in his own press conference.
"But also in that case, probably because it was an incident that happened between team mates it's probably kept more internally than being out-spoken and kind of dealt from and with the race directors or stewards.
"But as I said, I think that if it happens again, surely it will be addressed towards the stewards and the race director.
"In the moment it was rather confusing, in a way, because I was not expecting it at all, especially between team mates.
"Obviously I understand it's the last lap, we'll fight. But if you come in such a tow you have, [and] all what is left basically in terms of battery and then you use everything and there's no stopping.
"The only way you stop somebody is by scaring him or pushing into the wall. And obviously he tried to do that. I, in fairness, kept my foot down. So I got by him anyway.
"As I said it was unexpected from my side and that's why I had such a strong reaction to it afterwards.
"But as I said and as the team also mentioned, the air in that sense is all cleared up and we're all on a fresh start for here."
Follow us on Twitter @Planet_F1, like our Facebook page and join us on Instagram!