No 'holy cows' for Mercedes but open to 'conceptual' changes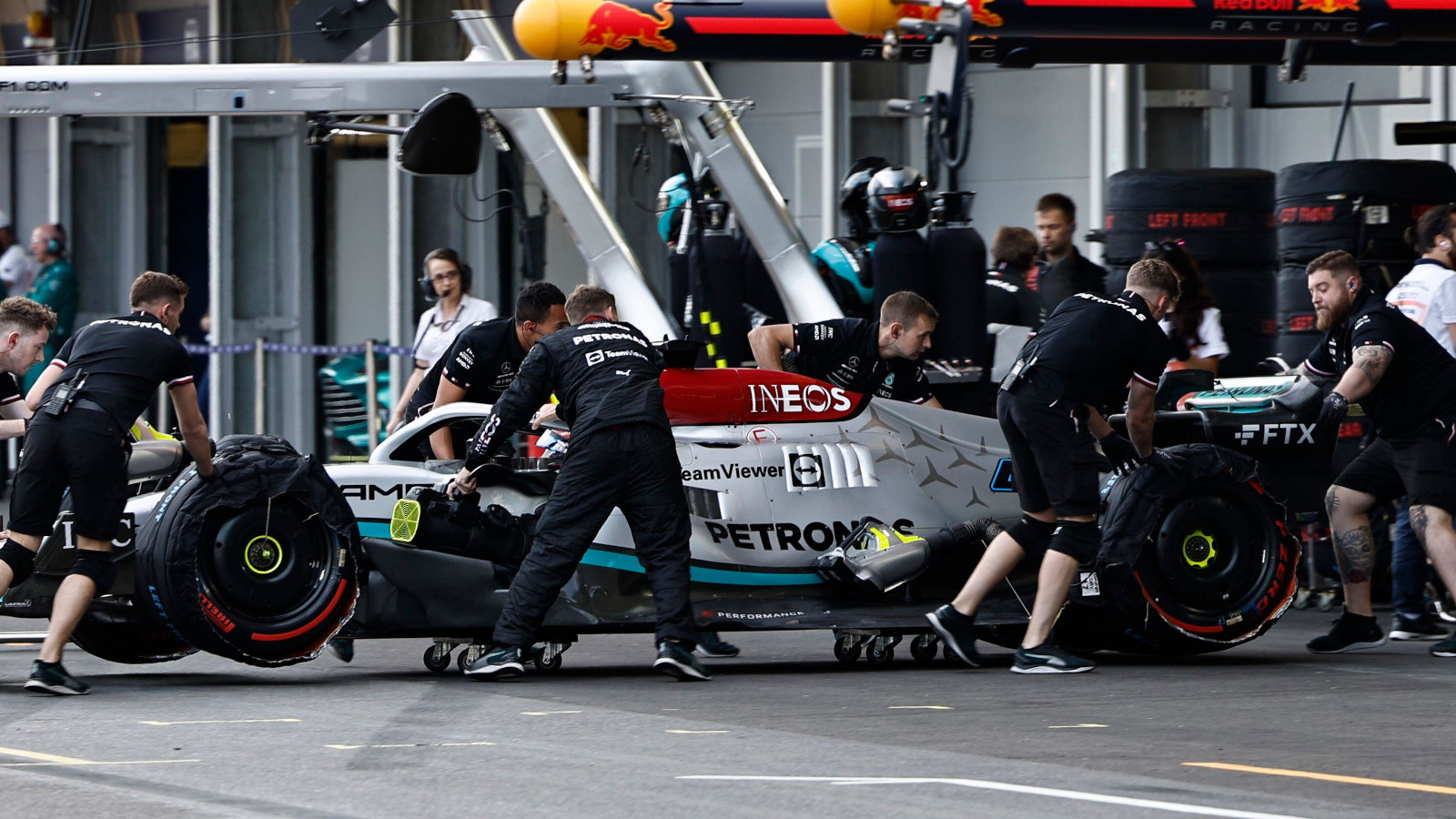 Not for the first time this season, Toto Wolff says Mercedes are open to a "conceptual" change if they cannot turn their W13 as it is now into a race winner.
After eight years of fighting for the championship titles, third in the best result Mercedes have achieved in a grand prix this season.
And even they concede most of their P3s have been the result of other team's misfortunes.
"We can't keep on relying on others' misfortune," said George Russell after finishing third in Baku, a race where both Ferraris retired, "we need to find more performance. And that's what everyone's trying their hardest to achieve."
That search for performance is being undone by Mercedes' extreme porpoising.
Having to raise the ride-height of the car to offer the drivers some protection from the bouncing, Mercedes are giving away downforce and with that goes pace.
It has led to pundits saying the time has come for Mercedes to make a decision, stick with the zero-pod or adopt a new design philosophy.
"I think we are looking at all possible solutions under the leadership of Mike Elliot," Wolff told Motorsport.com.
"He's a really strong technical director, and there are no holy cows. Everything is being looked at and we will for sure bring the car back on track.
"If things cannot be solved in the short term, because they're conceptual, then they will be sorted out over the next few months."
"It needs managing, but to ask the other teams to change the regulations to help Mercedes is a bit like asking a turkey to vote for Christmas." #F1https://t.co/zSEywtMTWn

— PlanetF1 (@Planet_F1) June 14, 2022
The Austrian acknowledged that while Mercedes are aware of what is wrong, they don't yet have a solution for the bouncing.
"I think we know what the root cause of our lack of performance is, but we don't have the answers yet of what the best solution will be," he said. "This is what we are experimenting with at the moment.
"I still think there's a short term fix that's making us much more competitive, but it might not explain everything.
"I'd like to get the car in the right position for the second half of the year and also for next year. The learning is more key than short-term optimisation for the weekend."
Such was Mercedes' bouncing in Baku that Lewis Hamilton told the team that his back was "killing" him during the grand prix, the seven-time World Champion clutching at it as he gingerly climbed from the car.
His back troubles come after two weekends of bad bouncing, Monaco and Baku, a disappointment for Mercedes as they felt in Spain that they had taken a step towards resolving the problem.
Wolff says he expects it will be largely track dependent.
"I think we made a really good step in Barcelona for a circuit that is with a smooth surface," he said. "So less bumps, we're fine.
"I think we have a good car and we were able to unlock the performance in the race, but in qualifying we were lacking a bit.
"That's easy to explain, because we've had now two months that we were trying to solve the porpoising and not being able to add baseline performance, and that bites us a bit.
"For us we understand: we understand what's going on. We understand also what we need to do. And it means, in a way, Montreal is a really good race for us next week because Montreal is bouncy, Montreal it's high kerb ride. And after Montreal I expect to have a better view."
Hamilton in agony but Mercedes pick up pieces
George Russell got on the podium again for Mercedes and Lewis Hamilton finished P4, albeit in a lot of pain.