Mercedes should take Mexico as a word of caution ahead of Brazilian front row start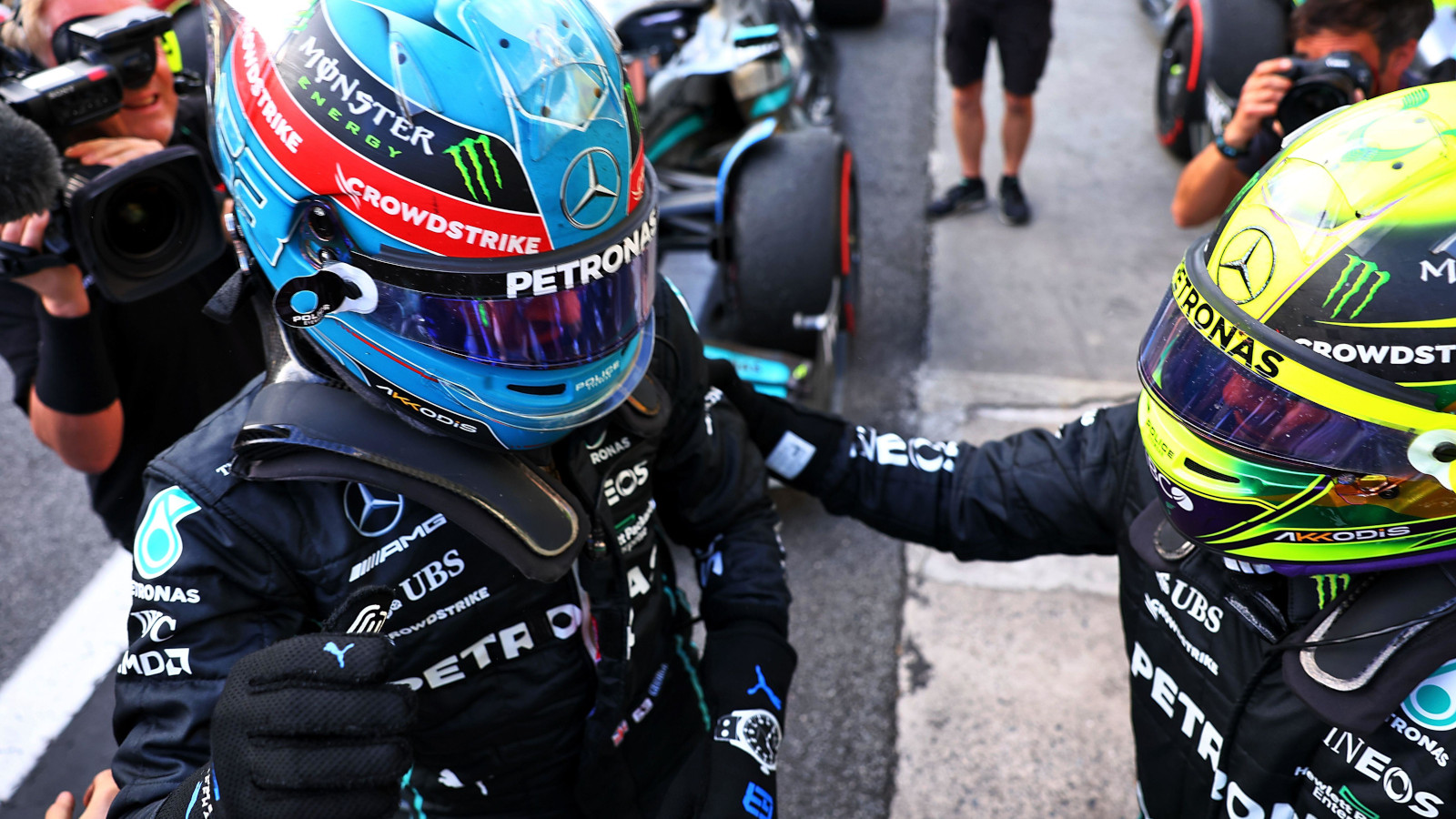 George Russell is adamant there "definitely won't be any team orders" as he lines up in pole position for the Sao Paulo GP with his team-mate Lewis Hamilton alongside him.
For the first time this season Mercedes have locked out the front row of a grid, Russell grabbing pole position with his first-ever F1 race victory in Saturday's sprint race.
Hamilton crossed the line in third place but will move up one spot on the grid as Carlos Sainz has a grid penalty.
With the race win on the line, both drivers still chasing their first grand prix win of this season, it's all to play for at Mercedes.
Russell insists there won't be team orders in play, the driver saying they just need to keep it clean.
"There definitely won't be any team orders," he said, "but I think between the two of us we will definitely be strategic to try and get that win for the team."
The Briton is expecting Mercedes to split their strategies as they look to end Red Bull's nine-race winning streak with a first of their own.
"I think as we saw in Mexico that we both did the same strategy and ultimately it affected us both," he continued.
"Sitting here right now, we probably don't know what the right strategy is going to be. So, you know, we'll race each other fairly, for sure.
"And I'm sure we'll probably be splitting the strategies to try and cover all options. And, you know, hopefully one of us comes away happy.
"But I think we, we both recognise based on recent experience, we're probably going to have to go two separate ways."
RUS 📻: "THAT'S HOW WE ROLL BABY"

Mega stuff, @GeorgeRussell63! 🤩#BrazilGP #F1 @MercedesAMGF1 pic.twitter.com/m9ut8Izg7B

— Formula 1 (@F1) November 12, 2022
Lewis Hamilton would accept the 1-2 'either way'
Hamilton says as long as Mercedes dominate the podium at the end of the grand prix with a 1-2 result, he'll be happy.
He reminded his team-mate that's the main goal, the best result possible for Mercedes.
"I think I'll just say that getting a 1-2 either way, I'm going to be a happy person, just because of how hard everybody's worked," he said.
"But of course, George has done an amazing job this year, and he'll be pushing for that win – but we'll, of course, drive carefully and clean.
"And, yeah, we've just always got to just have at the core of it, at the front of our mind, it's the team. Getting the result for the team.
"But of course, individually, we'll do our best to try and get the best result."
For him that best result would be the win.
"Yeah, we have to," he said when asked if he'll 'go for it'.
"We'll work together as a team. This is about the team. We've got to get this result for the team. I think it'd be incredibly special.
"And obviously, we're chasing the red guys. So it could be good."
A word of caution for Mercedes in Mexico already
Russell wasn't entirely happy with Hamilton's antics at the start of the Mexican Grand Prix as they lined up second and third on the grid respectively.
While Russell gave his team-mate space through Turns 1 and 2, Hamilton didn't return the favour in Turn 3 and pushed his compatriot out wide before powering down the back straight.
The former Williams driver admitted after the race: "You know probably if it was anyone else but my team-mate, I would have just run them off the road."
Pushed wide, Russell found himself under attack from Sergio Perez and lost third to the Red Bull driver.
Sky Sports' pundit Martin Brundle reckons Russell did the right thing by his team-mate, Hamilton did not.
"George was generous with space on the inside of Turn 1 for his team-mate Lewis Hamilton and again in Turn 2, but didn't receive the same courtesy swinging right through Turn 3 as he was squeezed wide and bounced over the kerb," said the former F1 driver.
With that still fresh in Russell's mind, the big question Mercedes and Hamilton have to ask is will he be generous again knowing it won't be repaid?
Highly doubt it.
Read more: Mercedes admit George Russell's sprint win over Max Verstappen was 'unexpected'