Bottas brings abrupt end to Mexico qualifying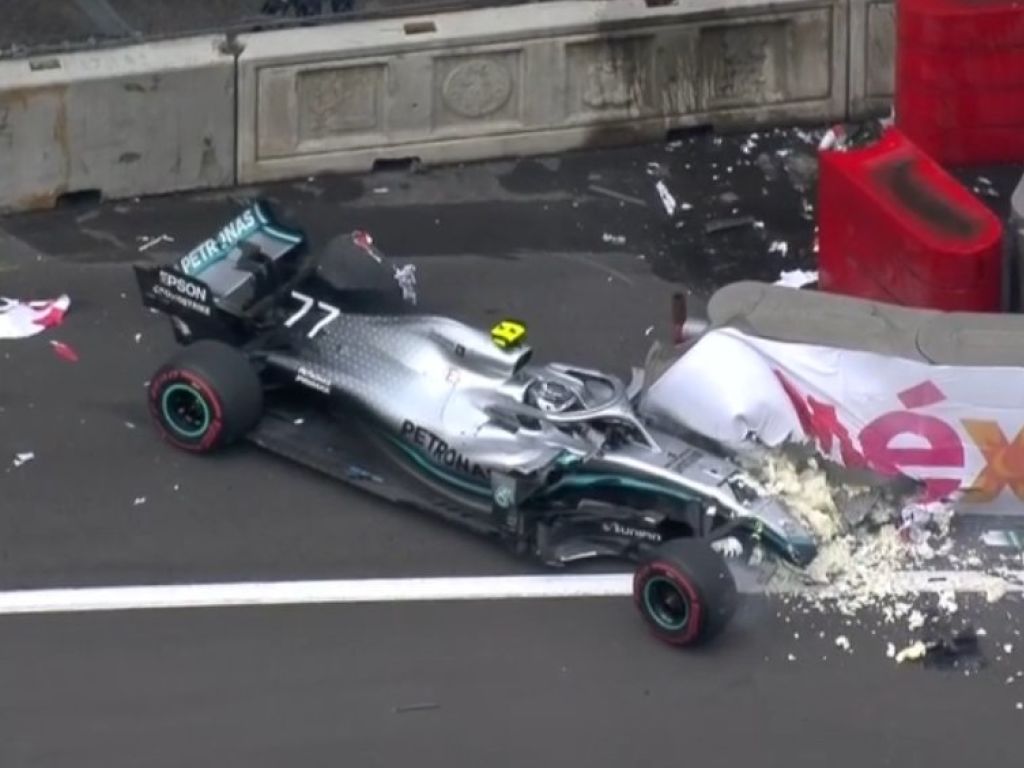 Valtteri Bottas' crash at the end of Q3 brought out the yellow flags and confirmed pole position for Max Verstappen in Mexico.
Here is how qualifying day unfolded in Mexico…
There is a nasty bug going around in Mexico City with an estimated 150 team members affected. Will something like this make even Dr Helmut Marko sympathetic?  Course not!
Pierre Gasly arrived to the paddock with an upset stomach. We asked Helmut Marko, whether he's able to drive. "I have to check. If it get's too bad he has to wear diapers."#AMuS #F1 #MexicoGP

— Tobi Grüner 🏁 (@tgruener) October 26, 2019
A damp track awaited the drivers for FP3, with the chance of more rain arriving during qualifying.
It's another damp one this morning 💦

Looks like we could be starting on the intermediate tires again. #HaasF1 #MexicoGP #FP3 pic.twitter.com/tEtb3kQBEY

— Haas F1 Team (@HaasF1Team) October 26, 2019
And, just to add to Daniel Ricciardo's frustrations…
🛠 A hydraulic leak was found on Daniel's car just before the start of the session; the garage crew is working on fixing it and the number 3 car should take to the track this morning. #RSspirit #MexicoGP #FP3

— Renault F1 Team (@RenaultF1Team) October 26, 2019
Daniel Ricciardo wasn't the only one waiting…sensor issues kept Sebastian Vettel in the Ferrari garage.
Not today. Not today please.#MexicoGP pic.twitter.com/3RWS7dH2Kq

— tami. (@Vetteleclerc) October 26, 2019
Meanwhile, things went from bad to worse for Renault…
UPDATE 🛠

We appear to have the same issue on both cars – a pollution of one of the cooling systems, which requires careful cleaning before qualifying. Our guys are working hard to fix it but we're unlikely to go out in this session.#RSspirit #MexicoGP #FP3

— Renault F1 Team (@RenaultF1Team) October 26, 2019
An ill Pierre Gasly did make his return to the track before FP3 ended, with the action hotting up as the track became drier.
Sitting pretty at the top heading into qualifying was Ferrari, with Charles Leclerc leading Sebastian Vettel by 0.027 seconds.
Full classification from FP3 👇#MexicoGP 🇲🇽 #F1 pic.twitter.com/Yaht9yAdJ9

— Formula 1 (@F1) October 26, 2019
It was Red Bull who ended Q1 in a one-two position with Max Verstappen two tenths ahead of Alex Albon.
Lance Stroll, Kevin Magnussen, Romain Grosjean, George Russell and Robert Kubica meanwhile were the drivers eliminated.
ELIMINATED: Q1

16 STR
17 MAG
18 RUS
19 GRO
20 KUB 📸#MexicoGP 🇲🇽 #F1 pic.twitter.com/FwucLpiKQQ

— Formula 1 (@F1) October 26, 2019
That became a Mercedes one-two as Hamilton finished P1 ahead of Bottas in Q2 – both drivers committed to the medium compound for the race start. The Ferraris backed off on their soft-tyre run to join them.
Sergio Perez, Nico Hulkenberg, Daniel Ricciardo, Kimi Raikkonen and Antonio Giovinazzi missed out on the pole position shootout.
CLASSIFICATION: END OF Q2

Up next: the shootout for pole 👀#MexicoGP 🇲🇽 #F1 pic.twitter.com/6MRoF5tX5P

— Formula 1 (@F1) October 26, 2019
The top six were all in with a shout of pole before Bottas pushed too hard on his final run and slammed into the barriers.
The Finn fortunately was okay, but the yellow flags forced everyone to abort their flying laps, meaning Verstappen was on pole for the Mexican Grand Prix.
As Valtteri Bottas crashes out, Max Verstappen ends Ferrari's run of pole positions! #MexicoGP 🇲🇽 #F1 pic.twitter.com/1zMp65176U

— Planet F1 (@Planet_F1) October 26, 2019
Huge shunt for Valtteri Bottas at the end of Q3 – glad to see him eventually climb out of the car. #MexicoGP pic.twitter.com/sQxuZ33ueO

— iGP Manager (@iGPManager) October 26, 2019
Follow all the action from the Mexican Grand Prix with the PlanetF1 live centre