Unhappy with other drivers overtaking him in qualifying, Max Verstappen says there is an "unwritten rule" that they follow one another. Lewis Hamilton says that's not true.
Verstappen was furious with his rivals in the wake of qualifying for the Chinese GP as he feels they "f**ked" his qualifying.
The Red Bull driver was overtaken by Sebastian Vettel and both Renaults, who then backed off to make space for themselves meaning Verstappen didn't cross the line in time to start a final hot lap.
When "you're just trying to be nice" and… 👀#ChineseGP 🇨🇳 #Race1000 @Max33Verstappen pic.twitter.com/mGCv0R7BUJ

— Formula 1 (@F1) April 13, 2019
Speaking after qualifying, Verstappen told reporters: "There is an unwritten rule that you just follow each other. But whatever.
"From now on in qualifying I'm going to f**k them up as well."
But when the official F1 website tweeted Verstappen's thoughts, Hamilton made his own very clear.
"Nope," was his simple response.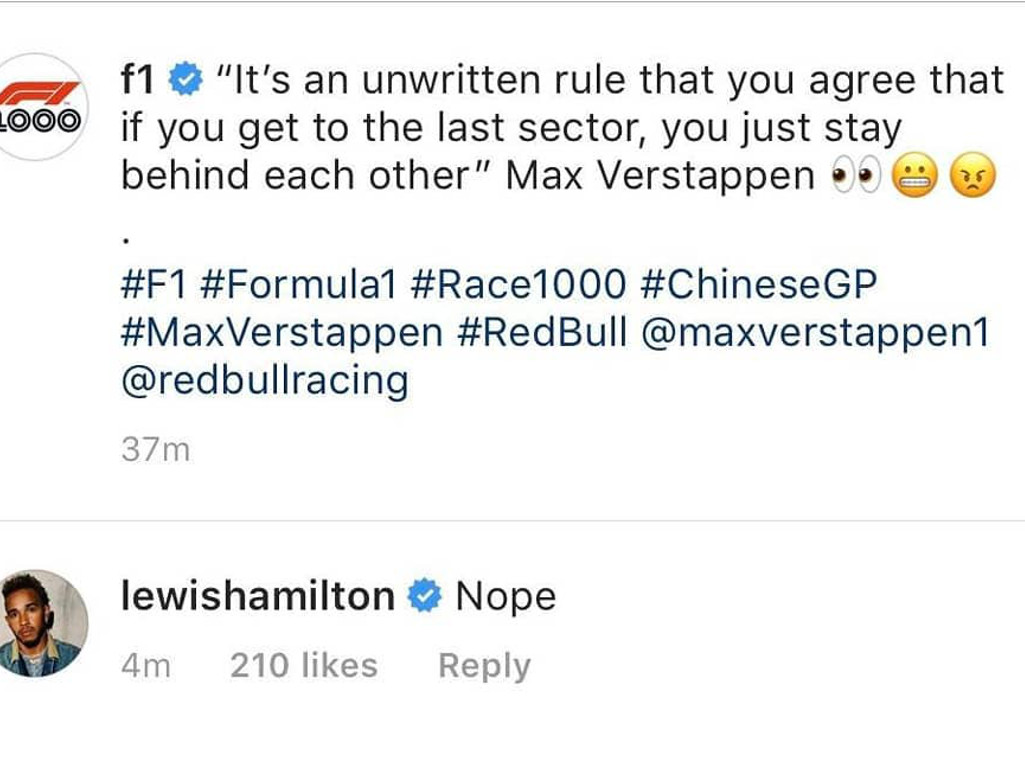 The Mercedes driver's rivals agree.
"To be completely honest you cannot have an agreement about not overtaking on the out-lap because different teams have different strategies with the tyres," said Charles Leclerc.
"Basically we need to follow what we are told so it's not possible, unfortunately."
Daniel Ricciardo, one of those who overtook Verstappen, explained: "I think everyone just left it too tight. People got screwed because, I guess, we left it tight.
"You had to do what you had to do. Normally there is some etiquette but that went out the window with how tight it was."
Follow all the action from the Chinese Grand Prix with the PlanetF1 live centre