Norris 'frustrated, annoyed' but happy for Russell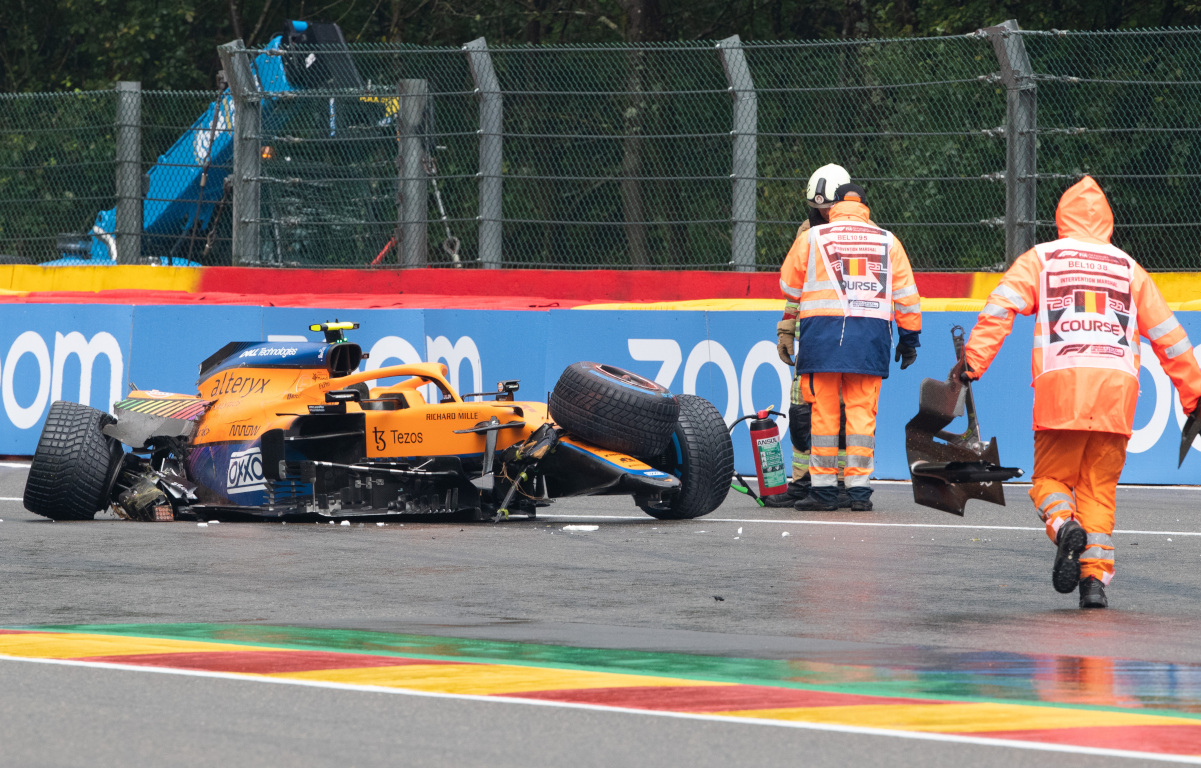 Lando Norris was "frustrated and annoyed" after crashing out in qualifying for the Belgian Grand Prix as he could have "easily" bagged pole position.
Instead he rode in an ambulance to the hospital while his compatriot George Russell put a Williams up onto the first row of the grid.
Norris was the driver to beat heading into Q3 at the Spa-Francorchamps circuit on Saturday afternoon, the McLaren driver having set the pace in the wet in Q1 and again in Q2.
However, his chances of securing a first pole position came to a crashing end when he lost control through Eau Rouge, his MCL35M spinning in the barriers.
All four corners of the car were wrecked in the car, necessitating a new gearbox and a five-place penalty for the driver, while Norris' elbow took a hit.
Things we all love to see. 🧡 pic.twitter.com/ZyLXrqZGGh

— McLaren (@McLarenF1) August 28, 2021
He will be back in the car for Sunday's race, ruing his P14 grid position on a day when he could have been starting at the very front.
"Everything was going extremely well," he told the media on Saturday evening.
"Since the first lap in Q1 things were going perfectly, and the car was feeling hooked up, I felt confident with the car.
"I guess it was tricky going out in Q3 because even on the out lap, I was saying how wet it was and saying it should be should be stopped or something, because I was aquaplaning quite a bit.
"So it was just a difficult situation to be in: how much do you want to push, how much do you not? I think it's combination of pushing a bit too much for the weather at that point, aquaplaning a little bit in the middle of Eau Rouge, which obviously doesn't end too well, and ends up being the way it was in the end.
"Of course, I feel bad because things were going very well, the car was on fire, and Q1 and Q2 were extremely good. I think I could have quite easily fought for pole position.
"I've now given the team a lot of work to do, but not a lot I can do now."
F1 TV Pro is half price for two months! In order to claim this fantastic discount, click the following link and use the promo code SPA50 at checkout!*
*Offer expires at 23:59 on Sunday, August 29. Offer only available on Pro. Customers will need to take out a monthly subscription and this offer can only be redeemed on web. Offer not available in NL, FR or NZ.
He added: "I think at the end of the day I guess my mistake, and my bad. But I didn't feel like I was taking too many risks at the same time. I think it was just the conditions were was so tough.
"And from what I heard a lot of other drivers were complaining that it should get stopped at the same time. So yeah, of course, I was frustrated and annoyed, but we'll try and make up for it."
When you realise one of your cars is on the front row 🕺🤪#BelgianGP 🇧🇪 #F1 @WilliamsRacing pic.twitter.com/KrWOPpdiMw

— Formula 1 (@F1) August 28, 2021
But while Norris was being transported to a local hospital for further checks, the Brit was aware of what was going on in qualifying and especially what his compatriot Russell was up to.
The Williams driver pulled off what will likely be the biggest shock in qualifying for the entire season when he put his FW43B up onto the first row of the grid.
He was pipped to pole position by three-tenths by the Red Bull of Max Verstappen.
"I'm very happy for George as well, I was watching in the ambulance on the way, I wanted to watch qualy still," Norris said.
"I was cheering on George to go for that pole."