Norris 'happy' to play team game in Monaco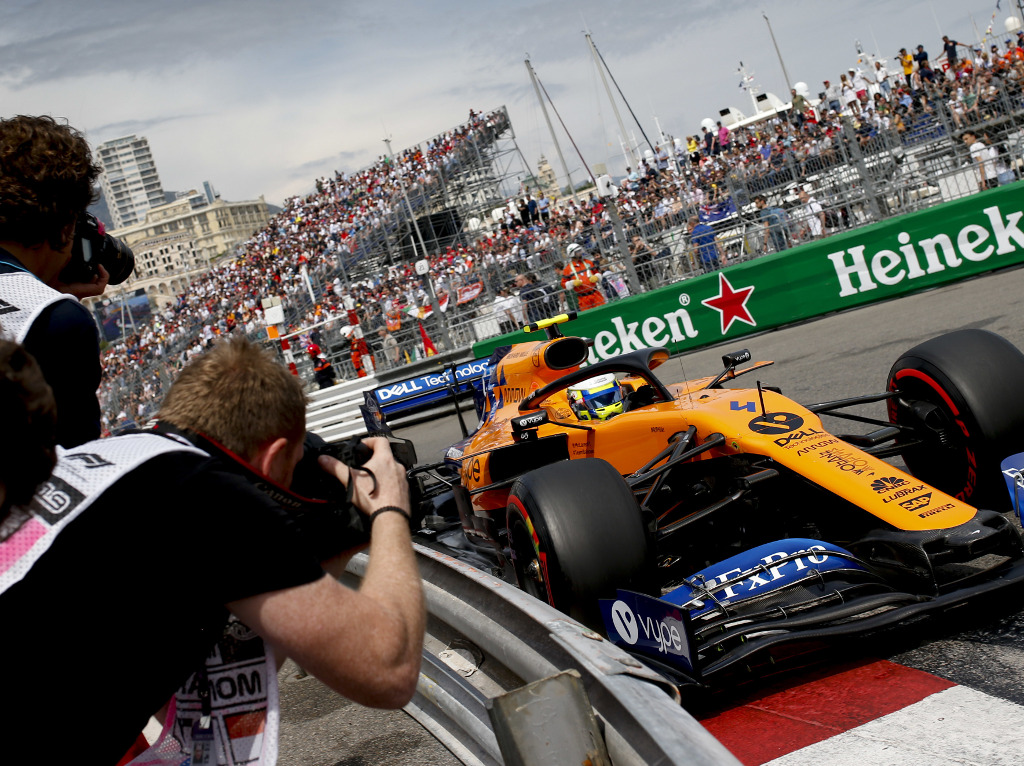 Called on by McLaren to be a moving bollard in the Monaco GP, Lando Norris says he was "happy" to help Carlos Sainz and McLaren grab sixth place.
While Sainz started Sunday's grand prix ninth on the grid, Norris was P12.
The Brit's efforts to improve his position weren't helped when, on the very first lap, he began to suffer graining.
That cost him pace while Sainz was running as high as sixth when those ahead – including Daniel Ricciardo and Kevin Magnussen – pitted.
Ricciardo and Magnussen came out behind Norris, who set about slowing the pace by at times as much as three seconds a lap slower those ahead.
This allowed Sainz to build up such an advantage that he could easily pit and come out ahead of those who would otherwise have taken sixth off him.
"The whole race we didn't have the best pace to be honest," Norris told the official F1 website.
"I grained the fronts on the first lap of the race just with being behind so many people and being on the harder tyre, not being able to turn it on as well as the top teams, the faster teams.
"It compromised me a lot in the first stint, and therefore I didn't have a lot of pace.
"I think in the car we had a decent amount of pace but just the graining limited us a lot.
"At the point we knew where I couldn't do anything special it was turned more into a team game and I had to try and help Carlos and the team try and get a better result rather than just focusing on my own race.
"So that made it a bit more difficult, but I still did the best I could and at the end of the day if I didn't make one or two mistake that I did, maybe a P10 was possible for myself but not much more."
As such McLaren turned to Norris to assist Sainz.
The team told the rookie what he needed to do in terms of pace to help his team-mate build up an advantage over those who were stuck behind Norris.
The Brit explained: "They told me what I needed to focus on lap time-wise.
"Obviously trying to look after my tyres at the same time which cost a bit of pace, but they told me what I needed to do and I did that and allowed him to box cleanly ahead of me.
"If I didn't do that I think he probably would have been passed by the Toro Rossos because they were quite a bit quicker. So I think they did a very good job.
"We did our homework before the race because we thought this might happen, so we were well prepared and thankfully that got us some good points."
After six races McLaren have 30 points, 13 ahead of fifth-placed Racing Point.
Norris added: "I knew I wasn't going to do anything special or get loads of points, so I just did the job I had to do.
"I'm sure as a team we know what we have to do to get the best points possible. For the future, in terms of constructors' points and money for next year and improving as a team, it was the best job we could have done.
"So I'm very happy with the job that everyone did, but the race was not me pushing flat out.
"I had to go a bit slower, still have the same result because I probably wouldn't have passed anyone, I just went slower and therefore we had a good result."
Follow us on Twitter @Planet_F1 and like our Facebook page.