Nyck de Vries was 'chilling in Paddock Club' before shock Williams call-up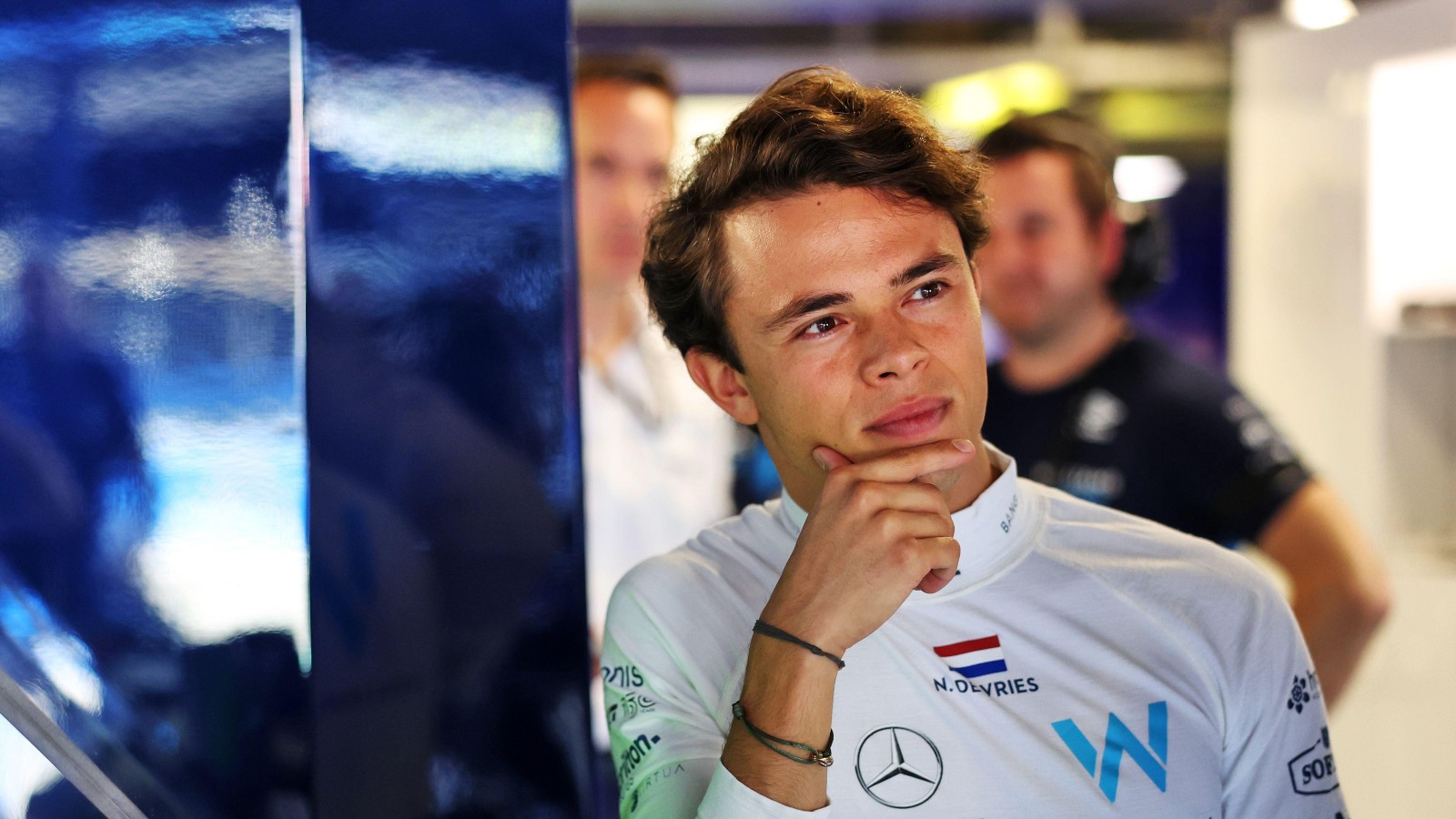 Nyck de Vries went from enjoying a cappuccino in the Paddock Club to replacing Alex Albon at Williams in the blink of an eye at Monza.
The Dutchman had already been in action during the Italian Grand Prix race weekend with a different Mercedes-powered team, that being Aston Martin.
For FP1, De Vries received the opportunity to drive Sebastian Vettel's AMR22 for the opening hour of practice. As it turned out though, there was a far greater opportunity to come.
Ahead of FP3, Williams announced Albon was sadly suffering with appendicitis and therefore could not take part in the remainder of the race weekend.
The call then came for De Vries to take Albon's place, which meant he had to quickly finish his cappuccino and get to work.
Asked by Sky Sports F1 if he could have expected the weekend he has had, De Vries replied: "Certainly not, and when I received the call I was actually up in Paddock Club for an appearance and literally drinking some cappuccino and chilling and waiting.
"And then I received a call from Mercedes which asked me to come down ASAP and then I was forwarded to Williams, so exciting times obviously. I feel very sorry for Alex and I hope he is okay and wishing him a speedy recovery.
"But for me it's obviously a very unique opportunity. Very last minute, only one half hour before FP3 and there is such limited time to kind of get ready. You only have two sets [of tyres] in FP3 to get ready.
"Hence why I'm not entirely satisfied because I think our session wasn't quite as smooth as I would have liked and we made some mistakes and wasn't perfect, but nevertheless I think I can also be quite satisfied with what we did."
De Vries outqualified his team-mate Nicholas Latifi on debut, narrowly making Q2 after his final Q1 time was deleted for track limits. His final Q2 attempt then ended with a lock-up at the start of the lap.
De Vries revealed he accidentally altered the brakes while using Latifi's steering wheel which is unfamiliar to him, as previously he has become used to Albon's.
"Actually how I lost my last run in Q2 was it was Nicholas' wheel, because that's closer, but I was used to Alex's switches and accidentally hit something," he said. "And therefore the brake balance moved one and a half per cent rearwards, that's why I locked up the rears.
"These mistakes weren't great and on the first run of Q2 we made a small change. We were obviously also in traffic and the tyre temps were a bit low so it's not everything quite together, but I think it was not bad after all."
Bring on tomorrow 👊#WeAreWilliams #ItalianGP pic.twitter.com/H79BxMTfAG

— Williams Racing (@WilliamsRacing) September 10, 2022
Due to a host of grid penalties, De Vries has actually been elevated into the top 10 on the grid, set to start P8, presenting a huge opportunity for the driver who is looking to land himself a place on the grid for 2023.
On Friday, De Vries said people commented the Aston Martin green looks good on him, although he is open to all possibilities, even if the magnitude of what is happening at Monza has not really been on his mind.
"People were joking to me yesterday 'green looks good on you' and I was answering 'any colour that becomes permanent will look good on me'," he stated.
"But I try not to think too much about the opportunity and honestly with such little time there isn't even time to think anyway.
"Obviously my stomach did feel a bit weird. Of course I was nervous and a little bit stressed, but I think ultimately my own pressure is beyond anything and that's one of the reasons why I'm not entirely satisfied. But I try also to enjoy the moment. To be starting in the top 10 is just great."
Asked if he plans to get his elbows out for the race start, De Vries said he is keeping such thoughts out of his mind and is simply focused on doing what is best for his chances.
"Yeah, but in the end there's no point to worry and think about things too much," said De Vries. "I just want to focus on doing a good start and then we'll build my first lap from there and try to position the car wherever it's best to do so.
"And I won't go in thinking not to do something, I'm focusing on what to do right."