One of the craziest races in Formula 1 history
The 2019 German Grand Prix will go down as perhaps the craziest race in Formula 1 history. Are you sitting comfortably? Then we will begin.
Here is how race day unfolded…
As the heavens opened at the Hockenheimring, fans were treated to another demo run from Mick Schumacher in his father's Ferrari F2004. What a beautiful sight.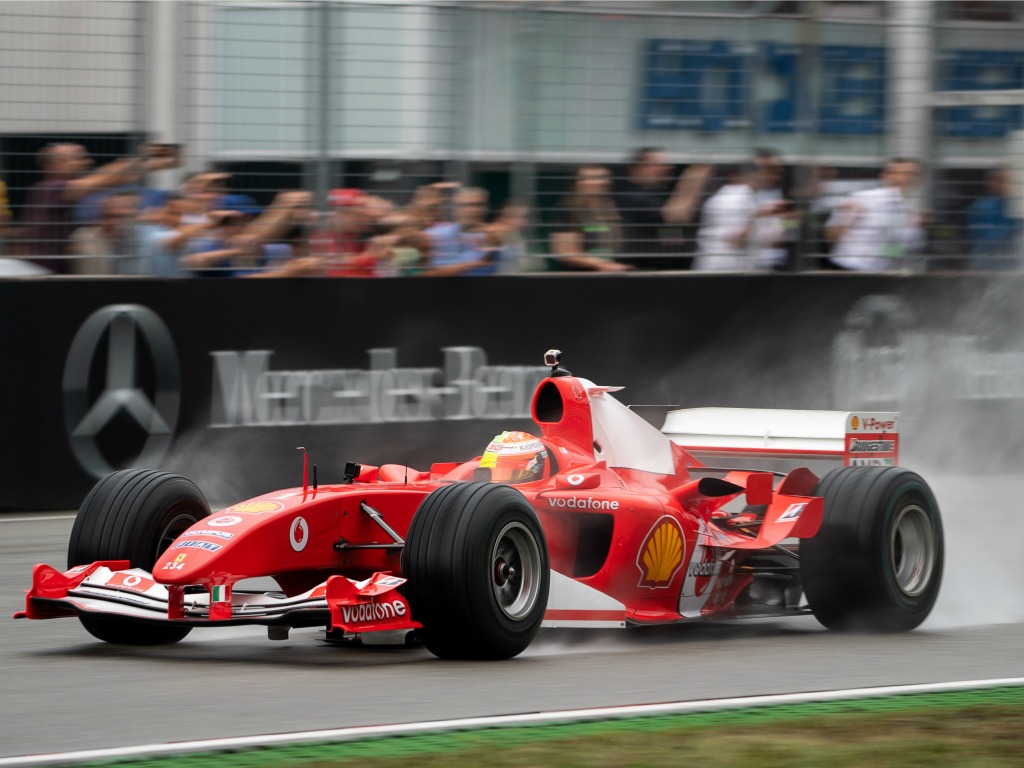 Lewis Hamilton said he had been feeling a little under the weather this weekend in Germany. A certain former team-mate wasn't buying it…
Collective hearts sank when the FIA confirmed that the formation lap would be behind the Safety Car.
Just confirmed, it will be a Safety Car start! #RSspirit #GermanGP #RACEday https://t.co/ICLAj9Jd8y

— Renault F1 Team (@RenaultF1Team) July 28, 2019
It was confirmed that the drivers would indeed line-up on the grid for a standing start with three laps taken off the total.
An awful start for both Red Bulls, Hamilton kept P1 off the line with Bottas up to P2 – P3 for Kimi Raikkonen!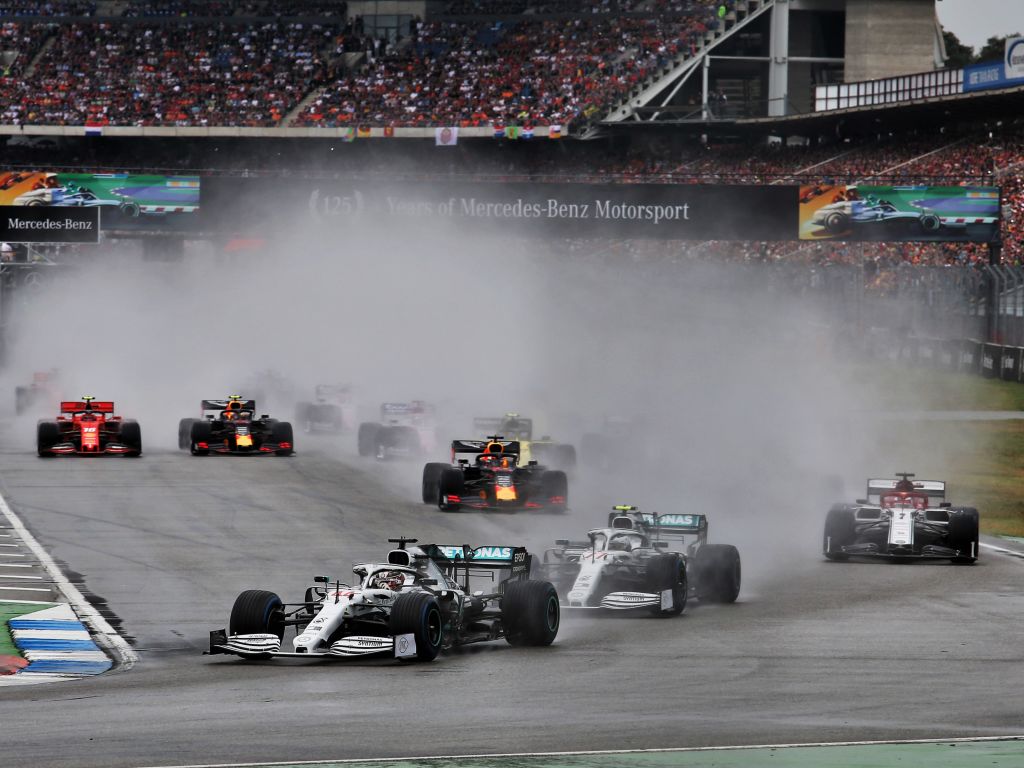 Celebrations were put on hold when Verstappen cleared Raikkonen at the hairpin. Meanwhile Vettel was up to P13, soon to be P12 when Sergio Perez hit the wall, bringing out the SC.
Vettel came in for the inters, while race leader Hamilton also got the call along with a large chunk of the grid.
SAFETY CAR: Box. Box. Box!!

It's a slick double-stack from the lads and Lewis and Valtteri are back out in P1 and P3! 💪#Motorsport125 #GermanGP pic.twitter.com/B7yMTWpeul

— Mercedes-AMG F1 (@MercedesAMGF1) July 28, 2019
Magnussen proved quite the hold up for Leclerc, but he eventually improved to P4 with Nico Hulkenberg in close pursuit.
As for the other Ferrari, Vettel survived a hairy moment with Robert Kubica to continue his progress up to P8.
LAP 7/64

Safety car is now in and we're racing again

1 HAM
2 BOT
3 VER
4 LEC
5 HUL
6 MAG
7 RAI
8 VET#F1 #GermanGP 🇩🇪 pic.twitter.com/lgWHzylfAp

— Formula 1 (@F1) July 28, 2019
10 laps gone and Mercedes were proving you can't rain on their parade. Hamilton had a three-second lead over Bottas, the Finn was then almost two seconds up on Verstappen.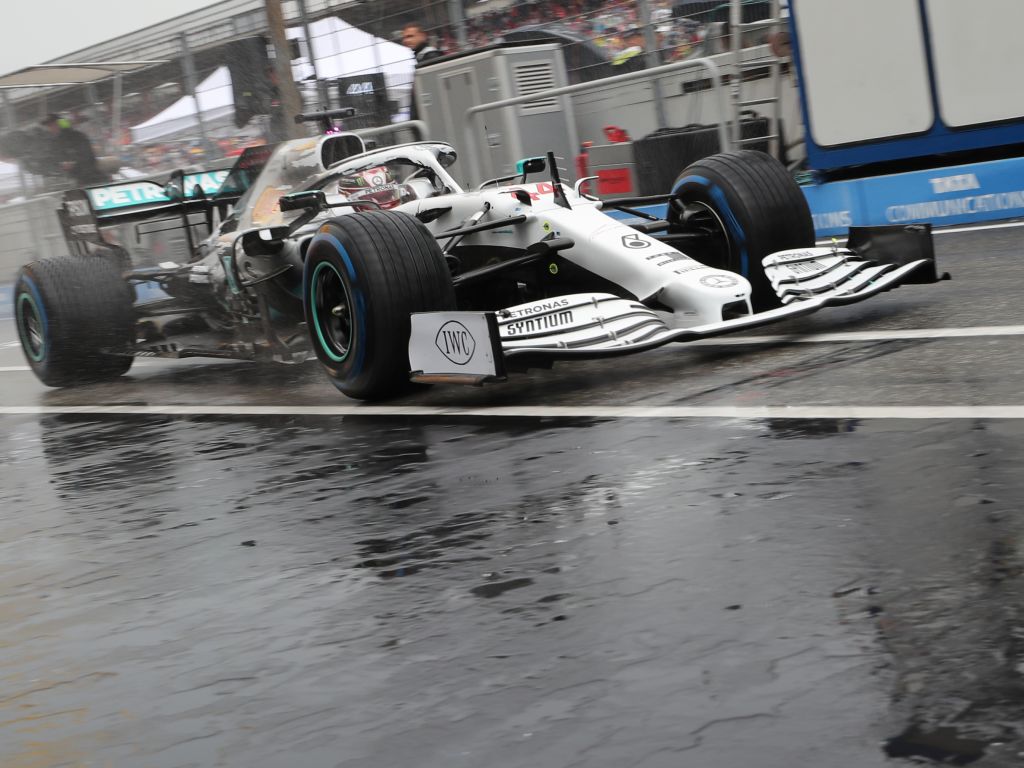 Ferrari were hit with a fine for their unsafe release of Leclerc into Romain Grosjean's path.
Meanwhile, Ferrari are still being Ferrari. #F1 https://t.co/GMAik00KBA

— Planet F1 (@Planet_F1) July 28, 2019
The VSC appeared after Daniel Ricciardo's engine gave up the ghost.
LAP 15/64

That's not spray

That's smoke coming from @danielricciardo's car 😬#F1 #GermanGP 🇩🇪 pic.twitter.com/fxpQnZjLGp

— Formula 1 (@F1) July 28, 2019
DRS was enabled on Lap 17 and Verstappen had a look at Bottas which backfired.
Verstappen squiggled it right up trying to overtake Bottas into the hairpin #germangp

— Chain Bear F1 (@chainbearf1) July 28, 2019
Another issue for the Dutchman was Leclerc who put on a fresh set of inters and was now closing in by three seconds a lap.
Leclerc is flying after that pit stop. THREE SECONDS quicker than anyone else #F1 #GermanGP

— Chris Medland (@ChrisMedlandF1) July 28, 2019
Carlos Sainz went for a spin on the drag strip.
Carlos Sainz has gone off! He rejoins in 14th, behind his team-mate #ThatsUnfortunate #GermanGP #F1

— Lights Out ●●●●● (@LightsOutF1Blog) July 28, 2019
Kevin Magnussen was the first to try slick tyres as he put on a set of softs, Vettel followed a few laps later.
Magnussen has fitted slicks… Weird flex but OK? #F1 #GermanGP

— Luke Smith (@LukeSmithF1) July 28, 2019
Verstappen liked what he saw, but he picked the medium tyres rather than the softs – just getting out of the pitlane was a challenge.
The Red Bull man went for a spin, but Mercedes still made the call to give Bottas the mediums.
Live view on the Red Bull pitwall #GermanGP 🇩🇪 pic.twitter.com/fCPmarAnW7

— Sean Kelly (@virtualstatman) July 28, 2019
Softs went on for Leclerc who improved to P2! Norris' McLaren had enough as he retired reporting "no power".
Norris. Game Over. #F1 #GermanGP #Hockenheim 🇩🇪

— F1 Grid (@F1grid) July 28, 2019
Hamilton boxed for softs but the VSC was ending and the rain was getting heavier – a golden opportunity for Leclerc.
But it was deja vu for the Scuderia as Leclerc went into the barriers.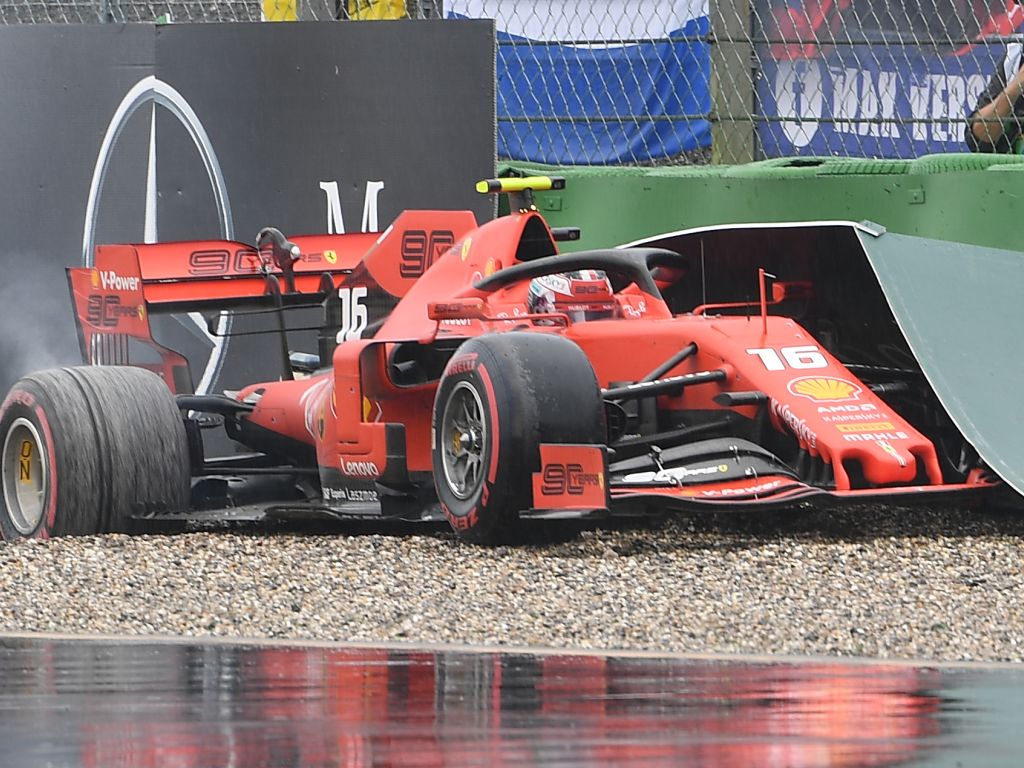 Hamilton was next to be caught out by the rain as he lost his front wing. Mercedes weren't ready for his stop as Bottas took over the race lead.
The Brit emerged P5 behind Hulkenberg and Alex Albon.
Hamilton has lost his front-wing after contact with the wall!#F1 | #GermanGP 🇩🇪

— Motorsport Week (@MotorsportWeek) July 28, 2019
Bottas ditched the mediums under the Safety Car as Verstappen ranted at his team for putting him on those tyres in the first place.
So your top five – Verstappen, Hulkenberg, Bottas, Albon and Hamilton.
Make that P2! What the f*ck is going on?! https://t.co/x5oc5z9Yt5

— Planet F1 (@Planet_F1) July 28, 2019
The drama intensified when Hamilton was handed a five-second time penalty for not going the right side of the bollard when pitting.
Out of the race Norris gave a helping hand on commentary.
Unbelievable, Jeff #GermanGP

— Lando Norris (@LandoNorris) July 28, 2019
Hamilton finally cleared Albon but he was under investigation again for driving too slow under the SC.
Bottas made his move on Hulkenberg to take P2 with Hamilton getting himself back on the podium shortly after.
"Hulkenberg could get a podium."

The Mercedes drivers: pic.twitter.com/9UNNYVs5rW

— WTF1 (@wtf1official) July 28, 2019
A rare Kimi error as he became the next man to slide onto the drag strip.
— Car and Driver – F1 (@cardriverthef1) July 28, 2019
Heartbreak for the Hulk as he crashed out of P4 – same spot, same result. That wait for a first Formula 1 podium rolls on.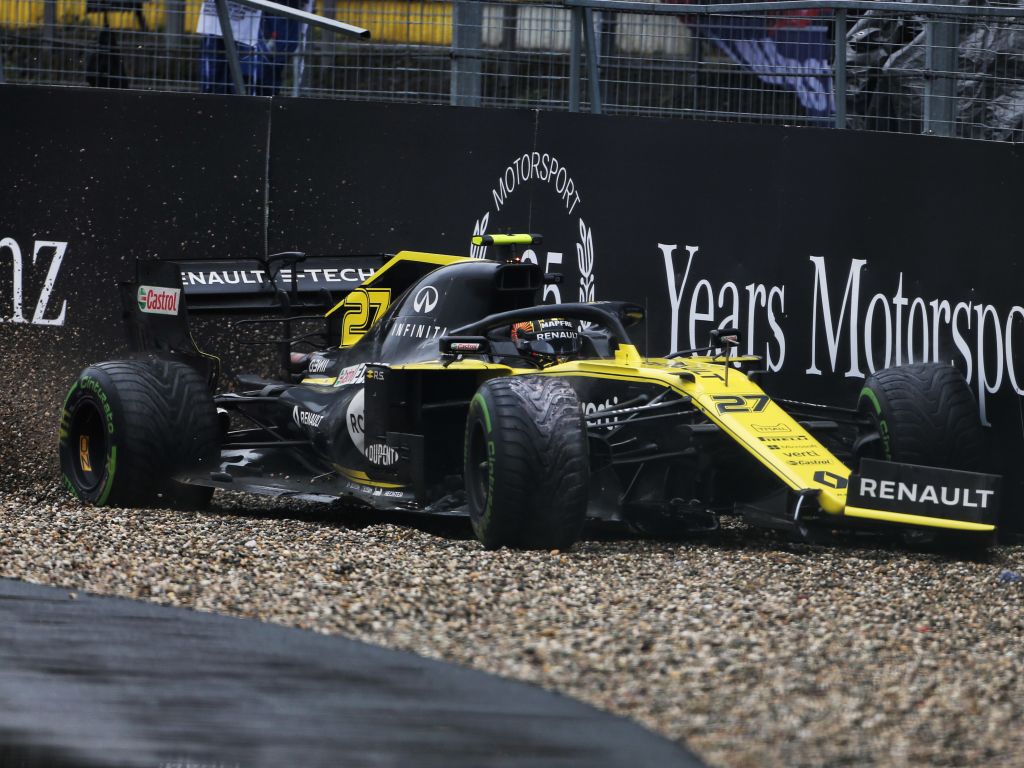 Disaster for Albon as he went from pulling a move on Hamilton on P4 to dropping to P8.
The latest rush to the pits began to bolt on the slicks with no more rain forecast.
However, there was a bigger story breaking here…Lance Stroll was the new leader of the German Grand Prix, though Verstappen quickly took that away from him.
Holy hell, Lance Stroll has smashed his strategy – he's going to be the net leader ahead of Verstappen!! #F1 #GermanGP

— Luke Smith (@LukeSmithF1) July 28, 2019
Toro Rosso were back on it as Daniil Kvyat set the fastest lap in P3 while Albon overtook Gasly – perhaps a bit of foreshadowing there.
Also, poor Lando…
— Lando Norris (@LandoNorris) July 28, 2019
Hamilton spun again, this time at Turn 1.
LEW SPIN ME RIGHT ROUND BABY, RIGHT ROUND #GermanGP pic.twitter.com/dqmOTHg5b3

— iGP Manager (@iGPManager) July 28, 2019
Hamilton didn't find the barrier, but his team-mate Bottas did. A weekend of celebration for Mercedes had become a nightmare.
Anyway remember Vettel? With the SC out he was staring at Sainz, Stroll and Kvyat ahead. P2 was on!
A race to forget for Mercedes. #SkyF1 https://t.co/Tujf5sHufD

— Evonne O (@f1lover75) July 28, 2019
Grosjean and Magnussen then hit each other…again! Yet they went on to record a double-points finish.
🏁🇩🇪 Checkered flag in Germany! It's our second double points score of the season! 💪

We come home:
P9 GRO (2pts)
P10 MAG (1pt)#HaasF1 #GermanGP pic.twitter.com/lrksCZRnh2

— Haas F1 Team (@HaasF1Team) July 28, 2019
Vettel did indeed go from P20 to P2, while Gasly's miserable afternoon came to an end after he rear-ended Albon.
LAP 63/64

Vettel passes Stroll to take P3

Seconds later Vettel passes Kvyat to take P2

Reminder: he started from P20 😮#F1 #GermanGP 🇩🇪 pic.twitter.com/gez3Mvqml3

— Formula 1 (@F1) July 28, 2019
Verstappen claimed victory in a purely bonkers German Grand Prix.
P2 for Vettel, P3 for Kvyat. Incredible!
🏁🇩🇪🏆 Max Verstappen wins the 2019 German Grand Prix!

It's his seventh #F1 victory and his first at the #GermanGP!

Vettel 2nd, Kvyat 3rd pic.twitter.com/hiVQfMulPZ

— Lights Out ●●●●● (@LightsOutF1Blog) July 28, 2019
Follow us on Twitter @Planet_F1 and like our Facebook page.