We need to talk about Charles Leclerc…and it's not a comfortable conversation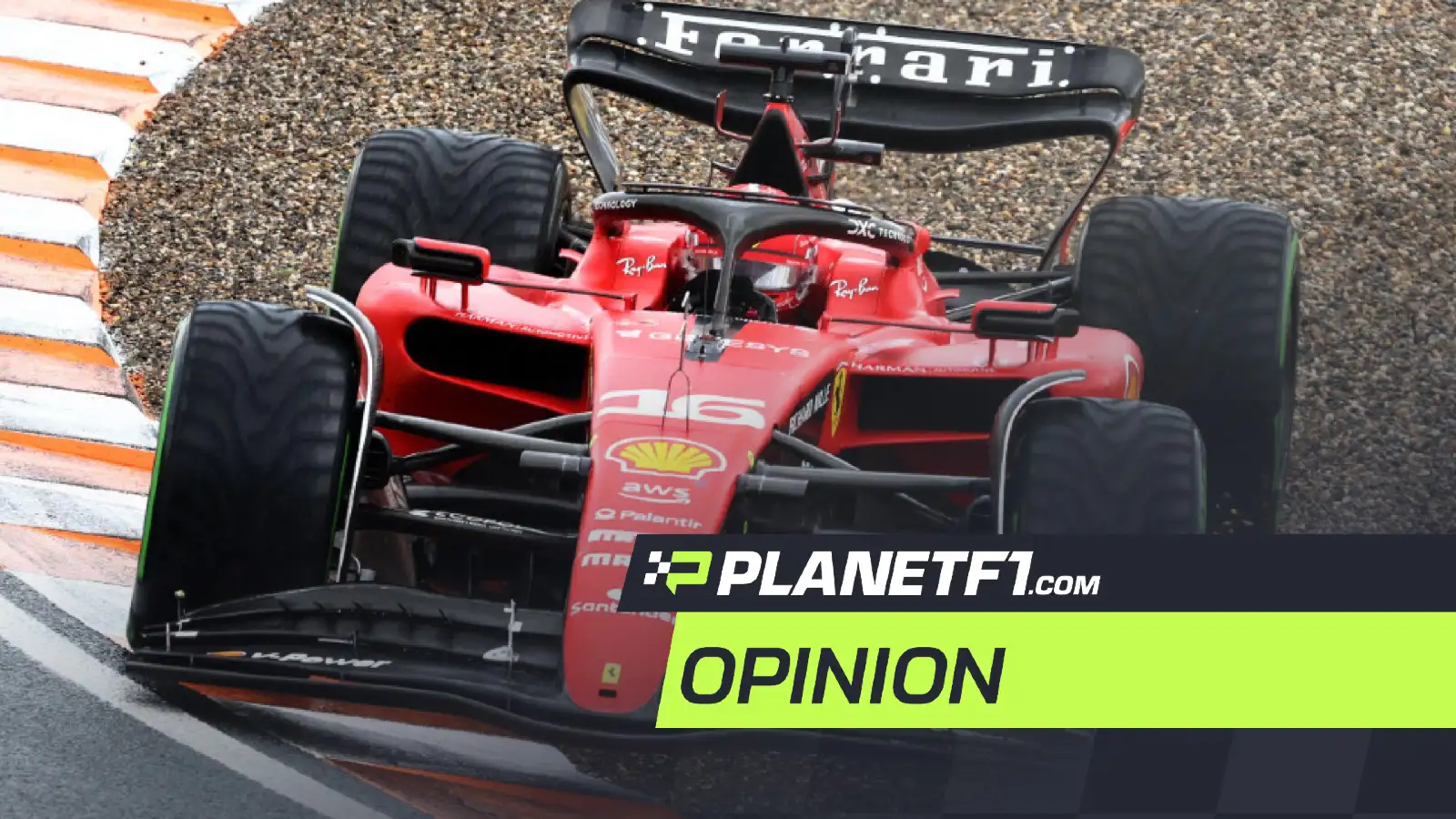 Ferrari's Charles Leclerc had a nightmare weekend at Zandvoort, and such weekends do little to reinforce his credentials as an elite driver.
Leclerc's retirement from the Dutch Grand Prix marked the end of a disastrous weekend, particularly on his side of the garage, with Ferrari struggling for pace (and braking ability!) throughout.
But while Leclerc has had his fair share of misfortune during his Ferrari tenure, Zandvoort was perhaps the most egregious example of a performance from a driver who has started to lose his way and isn't realising his full potential.
A weekend marred by mistakes
Leclerc's race was ruined by a first-lap battle with Oscar Piastri, in which the Monegasque driver just got a kick of oversteer while the pair were alongside each other. The contact was enough to damage the endplate on Leclerc's car, but there was no immediate decision taken to pit and replace the wing.
But that didn't mean that Leclerc didn't pit just a few seconds later anyway, a decision he made all on his own. With the conditions changing rapidly from dry to wet, Leclerc was one of several frontrunners, including Pierre Gasly and Sergio Perez, to dive into the pits.
Perez would show that, done correctly, such timing could be spot-on. But most of the good work of Leclerc's call was undone by the fact Ferrari simply weren't ready for him. Not for the first time in a pit stop, Ferrari had no tyres ready and waiting for their driver, and the seconds ticked away rapidly while the mechanics scrabbled for the intermediates.
He fell down to 17th as a result, but rapidly climbed back up as high as fifth as others pitted – making up considerably for the fact he had dived into the pits without preparing his mechanics.
"I think that the first [stop] from Charles looks a bit strange from the outside," team boss Fred Vasseur defended afterward.
"But it was a very good call from him. It was a very late call, because he was in the pitlane when he told us!
"But, in the end, even if he lost perhaps seven or eight seconds in the pitlane, it was a good one. If you have a look, [Pierre] Gasly also had a good step forward with this kind of call, but it was a good choice to stop on Lap 1.
"They [the drivers] all saw the rain before us because it was into the last corner and he decided to pit. It was a very late call. But again, I think it was the right decision because, after the pit stop, he was in a much better position than before. Even with the six, seven seconds that we lost into the pitlane, it was a good call on that.
"If you are 10 seconds behind, or five seconds behind, when you do the call, it's much easier. I don't have to complain about this. It was the right call."
While Leclerc's timing for the stop was impeccable, Perez and Gasly both showed the change could be done flawlessly – highlighting either an operational slip-up from Ferrari, or a lack of suitable preparation and communication from Leclerc. Vasseur's defence of Leclerc suggests he's happy for Ferrari to take the hit on that one.
Worse was to follow, as Leclerc began slipping backward rapidly, not helped by a moment skating across the gravel as he adjusted to the intermediates. The front wing damage was coming home to roost and Vasseur explained that, far from it being just a front wing endplate, Leclerc's incident had actually damaged the floor of the car.
"He damaged the right endplate and the endplate went into the floor and damaged the bottom of the floor," he said. Leclerc later revealed that around 60 points of downforce had been lost, meaning he was essentially driving "in a different category".
This is borne out by the lap times, with Leclerc rarely going lower than a low 1:17 through the middle portion of the race, even after his front wing change. Averaging in the mid-1:17s and with slower laps in the 1:18s, while Max Verstappen pounded in 1:15.0s up at the front, Leclerc's problems were brought into sharp focus as Liam Lawson latched on to attack.
With absolutely no disrespect meant to the rookie driver, Lawson in his very first race in F1 and in an AlphaTauri shouldn't have been able to race Leclerc on equal terms. Getting past the Monegasque driver once, Leclerc got back past down the main straight using DRS, just before Ferrari cried enough and opted to retire the damaged car from the race as points appeared impossible.
It was a weekend of entirely self-inflicted woe, right from the moment Leclerc binned it into the wall in slippery conditions in qualifying.
PlanetF1.com recommends
Revealed: Charles Leclerc's amazing Ferrari supercar collection
F1 2024 driver line-up: Who is confirmed for next season's grid?
Has Charles Leclerc plateaued as an F1 driver?
What's alarming about Leclerc's poor weekend isn't the fact that it went wrong for him, it's the fact that it's not really a surprise that it did. Leclerc became very popular in the early days of his Ferrari career as he made similar mistakes, becoming a 'hero or zero' type that won over many as he would label himself 'stupid' and promise to bounce back and learn from his errors.
But those errors have never really faded away. Armed with the quickest car in early 2022, Leclerc almost crashed out of the Imola race and was fortunate to salvage a sixth-place finish. More damaging was his unforced error while leading at the French Grand Prix, while pushing to stay ahead of Verstappen through the pit sequence.
Since then, seeing a Ferrari binned in the gravel or the wall is simply not a shock. It happens far too often for it to be. Crashing with Lance Stroll in Australia was followed by a qualifying crash in Baku, which didn't cost him pole position, before crashing twice at Turn 7 in Miami.
The scrutiny really started to ramp up then, with Jenson Button saying Leclerc is "every bit as quick as anyone else, if not the fastest driver out there in terms of raw pace, but he doesn't seem to know where the limit is."
Leclerc had a quiet middle portion of the season, keeping his nose clean for a handful of races, and returned to the podium with a strong drive at Spa-Francorchamps. But all that good work was undone by his litany of mistakes in Zandvoort. While both drivers struggled to get the car slowed down in wet conditions, it was Leclerc who, once again, binned it into the wall when the pressure was on.
"It's one of those weekends where the car is extremely difficult to drive," he told media, including PlanetF1.com, in the aftermath of his qualifying mistake.
"Turns 9/10 is one of those corners where you go into the corner, you are releasing the brake, and there's absolutely no grip in mid-corner for whatever reason. Then you're just trusting the car gripping again in the exit, which it didn't on that lap and I obviously ended up in the wall.
"It's just a car this weekend that is extremely difficult to drive. In Formula 1, it's all about anticipating, and knowing what balance you're going to get once you get into the corner.
"But, at the moment, I'm getting into the corner, and I have zero idea whether I'm going to have a huge understeer or a huge oversteer. That makes it very, very difficult for us."
While other drivers would perhaps rein things in to keep their car out of the wall, Leclerc is choosing the opposite and relying on blind faith his car will stick – even in places where he admits there hasn't been any grip previously. Whether that's foolish or admirable is debatable – less popular drivers would be torn apart for it. Ferrari clearly doesn't have a problem with the mistakes, for now, but crashes have a direct impact on team spending in the modern era of the budget cap.
Most F1 veterans will explain that being a successful driver is all about continuous learning. There is never a point at which a driver is perfect, but the very best can come close to skirting that line of perfection. Max Verstappen, right now, is the closest to that line, having come on in leaps and bounds since his fast-but-flawed maiden years in the sport.
In his sixth season in the sport, there is no sign of a similar upward trajectory from Leclerc. While he was perhaps too harsh on himself in his early years, he seems to have gone the other way now and is no longer holding himself as accountable as previously. Ferrari have been a mess, this is true, but the failures of the Dutch GP land more on his shoulders than the team's.
Added to that is, like in 2021, Carlos Sainz has been the more consistent of the two. While Leclerc had a clear advantage over him when the car was good, Sainz appears to have a better handle on things when expectations are lower. Leclerc may be capable of higher highs, but the heroics of those moments all but vanishes when the car is trickier.
How much of that is down to frustration? After all, seeing his contemporary Max Verstappen romp to win after win, title after title – it must sting, even if he gets along well with Max on a personal level. As a sportsman, Leclerc is being left behind and, while the car isn't world-beating, he is failing to rubber-stamp himself as the elite talent that his potential suggests.
Ater all, looking across at Aston Martin, would anyone argue that the proven elite Fernando Alonso isn't extracting the absolute maximum results that his car is capable of? If he can be relied upon in his twilight years, why can't Charles Leclerc be relied upon while in his 'peak' years?
F1 is chock-full of stories of drivers who have had all the prestige, success, and sheer speed required to make it in the sport. Leclerc is a prime example of such a driver. There's no doubting his speed. But the very best drivers have more than that, and the danger is, with every passing race and every glaring error, his chances of making that step to reaching the level of Verstappen, Alonso, and Lewis Hamilton fade ever further away.
2022 proved that, in close machinery, Verstappen had considerably more mental control (even if it's not always borne out in his radio messages!), and made no critical errors during his year-long battle with Hamilton in '21.
Given the sheer amount of mistakes Leclerc makes, it's difficult to see how he can ever become a World Champion without a dominant car under him. For those of you who are currently glowering at that suggestion, answer this question honestly:
If you put Verstappen and Leclerc in the same car for a season, who would finish ahead?
Read next: Max Verstappen makes surprising admission in car versus driver ability debate