Why Red Bull should be 'annoyed and nervous' over Verstappen/Perez battle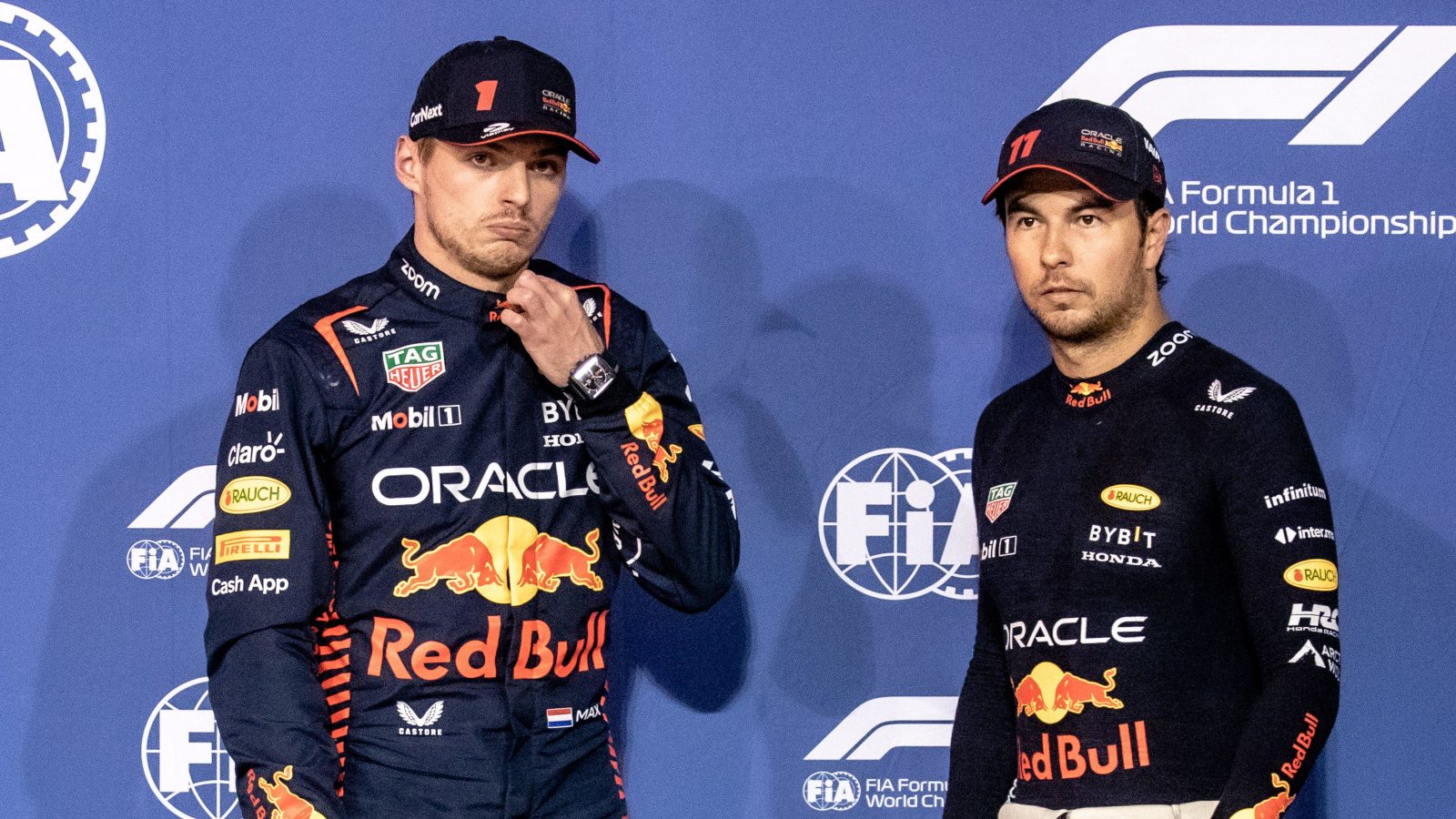 Peter Windsor, the former Williams and Ferrari team manager, feels the Red Bull management should be "very nervous and actually quite annoyed" over the way Sergio Perez and Max Verstappen raced each other in the Saudi Arabian Grand Prix.
Red Bull secured a second one-two finish in as many races in Jeddah, but there was an undercurrent of tension between race winner Perez and Verstappen, who recovered from a driveshaft problem in qualifying to P2.
Doubts have persisted about the relationship between the Red Bull drivers since last November's Sao Paulo GP, where World Champion Verstappen refused to assist Perez's campaign to finish in the runner-up spot in the Drivers' standings by swapping places at Interlagos.
And speaking via his YouTube channel, Windsor believes the game of cat and mouse in the latter stages in Saudi Arabia – when Perez and Verstappen had a comfortable gap to the third-placed Aston Martin of Fernando Alonso – will be a cause for concern at Red Bull.
He said: "There was a lot of tension in the back half of the race, after the Safety Car once Max Verstappen had got up to P2, which he did beautifully. It was just a phenomenal drive from P15 up to P2.
"Once he got there he was five or six seconds behind Sergio Perez and the big question then of course was Brazil 2022 and what would be going through the mind of Sergio Perez, indeed what would be going through the minds of the Red Bull management on the pit wall.
"If I had been on the pit wall, I would have been very nervous today – and actually quite annoyed – that the two drivers were pushing one another as hard as they were, because they were going quicker than they needed to go.
"The gap they had over Alonso, once they got it to 10 seconds they could have backed off. But they didn't.
"They just continued to take time out of one another and every time Max did a really good job on a lap Sergio responded, and then Sergio backed away to save the tyres and then Max put in another fastest lap.
"So it's not what you want when you've got an easy one-two and you're way ahead of the third-placed guy, in this case Fernando Alonso, but the matter resolved itself – kind of – when Max reported that he felt some vibrations.
"He felt that the driveshaft, which he's very sensitive to now having had a driveshaft failure [in qualifying].
"The driveshaft was starting to feel a bit rough again and obviously at that moment he had to start preserving the car and thinking about finishing the race [but] still the fastest lap was out there to be taken.
"Just prior to that, Sergio Perez is on the radio saying, 'what's going on, we don't need to be doing this'. And the answer was, 'well, you can race'.
"So it was a tense moment, certainly from Perez's point of view.
PlanetF1.com recommends
Verstappen camp reportedly not happy with Nico Rosberg's critical comments
Can Sergio Perez do a Nico Rosberg or forever be a Valtteri Bottas?
'Sergio Perez will not get involved in any topic in which he has to support Verstappen in the future'
"From Max's point of view, it was pretty straightforward. There he was, he was going to go as quickly as he could, he was going to put pressure on Sergio and maybe he was going to win this grand prix.
"From Perez's point of view it was a stressful 10 or 12 laps not knowing how quickly to push the car but wanting to keep the gap at around four-and-a-half to five seconds, preferably 10 seconds if he could!"
With Perez seemingly surprised to discover that Verstappen took the bonus point for the fastest lap of the race at the end, ensuring the Dutchman retained the lead over the World Championship, Windsor feels the confusion revealed much about the state of play at Red Bull.
"It all ended with Max backing away a little bit and it was a five/six-second gap towards the end," he said.
"And Sergio, believing that he had fastest lap, said with two laps to go, 'who's got fastest lap?' They said, 'you have, Sergio', so he didn't back off but he just drove to the chequered flag – as you would if you've been leading the race almost from the start and victory is there.
"And on that last lap, Max went out and got the fastest lap and got the point.
"Not a big deal, but there is a little bit of 'who's leading the World Championship' and now it's Max Verstappen and not Sergio Perez by one point.
"But it was interesting that after the race Sergio didn't know that had happened and he had to hear it from the media, and as soon as he heard it he was a bit shocked.
"He was under the impression, I guess, that Max was nursing his car to the finish, so again a little bit of an insight on what's going on behind the scenes at Red Bull."
Windsor feels that team principal Christian Horner faces a challenge in terms of managing the relationship between his drivers, having failed to properly address the controversy in Brazil last season.
He explained: "This comes back to Brazil and what happened there when Max didn't give that position back to Sergio Perez as they'd agreed over some other incident – they said it was Monaco but I've got my doubts about that – and it hasn't been resolved by the management.
"Because it was very clear in the race that Max, given the slightest opportunity, he would have been pushing Perez all the way to the finish, but when that driveshaft issue came into play he backed off, he did the right thing and so it was resolved.
"But this needs to be looked at.
"How they're going to do it, I've no idea because Max Verstappen is not the sort of driver that will ever listen to anything over than 'go and win the race, Max'. That's the way he is. He's a racing driver, pure and simple.
"And Sergio Perez, I think, up until Brazil last year was the perfect wingman.
"I think he still is the perfect wingman providing he's got no real opportunity to beat Max, but throw him the slightest bone of being able to beat Max Verstappen – like Max having a problem in qualifying – and he's going to be out there for the win.
"And he drove beautifully [in Jeddah]. He drove like a winning grand prix driver drives if they're potentially on the way to winning a World Championship.
"He looked really, really good, really polished in everything he did. Every pass he did, every piece of tyre management – everything was great.
"Max Verstappen will not be concerned about that at all, but from the outside looking in you can say that as this season develops, there will continue to be more fireworks at Red Bull.
"I don't believe they're going to be able to solve that problem.
"They never have – they couldn't solve it in the Webber/Vettel days – and I don't think they will now."