Early Gasly/Albon swap would be 'embarrassing'
Red Bull have been urged not to perform an "embarrassing" mid-season swap between Alex Albon and Pierre Gasly.
The Frenchman was chosen as Daniel Ricciardo's replacement at Red Bull for the 2019 season but lasted just 12 races before he was demoted to Toro Rosso again with Alex Albon promoted up.
Now, after Gasly's shock win in Monza and Albon's continued struggles, calls for the two drivers to swap places again are getting louder and louder.
But, ex-Formula 1 driver turned pundit Jolyon Palmer thinks Red Bull need to wait until the end of the season to decide whether to make that switch happen.
"Red Bull can't change them after Mugello, it would be embarrassing for them," Palmer said on BBC Five Live's Chequered Flag podcast.
"I wouldn't change Pierre Gasly from AlphaTauri. The team love him. The celebrations after the race were just brilliant and he is getting good results for them.
"He's building that confidence up again. He has been there before with Toro Rosso and the team liked him even then, that's how he got to Red Bull in the first place.
"But just don't rush it. Driver changes mid-season are a risky business. They have worked for Red Bull with Max Verstappen but they don't need to be messing around with this right now.
"It's a short season. There is not all that long to go, just see it out. I don't think Albon will be at Red Bull next year.
"Give Gasly a winter to get up to speed. I know he's had one before but give him another one!
"He has matured as a driver after going back to AlphaTauri but he still needs more time in a good environment before thrusting him back into the main Red Bull team."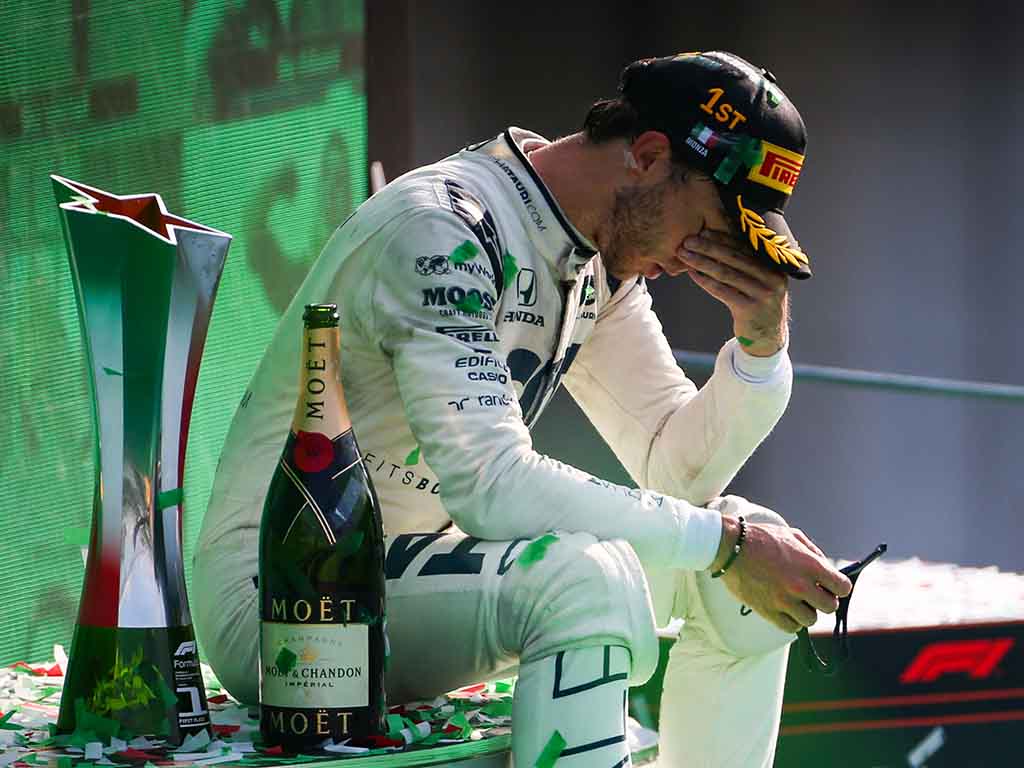 Gasly, meanwhile, has said that he does feel ready to return to the Red Bull senior team but it is not his choice to make.
"I think I'm ready," he said. "But it's not up to me to make that call.
"The only thing I've done since they moved me back to Toro Rosso has been just to focus on myself and just show what I can do.
"When I get the right tools in my hand I'm really happy that the performance we've shown – and I'm not only talking about Brazil but I think generally, we've been pretty strong most of the time.
"We've had some really strong qualifyings, really strong races since.
"We'll see what happens but I think there have been many, many strong drivers in Toro Rosso.
"I'm really happy to be one of the two that have managed to get a win for this team.
"Obviously I guess the strong results should be rewarded with something but we will see what happens.
"At the moment it's not something I really want to think about. I just want to enjoy this moment, because it's my first win in F1 and I will have time to think about this later."
Torquing Point - What next for Gasly?
Finley and Michelle from the www.planetf1.com podcast "Torquing Point" discuss what could be next for Pierre Gasly after his incredible win in Italy.
Follow us on Twitter @Planet_F1, like our Facebook page and join us on Instagram!