Pierre Gasly had 'barbeque feeling' in fiery AlphaTauri at Singapore GP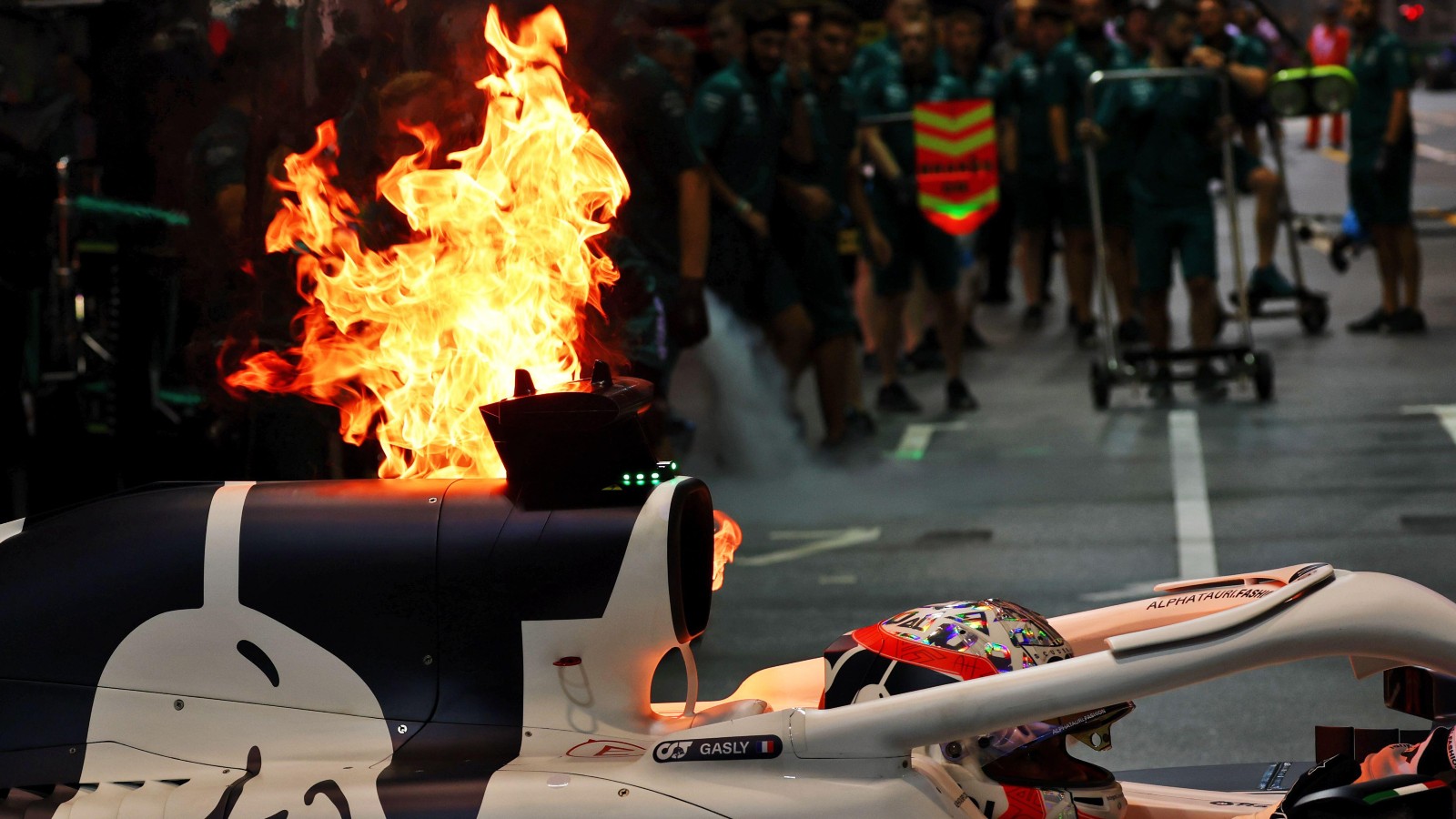 Despite his AlphaTauri doubling up as a barbecue in Singapore practice, Pierre Gasly said it is not something to worry about.
There were shocked looks on the face of the AlphaTauri mechanics as a fire broke out on Gasly's AT03 while they were pushing him back into the garage.
The fire could be seen around the airbox above Gasly's cockpit, with AlphaTauri quickly extinguishing the flames and taping up the damaged area.
It was revealed by the team that a connected fuel breather was to blame, this backed up by Gasly as he described the incident to reporters at the Marina Bay Street Circuit.
"It wasn't ideal, got slightly hot when we connected the fuel breather, caught fire, but we could switch it off and restart again," said Gasly.
"So yeah, just a bit of barbecue feeling, but it was nothing too bad in the end."
Asked if this is a concern going into Saturday, Gasly replied: "No, it's just a procedure and just in these conditions because it's so warm, but nothing worrying or concerning for the rest of the weekend."
Gasly is loving being back in Singapore, the event having been absent from the calendar since 2019, though the level of performance he is not particularly happy with.
After finishing P9 in the opening session, Gasly ended Friday practice outside of the top 10 in P14 and does not see a way back into the top 10 unless things improve.
"I'm loving this track, it's a really special place, very technical, a lot of rhythm," said Gasly. "On the performance side, I don't think we were really happy.
"I mean, we're finishing quite far away in FP2 and at the moment don't have the pace for the top 10. So yeah, we need to find something for tomorrow."
Currently P8 in the Constructors' Championship, AlphaTauri could still finish as high as P6. They are currently one point behind Haas and 19 adrift of Alfa Romeo.
Gasly says those teams are the "target" each weekend, but from what he has seen so far in Singapore, he feels another three to four tenths of a second are needed for AlphaTauri to challenge them.
"I mean it's the target until the end of the year," he replied when asked if the goal is to finish ahead of Haas and Alfa Romeo in Singapore. "
"Thing is, shouldn't look too much at the Championship and more like take it race by race and try to do the best job we can.
"But yeah, clearly, compared to the last three weekends, it seems to be a little bit more difficult here. So yeah, we'll work tonight and I think we need to find at least three or four tenths if we want to be able to beat these guys."
AlphaTauri brought an upgraded front wing to the Marina Bay Circuit, but Gasly said it is too early to judge how effective it is proving to be.
"It's minor changes, we need to spend a bit more time to analyse it," he concluded.
Read more: Lewis Hamilton says Mercedes still a second behind Red Bull and Ferrari