Gasly: AlphaTauri now the 'best they have ever been'
Pierre Gasly has heaped praise on his AlphaTauri team, saying they are the "best level they have ever been" while racing in Formula 1.
The 25-year-old's excellent P4 last time out in Mexico meant the team drew level on points with Alpine in the fight for fifth in the Constructors' Championship, and he has been one of the standout performers on the grid all season long.
He has consistently featured well inside the top 10 in qualifying and races, took a well-deserved podium finish amid the chaos in Azerbaijan earlier in the year and has earned more than quadruple the points tally of team-mate Yuki Tsunoda.
Reflecting on his weekend in Mexico first of all, he feels AlphaTauri have stepped up to "another level" in 2021.
"The car was very good there, everything went really well strategy-wise, car-wise and I was able to really push the entire race to get home in fourth position," he told reporters in Brazil.
"My best Mexican result and yes, I think it's great to show this form for the last four races, especially considering we are tied on points with Alpine.
"I really believe this season they [AlphaTauri] are at the best level they have ever been in Formula 1, at least from all the seasons I have been doing with them. They are really on another level and hopefully they can be rewarded at the end of the year."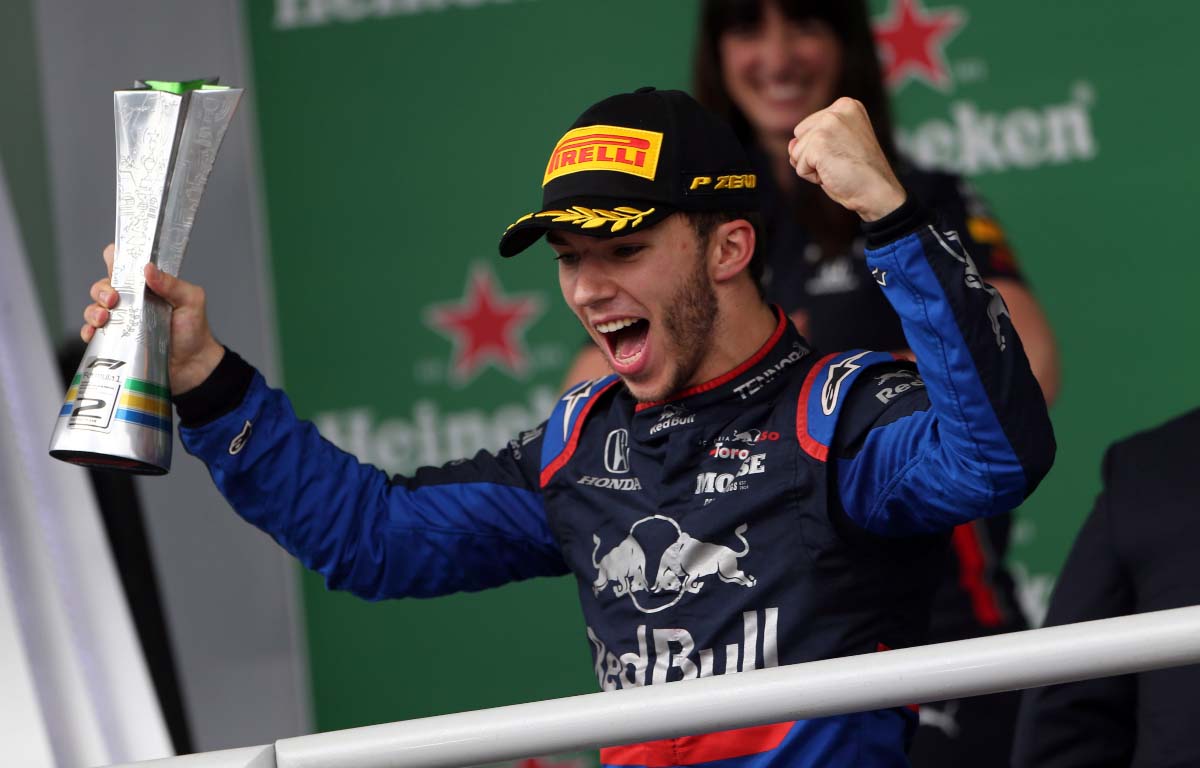 This weekend in Interlagos will see Gasly return to the scene of his first ever F1 podium, which he earned in 2019 and was a feelgood story around the paddock having been demoted from Red Bull earlier that year.
His P2 finish came after out-dragging Lewis Hamilton to the finish line on the final lap and he said the feeling he got from arriving back at Interlagos on Thursday triggered some happy memories from his last visit.
"Well, it was incredible," the Frenchman said. "Obviously your first podium in Formula 1 is always a moment [that is] very strong, very, very intense in terms of emotion that you just don't forget.
"Even just doing the track walk this morning was kind of exciting to rethink about that finish with Lewis, going up the last corner to the line.
"Yes, it's a place I love. I must say the track is very nice, I obviously have these memories of the beautiful race we had with my first podium and the Brazilian fans are really intense as well, really passionate, and on Sunday the energy is really intense, so I'm really happy to be back."
Brazilian Grand Prix preview
As F1 heads to Brazil, will Lewis Hamilton close the gap to Max Verstappen and can McLaren take back P3?