Gasly calls for F1 car changes to improve visibility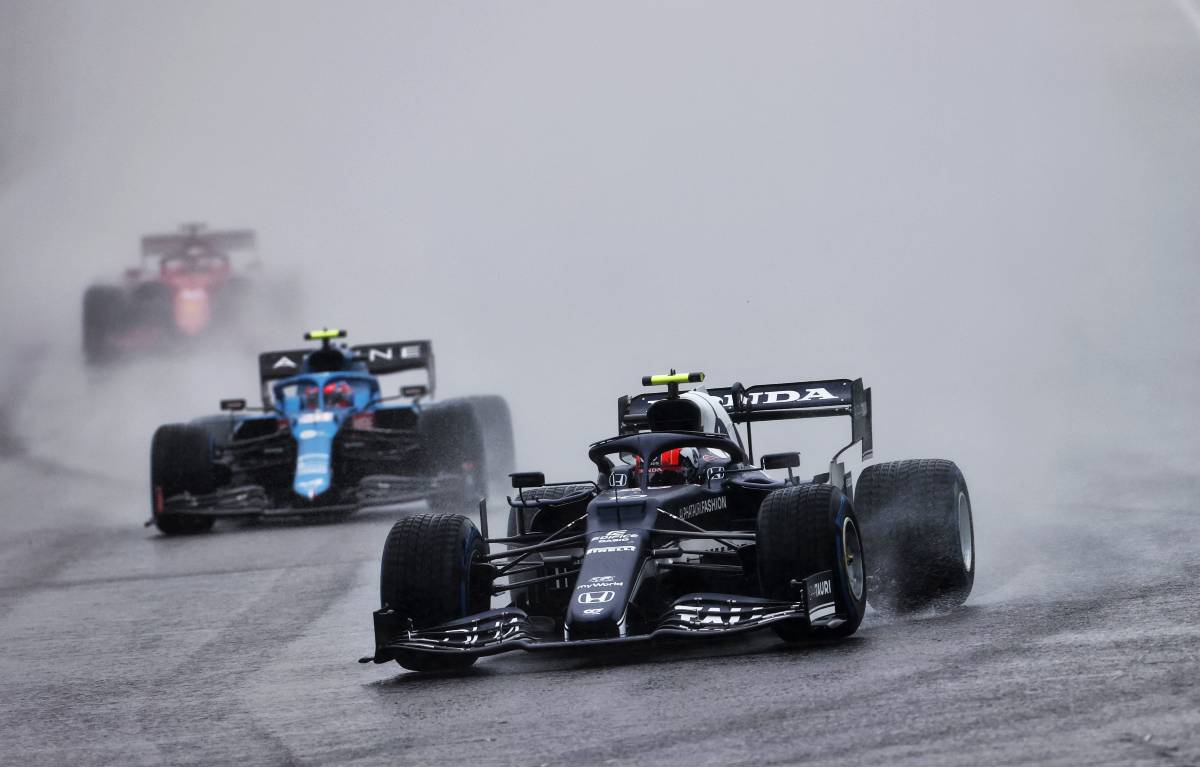 Pierre Gasly wants the next generation of Formula 1 cars to create less spray to improve drivers' visibility in wet conditions.
The Frenchman feels particularly strongly about safety on the Belgian Grand Prix weekend at Spa – two years earlier, his friend Anthoine Hubert was killed in the Formula 2 race there.
Therefore, Gasly had no problem with the decision not to turn the lights green due to incessant rain on race day, although he was "surprised" that a second short stint behind the Safety Car was given the go-ahead – and which ultimately determined the result – when conditions appeared worse than the first time, nearly three hours earlier.
Although the AlphaTauri driver had no real visibility issues behind the Safety Car, he said at racing pace it would have been a whole different matter – and hopes the situation can be improved when the new cars are rolled out to reflect the sport's different regulations in 2022.
"I think we should work on reducing the water splashing behind the cars because that's the real [problem]," Gasly told Motorsport.com.
"When I was watching the medical car, which was obviously going much slower, the water splashes were much less than with our cars.
"I think this is an area F1 should focus on for the next few years because if you reduce the water splashes and you have better visibility, certainly the conditions are very tricky, you risk having aquaplaning, you risk having a lot of slippage, you risk being very slow. But after that, it's up to us drivers to be at the limit of the grip we have."
No race, no fun.🌧Feel sorry for all of you that came to watch the race and waited hours under the rain today… what a strange day! More fun next week in Zandvoort 💪🏼 pic.twitter.com/JxDpdVlHAO

— PIERRE GASLY 🇫🇷 (@PierreGASLY) August 29, 2021
Get your hands on Pierre Gasly merchandise via the official Formula 1 store
Gasly, who had qualified sixth and collected a half-portion of four points for being classified in that position at the end of the 'race', said the main worry on a such a treacherously wet circuit was potential speed variations in racing conditions.
"If a car stops on the track for whatever reason, or has an accident, and there are lots of other cars coming right behind, we know the consequences if a car gets hit on the perpendicular for example," said Gasly, clearly referring to the accident that claimed Hubert's life.
"The problem is that you always depend on everyone in front of you staying on the track and going at a similar speed, because if someone is stopped and you're coming up to 200-250kph, the visibility is about 30 metres and then it's impossible to stop [in time].
"We have seen enough horrible things on this track. Unfortunately, I think it was the right decision."