Pierre Gasly surprises local business owners with golden tickets for Miami GP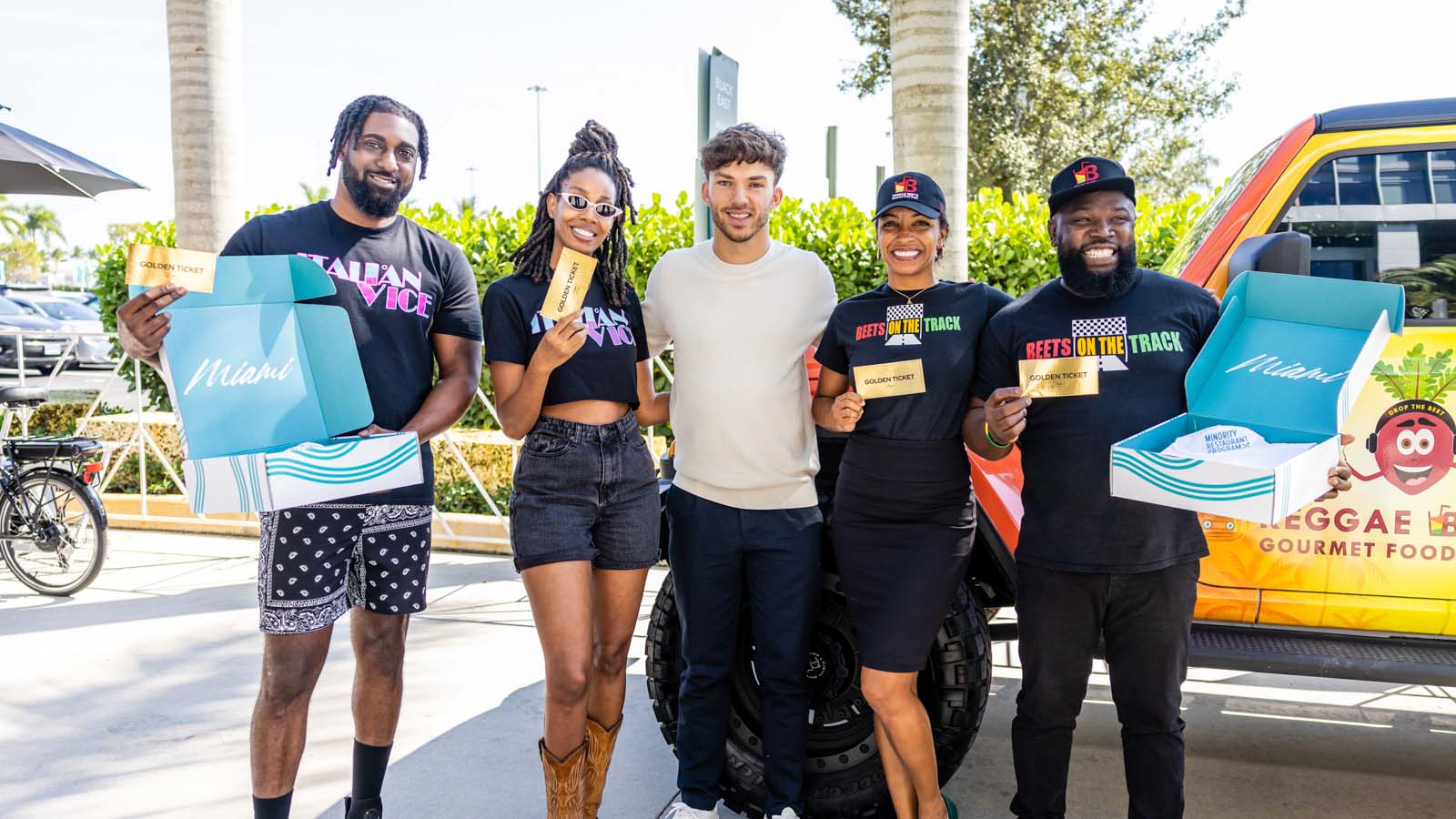 Pierre Gasly paid a special visit to Florida and gave two local businesses golden tickets to this year's Miami Grand Prix.
The Alpine driver headed to Miami Gardens to do some promotional work ahead of the second edition of the race, set to take place at the specially-built Miami International Autodrome in the shadow of Hard Rock Stadium in May.
As part of his trip, he also surprised vendors at two local restaurants with 'golden tickets' to this year's race, from Jamaican restaurant Reggae Beets and Italian ice vendor Italian Vice.
Miami Grand Prix organisers also say a total 14 minority-owned restaurants local to Miami Gardens and the surrounding area have been chosen to be at the race selling food, in the hope of bringing the involvement of local people to the race.
"I'm always happy to help support people and local businesses here and to bring them a bit of excitement by surprising them with a golden ticket," Gasly said.
"It's important to recognize the positive impact this has and I'm sure they'll have a great time at the race. Last year was a huge success and definitely I'm looking forward to racing in Miami again this season."
PlanetF1.com recommends
Toto Wolff denies that Lewis Hamilton is 'begging' for new Mercedes contract
Top 10 greatest Formula 1 seasons to end in Championship heartbreak
Michael Schumacher's 1o iconic Formula 1 grand prix victories
Elsewhere, Gasly paid a visit to the NFL's Miami Dolphins to take part in a 100-yard race against wide receiver Tyreek Hill – who shares the Frenchman's car number, 10, on the back of his jersey.
Considering 'Cheetah' clocked a 40-yard dash in 4.29 seconds, it's probably to be expected that Gasly could not quite out-pace his opponent in their sprint against each other.
Hill signed a shirt for the Alpine driver and posed for a photo, though he was left with a permanent reminder of his defeat with the inscription: "My feet… faster than your car!"
"Although I don't like to lose, I liked meeting Tyreek as I have so much respect for him and all the other guys as I know what it takes to be a top athlete," Gasly added.
"Personally, I always like coming here and interacting with the Miami Dolphins and being able to exchange gifts with some of the players. You really feel the team spirit, because when you compare this to Formula 1 we are just two drivers in a team. Here is a much bigger facility and I really like this environment and these vibes."
Miami Grand Prix organisers recently confirmed an expansion to grandstand seating capacity ahead of this year's race as demand soared for tickets, and the paddock will be moved to the pitch at Hard Rock Stadium.