Look what happens when Mattia Binotto stays back in the factory, plus Lando's still got lessons to learn and Valtteri Bottas still has jokes.
Time to take a look back over the stand-out images, clips and social media posts from the Turkish Grid Prix weekend.
Birthday boy
Friday practice was extra special in Istanbul as lovely Lando Norris turned 21. It firstly made for some wonderful comic timing from his team-mate Carlos Sainz.
Hope you've treated @LandoNorris something great, @Carlossainz55! Can't wait to see it 🤭😂

(Via F1 on Instagram) #L4NDO #LN4 #F1 #TurkishGP 🇹🇷 pic.twitter.com/Zng8JHmZ6p

— Lando Norris Updates (@LandoUpdates) November 12, 2020
Lando did get a very warm welcome into the garage and got a cake which almost looked too good to eat. Almost…
Gathered the team for a Friday morning 21st birthday celebration. 🎂💛@LandoNorris pic.twitter.com/hw0bIZXXBi

— McLaren (@McLarenF1) November 13, 2020
But sadly there was no time for a rendition of Happy Birthday over team radio. Turns out there was a Grand Prix to prepare for.
Sing 👏 For 👏 Lando 👏#TurkishGP 🇹🇷 #F1 pic.twitter.com/axsUN0QrU1

— Formula 1 (@F1) November 13, 2020
We would say Lando is all grown up now but, judging by this amazing next clip, he has still got some way to go…
Oh, Lando 🤦‍♂️#TurkishGP 🇹🇷 #F1 @LandoNorris pic.twitter.com/6B6lB52nnf

— Formula 1 (@F1) November 14, 2020
Nice work!
Helmutt Barko
Whilst there was a lot you could not predict in Turkey, one thing that is for definite is an appearance from a stray dog at the Istanbul circuit.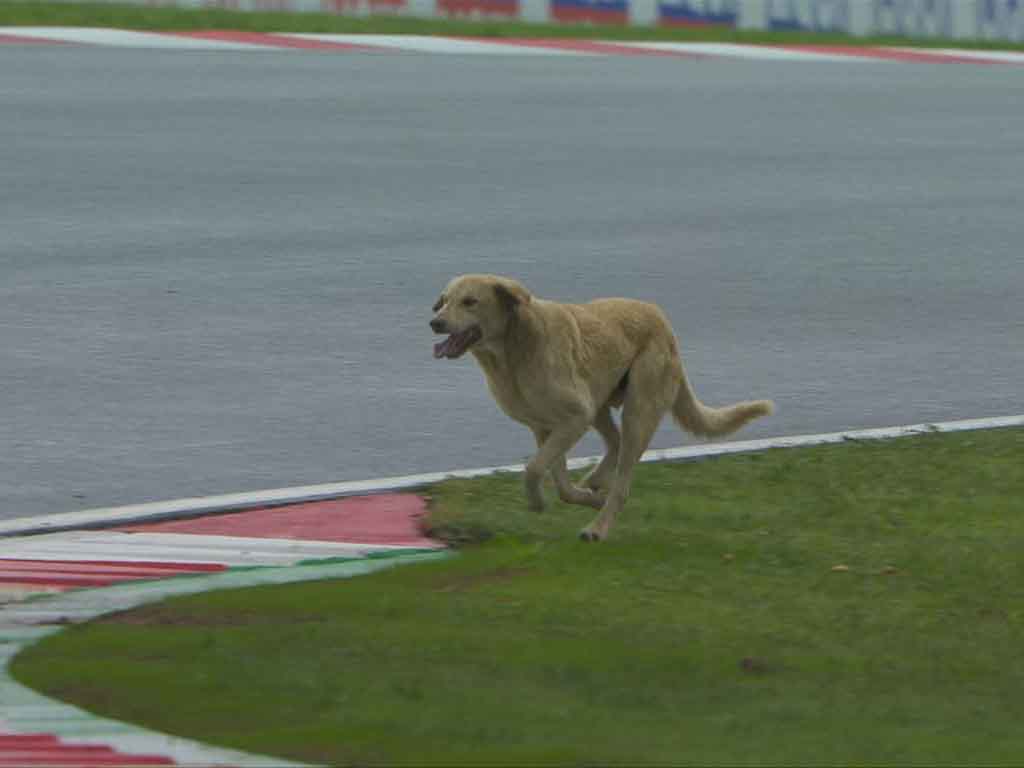 Thankfully there was no repeat of the 2008 incident, but we're not happy with the clear disrespect shown towards track limits.
What we are happy with, though, is someone seeing this happen and thinking to themselves 'you know what this needs? Team radio'.
Doggo Team Radio #TurkishGP #F1 pic.twitter.com/4uWKNWjvrK

— Matt Amys (@mattamys) November 14, 2020
It's sad to see so many strays, but at least one of them got a good meal from now a seven-time World Champion.
Lewis Hamilton made a new friend 🐶👏 pic.twitter.com/TOFKntZB4Z

— ESPN F1 (@ESPNF1) November 14, 2020
Forza Ferrari
Dogs made an appearance at the Istanbul Park circuit, but one person staying away from the track action was Ferrari boss Mattia Binotto, who decided to skip this round on the 2020 calendar in order to focus on operations back at the factory.
What did that result in? Well, Ferrari's best points haul of the season, of course, and a first podium of the season for the departing Sebastian Vettel.
WHAT.A.RACE. 🏆 #Seb5 P3 and #Charles16 P4
You guys did an amazing job ❤️
#TurkishGP 🇹🇷 #essereFerrari 🔴 pic.twitter.com/qeuJUvq8W5

— Scuderia Ferrari (@ScuderiaFerrari) November 15, 2020
He must have been sent a few jokes about his absence. Well, Seb made one anyway…
Vettel: "We scored the most points this season when he wasn't there. Maybe we should leave him at home more often (laughs). No I don't believe in that." https://t.co/zODSPPYKzg

— tami. (@Vetteleclerc) November 15, 2020
And Binotto has already made plans to skip Bahrain as well. If Ferrari somehow miraculously perform on a power-hungry track  in Sakhir then some alarm bells really are going to start ringing.
Vettel won't be too bothered, either way, his eyes are firmly on another car.
"Three more races and your car is mine." #F1 pic.twitter.com/x54Ry68wzi

— Planet F1 (@Planet_F1) November 15, 2020
Best of the rest
Whilst on the subject of Vettel, the continued show of respect between him and Lewis Hamilton is heart-warming to witness. We can't help but feel if Charles Leclerc's last-lap mistake to see Vettel onto the podium was written in the stars somehow.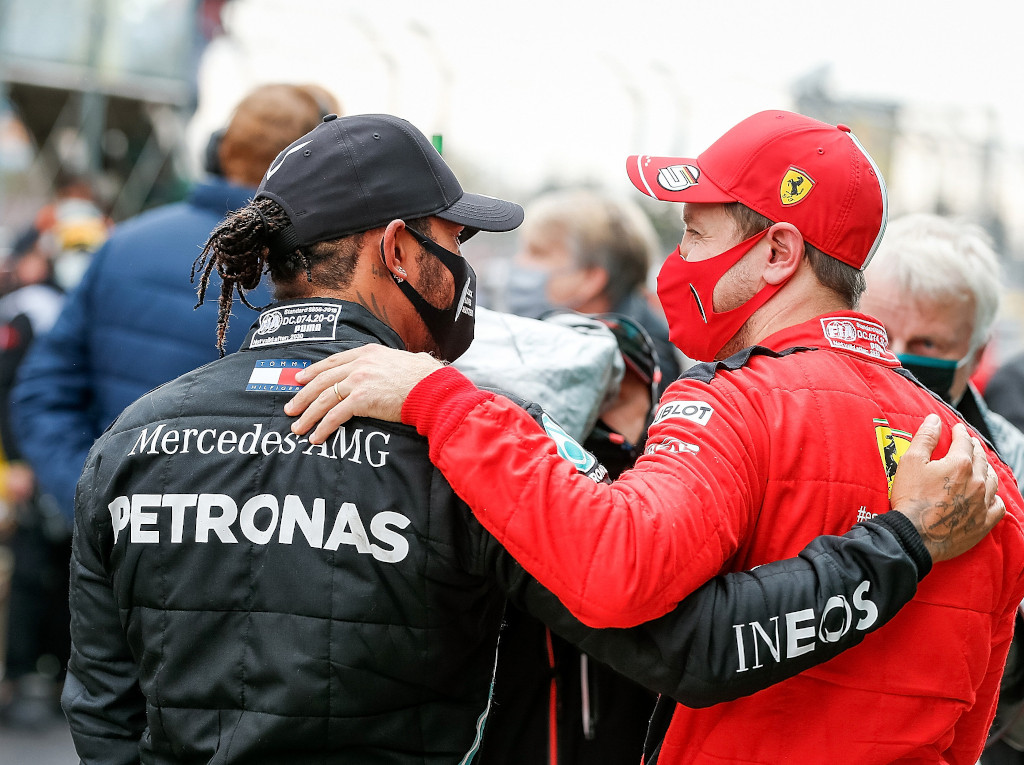 But before we get too soppy, let's turn our attention back to things that just made us laugh out loud…
Just what you need to ease the nerves before a race…a jet scaring the shit out of you. #F1pic.twitter.com/Ec0NIMlEIP

— Planet F1 (@Planet_F1) November 15, 2020
At least Valtteri Bottas still has his sense of humour…
— Out of Context F1 (@f1nocontext) November 15, 2020
And, after getting a bump from Lance Stroll in Imola, Racing Point's front jack man was taking no risks this time around in Turkey.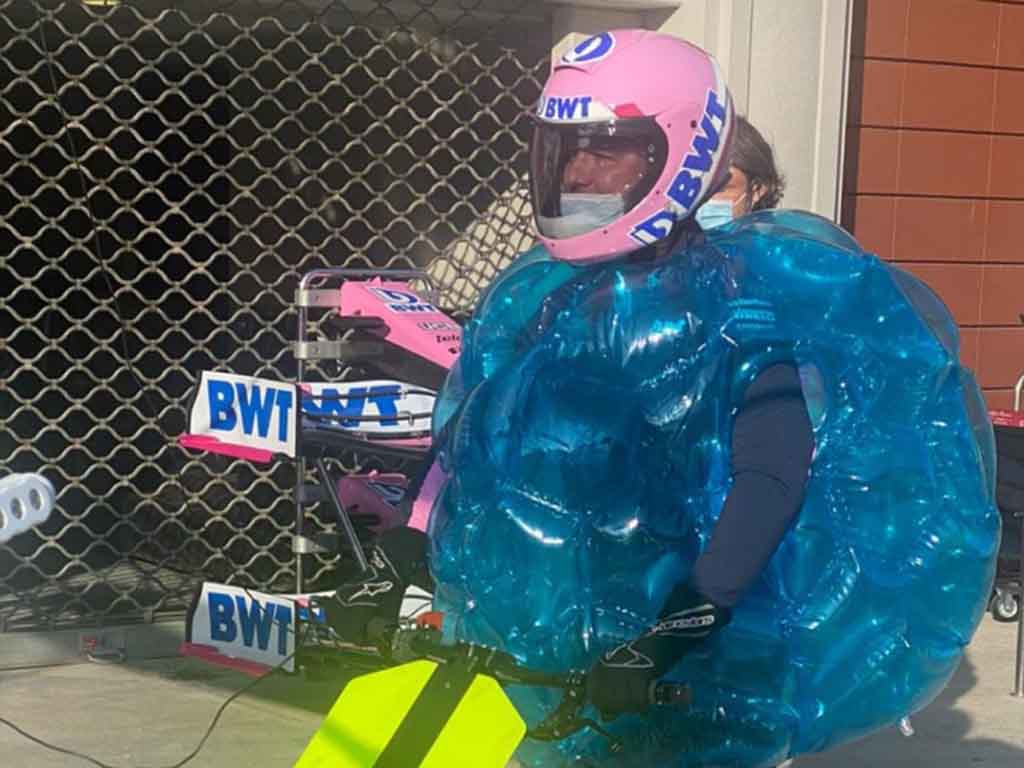 And congratulations to our 2020 Turkey Grand Prix podium members: Lewis Hamilton, Sebastian Perez and Sergio Vettel.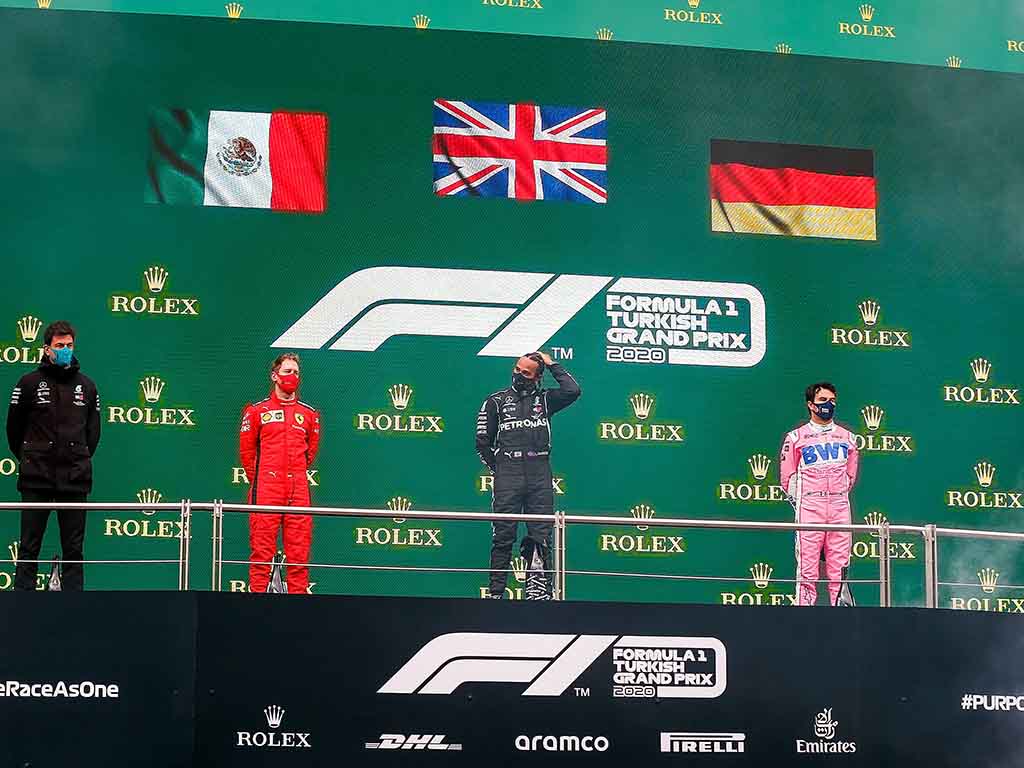 Last word
And so we witnessed yet another historic weekend in Formula 1 history. It seems only fitting we hear from the man that not many of us thought would see his achievements matched.
"Can someone like Lewis go on and get seven world titles?"

Michael Schumacher was asked the question back in 2008…#F1 pic.twitter.com/3YXhVWWDYa

— Formula 1 (@F1) November 15, 2020
Follow us on Twitter @Planet_F1, like our Facebook page and join us on Instagram!