Points for Hamilton, Kubica; Alfas demoted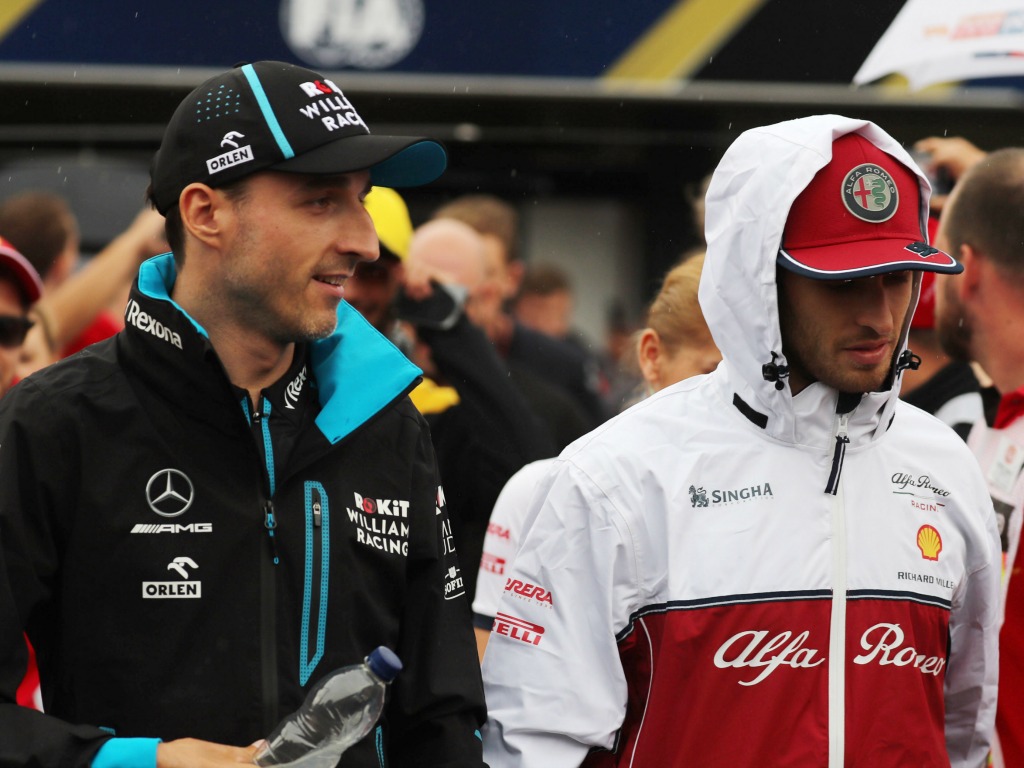 Both Alfa Romeo drivers Kimi Raikkonen and Antonio Giovinazzi have been given 30-second time penalties for data breaches at the German Grand Prix.
Raikkonen finished P7 and team-mate Giovinazzi P8 as the Alfa pair took advantage of a wild rain-affected German Grand Prix.
However, FIA Technical Delegate Jo Bauer soon released a statement claiming that "the race start data of car numbers 07 [Raikkonen] and 99 [Giovinazzi] were checked.
"These were found not being in compliance with Article 27.1 of the Sporting Regulations and Article 9 of the Technical Regulations."
Article 27.1 rules that "the driver must drive the car alone and unaided."
The stewards went on to confirm that the torque delivered by both cars at the race start didn't match the torque demand requested by the drivers' input within the required time of 0.07 seconds.
Giovinazzi's delay was logged at 0.3s and Raikkonen's at 0.2s.
"The FIA requires that the torque in the clutch matches (within specified limits) the torque demand as the driver releases the clutch. This must occur within 70 milliseconds," the FIA investigation statement read.
"In the case of both cars of Alfa Romeo Racing, the time that it took for the torque to align with the torque demand was close to 200 milliseconds and 300 milliseconds respectively.
"This provided a more gradual application of the torque, which given the wet conditions was a potential advantage.
"Regardless of whether there was an actual advantage, the Stewards determined that this was a clear breach of the guidance given to the teams as to how this would be adjudicated."
The penalties mean that Lewis Hamilton is promoted to P9, with his Championship lead over Valtteri Bottas now stretching to 41 points, while Williams' Robert Kubica also now gets a point for P10, his first since Abu Dhabi 2010.
Elsewhere Romain Grosjean is promoted to P7 ahead of team-mate Kevin Magnussen.
But Alfa Romeo boss Frederic Vasseur has said the team intend to appeal.
Result
1 Max Verstappen Red Bull
2 Sebastian Vettel Ferrari 7.333s
3 Daniil Kvyat Toro Rosso 8.305s
4 Lance Stroll Racing Point 8.966s
5 Carlos Sainz McLaren 9.583s
6 Alex Albon Toro Rosso 10.052s
7 Romain Grosjean Haas 16.838s
8 Kevin Magnussen Haas 18.765s
9 Lewis Hamilton Mercedes 19.667s
10 Robert Kubica Williams 24.987s
11 George Russell Williams 26.404s
12 Kimi Raikkonen Alfa Romeo Racing 42.214s
13 Antonio Giovinazzi Alfa Romeo Racing 43.849s
Did not finish
Pierre Gasly Red Bull crash
Valtteri Bottas Mercedes crash
Nico Hulkenberg Renault crash
Charles Leclerc Ferrari crash
Lando Norris McLaren hydraulics
Daniel Ricciardo Renault engine
Sergio Perez Racing Point crash
Follow us on Twitter @Planet_F1 and like our Facebook page.