Practice quotes: Ferrari, Mercedes, Red Bull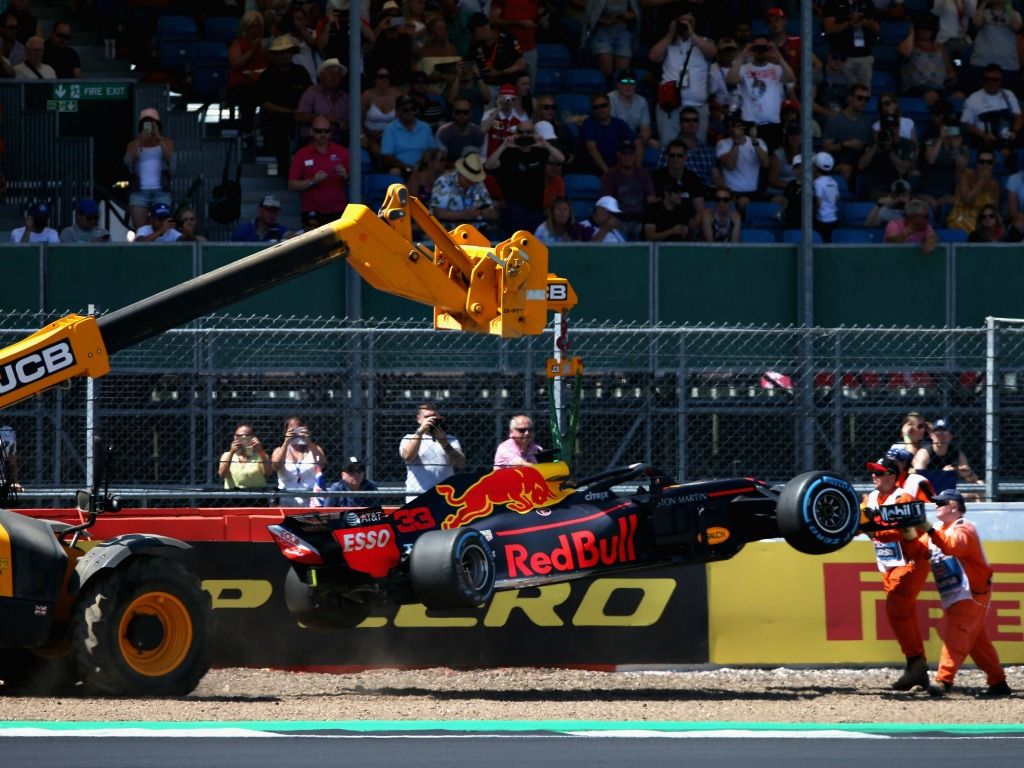 Sebastian Vettel topped a session on a Friday for the first time in 2018, while Max Verstappen lost track time in both sessions, including crashing out in FP2.
(FP2 Results)
Ferrari
Sebastian Vettel (P1):
"The situation is difficult to judge because we haven't seen much today and mostly collected data, and also because time is limited between the two sessions. But the important thing is that we had a good Friday, everything we put on the car seemed to work, and I felt happy with the balance of the car straight away and managed to find a good rhythm from the beginning. There has been a lot of talk about the third DRS zone: it may be easier to drop the wing for us than for smaller teams, whose cars have probably less downforce, anyway we'll see what happens in the race. I believe that most of the difference today is due to the new asphalt and… the amazing English summer!"
Kimi Raikkonen (P4):
It was a very normal Friday. We have been trying different things and solutions and learning as much as we could. For sure there's still some work to be done, but so far everything is ok. The resurfacing of the track made it a bit bumpy, in a few small spots, but all the time you feel it chattering all around the track. It's a bit funny, but in the end it's better than it used to be. This track has many nice parts and the grip has increased with the new tarmac. I don't know if the new DRS zone is creating overtaking opportunities: I think it depends on what your car can or can't do. I closed the wing during practice, I think it's too tricky to keep it open and it doesn't really make a big difference in lap time. Now we'll see what we can do tomorrow.
Mercedes

Lewis Hamilton (P2):
"The atmosphere has been great – the weather is fantastic and the crowd was incredible today. The track is the fastest it has ever been; we're flat out through Copse and Turn 1 and through Turn 2 with the DRS – it's insane how fast it is. The faster this track gets, the better it gets. It has to be the best track in the world, it feels like driving a fighter jet around the track. However, it is also the bumpiest track I've ever experienced; it's like the Nordschleife! With the speeds we're going now and the G forces we're pulling, I think it's going to be the most physical race of the year. I was on the Soft and the Medium tyres today; the Soft felt better than the Medium, and they seem to last – which is impressive if you look at the forces and loads they have to take on this track. It's going to be very, very close this weekend, the Ferraris are really fast. We're in for a serious fight which is great for the fans and I hope that we can pull through."
Valtteri Bottas (P3):
"The track is quite different compared to previous years – there's a lot of grip from the new tarmac, but at the same time a lot of bumps. Luckily, it doesn't seem to affect us in terms of performance, only the high-speed corners like Turn 9 or Turn 13 are a bit trickier. But it's not a big issue since we also gained grip from the new tarmac. We got the Soft tyres working okay; we experienced some overheating issues as track temperatures hit more than 50 degrees today, and we expect similar conditions on Saturday and Sunday. The Hard tyres felt more robust; it was a bit slower, but will go longer. The Ferraris look really competitive; I expect us to find more performance for tomorrow, but it is going to be really close."
Red Bull
Daniel Ricciardo (P5):
"It was actually pretty warm for Silverstone which we aren't used to. I normally bring a ski jacket here, even in July (laughs). We weren't really quick enough today. We will try and improve a few things which will hopefully put us a bit closer tomorrow but it seems for now quite a big step to Ferrari and Mercedes who look really strong. We certainly lose a fair bit of power, on the overlays you can see we are able to gain a bit in some corners but then we lose a bit of that and more. We will do what we can but at the moment we aren't on their pace. Just keeping the tyres in a good condition in these uncharacteristically hot conditions is key, if we can get on top of that then maybe in the longer runs when we get into the race on Sunday it will come to us. I don't think we can expect too much in Qualifying and if we are to qualify on the third row we really need to understand how to make the tyres go longer and then hopefully we will have a chance on Sunday. One thing is for sure, it was fun keeping it open all the way through turns one and two."
Max Verstappen (No Time):
"In FP1 I had a problem with the gearbox but I don't know exactly what that is yet. In FP2 I think I was a bit too quick on the hard tyre; I tried to go too fast through the corner and I just lost it. The feeling is good and the car is working quite well but we are just losing a lot of time on the straights which is unfortunate. The hard tyre was very stiff, I only did a few corners on it but it didn't feel fantastic. I expected with the new surface that it would be a lot smoother but it wasn't, some of the really big bumps have gone but anyway, it is always really good to drive on this track with such fast corners. I always feel good here. Of course it's not ideal to lose a session but I felt confident already in FP1. It seems like we may not be fighting for pole but we will try again tomorrow and at least I have two sets of soft tyres, which is positive. FP3 is still long enough to understand the car and tyres and anyway I will have Daniel's data from today. We will be ok."