Ralf Schumacher questions Mercedes' miscommunication and Ferrari's explanation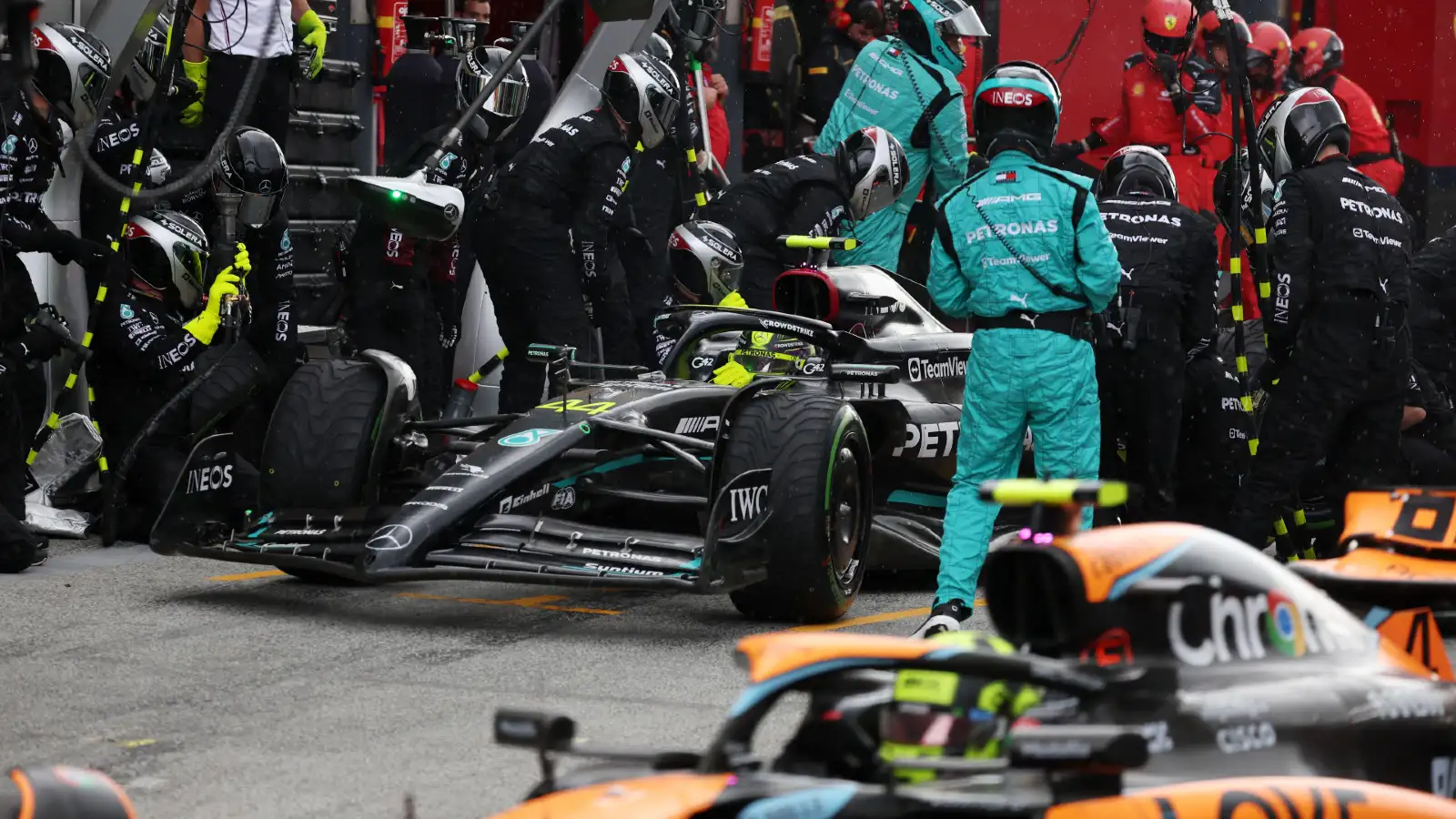 After the Mercedes drivers railed against the team's strategy at the Dutch GP, Ralf Schumacher says one thing is certain from now on when they get called into pit, they "will come in".
Lining up third and 13th on the grid with George Russell ahead of Lewis Hamilton, the 25-year-old believed he was on course for a podium only to be left asking Mercedes "how did we mess that up?"
As the rain came down at the Zandvoort circuit, Mercedes forecast that it would hang around for just a few laps before drying up, and as such the team kept Russell and Hamilton out on slicks while others pitted for wet tyres.
Communication breakdown cost Mercedes
But as the rain continued, Mercedes were forced to call the drivers in with Hamilton and Russell both well outside of the points with their late stops.
Toto Wolff admitted the team got it "catastrophically wrong", telling Sky Sports: "We didn't see that Perez [the first to pit] was 25 seconds faster on the first lap."
He added: "Of course, the driver has the best view and the driver said let's stay outside.
"It's a joint decision. And so far they're always been good at assessing that. But in that case, we were all just wrong."
Former F1 driver turned pundit Schumacher put it down to miscommunication, saying there was a breakdown that began with the weatherman and that affected the whole chain.
"Basically, it's about communication," he told Sky Deutschland.
"First of all, they need to find out why the weather radar failed and did not pass on the information.
"Once that is completely processed and the whole chain is reconsidered, whether one needs to have a shorter wire."
"And something else," he added, "I think that it is now agreed that if the driver is called in, he will come in."
PlanetF1.com recommends
F1 fastest lap: Which drivers have won the most fastest lap points in F1 2023?
F1 penalty points: One driver adds to their tally with Zandvoort collision
Schumacher ponders if Leclerc's troubles 'really' were floor related
But it wasn't just Mercedes who had a difficult day at the Zandvoort circuit with Ferrari scoring just 10 points through Carlos Sainz's P5 finish while his teammate Charles Leclerc retired.
The Monégasque driver was involved in a lap 1 collision with Oscar Piastri with Ferrari retiring him on lap 41 due to floor damage from the crash.
Schumacher hopes it genuinely was a loss of downforce that cost Leclerc pace otherwise Ferrari have a big problem on their hands in the build-up to their home race in Itay.
"Ferrari needs to do their homework," he said. "I hope they found the reason and it really was the underbody, otherwise it will be worse for Leclerc."
As for Sainz, he may have scored points but Schumacher wasn't entirely impressed with the Spaniard's performance and level of aggression on the track.
"He did a decent job with what was there. He made few mistakes, is always aggressive on the track and doesn't like to let anyone pass. Sometimes he's too motivated," he said.
Read next: Dutch GP driver ratings: Charles Leclerc flops and unlikely stars emerge at Zandvoort