Hamilton storms to a wet pole by 1.2s for Styrian GP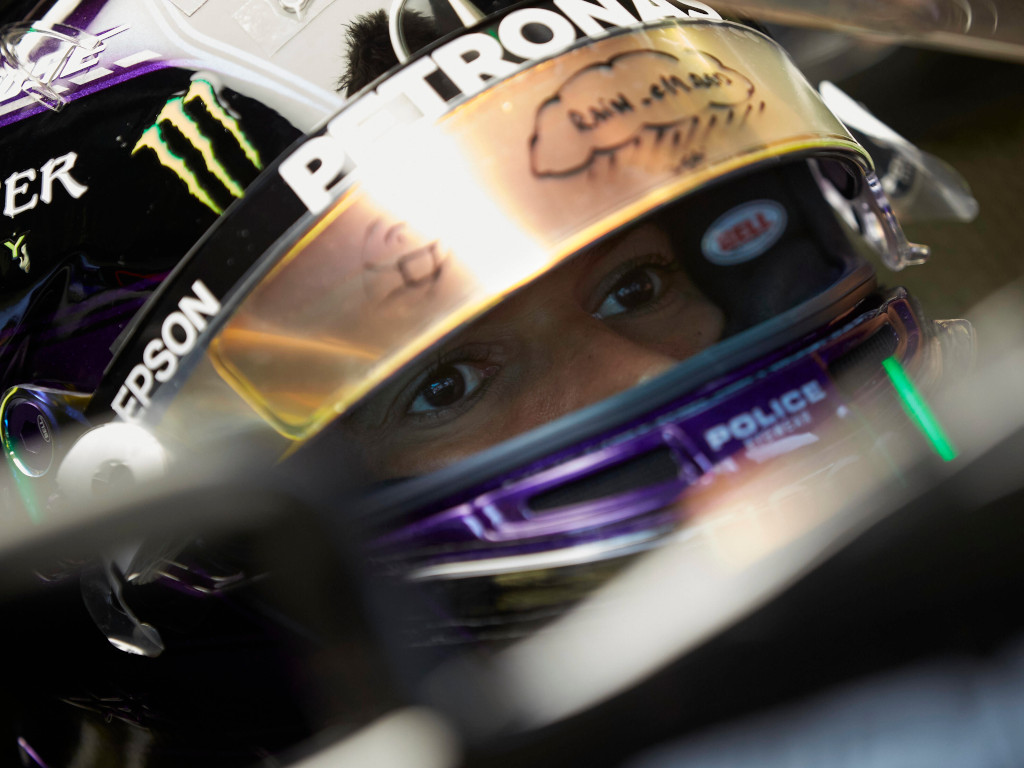 Lewis Hamilton put on a masterclass in the rain as he claimed pole position at a very wet Red Bull Ring while Charles Leclerc was P11 and George Russell qualified 12th.
With FP3 a complete washout there were concerns that qualifying would be delayed until Sunday morning. Mother Nature decided to toy with the paddock.
An hour before qualifying, the rain stopped falling and the track began to dry out. 10 minutes before qualifying, the rain returned and the start of Q1 was delayed.
UPDATE: Bernd's been out for a look at the conditions in the Safety Car – start of Q1 has been delayed. ⏰ #AustrianGP pic.twitter.com/E5yxa2kBj5

— Mercedes-AMG F1 (@MercedesAMGF1) July 11, 2020
The rain became steadily heavier over the next 20 minutes with the FIA informing the teams that they will receive a 10-minute warning before Q1 begins.
That finally came as the rain lessened, the track drained and the drivers lined up at the end of the pit lane ready for the 3:46pm start.
Sebastian Vettel and Charles Leclerc headed the queue, although that did mean they were waiting for more than two minutes.
"The forecast rain will get heavier," was the message from Ferrari to Vettel as the light changed to green and he brought the field out onto the track.
Who's ready for some qualifying action! 😀#AustrianGP 🇦🇹 #F1 pic.twitter.com/xR9p3dxRVW

— Formula 1 (@F1) July 11, 2020
Vettel posted the first timed lap, a 1:24.235 for the twitching German who had to pay attention to Romain Grosjean as the Haas driver went off the circuit on his out-lap.
With the full wets warming up, the P1 time fell with the timesheets changing with every driver crossing the line.
As the clock ran down on Q1 it was Lewis Hamilton who was quickest with a 1:18.188 while Kimi Raikkonen, Sergio Perez, Nicholas Latifi, Antonio Giovinazzi and Grosjean were the slowest five, and the ones to drop out.
Alex Albon joined Grosjean in having a moment but it was Giovinazzi who did it best as he spun and hit the barrier late in the session.
Despite damaging his Alfa Romeo, the Italian tried to make his way back ot the pits before being forced to park his car at the outside of Turn 4, bringing out the reds seconds before the end of the session.
Antonio Giovinaaaaaaaaaaaaaazi #austriangp pic.twitter.com/egS16YhE1A

— iGP Manager (@iGPManager) July 11, 2020
Light rain fell at the start of Q2 with full wets again the tyre of choice with Max Verstappen setting the early pace with a 1:18.155.
Vettel and Leclerc went out on used wets having both run two of their three sets in Q1. They lined up 10th and 11th forcing Ferrari to pit Vettel for fresh wet tyres, his final new set.
Leclerc told Ferrari he wanted to stay out and try once more. It didn't work out and he joined Vettel in the pits as news broke that he and Daniil Kvyat will be investigated after qualifying for an earlier incident.
Vettel made a mistake at Turn 1 that cost him, leaving him down in 10th place, while Leclerc left it too late to pit and came out on fresh tyres as the rain grew heavier.
The rain intensifies and Vettel struggles for grip #AustrianGP 🇦🇹 #F1 pic.twitter.com/K8xHNhc8dr

— Formula 1 (@F1) July 11, 2020
Hamilton was again the man to beat while Leclerc, George Russell, Lance Stroll, Kyvat and Kevin Magnussen dropped out. It was the second time in two weeks that a Ferrari didn't make it out of Q2 and the first time since 2018 that a Williams featured in Q2.
Q3 got off to a wet start as steady rain fell in the brief break between sessions. Verstappen was the first man out, putting in his first lap on a free track and clocking a 1:21.8 and then upping his pace.
Hamilton went second ahead on his first hot lap and then quickest with Verstappen second with Pierre Gasly and Lando Norris on the second row of the grid.
But there was more to come.
Bottas hit the front only to lose out to Hamilton. Hamilton in turn lost out to Verstappen before Verstappen lost out to the Mercedes driver. Hamilton's final hot lap, a 1:19.273 putting him on pole position by 1.216s.
Verstappen tried to fight back but had a major twitch and then a spin through the final corner. Carlos Sainz qualified his McLaren in third ahead of Bottas.
The rain master.

Lewis Hamilton bags pole position by 1.2 seconds!

Mav Verstappen second and Carlos Sainz (!) is third! #AustrianGP 🇦🇹 #F1 pic.twitter.com/vymC6KY02F

— Planet F1 (@Planet_F1) July 11, 2020
Esteban Ocon was P5 while Norris was sixth quickest but faces a three-place grid penalty that will drop him to ninth.
Times
1 Lewis Hamilton Mercedes 1:19.273
2 Max Verstappen Red Bull 1.216s
3 Carlos Sainz McLaren 1.398s
4 Valtteri Bottas Mercedes 1.428s
5 Esteban Ocon Renault 1.649s
6 Lando Norris McLaren 1.652s
7 Alex Albon Red Bull 1.738s
8 Pierre Gasly AlphaTauri 1.755s
9 Daniel Ricciardo Renault 1.919s
10 Sebastian Vettel Ferrari 2.378s
11 Charles Leclerc Ferrari 1:19.628
12 George Russell Williams 1:19.636
13 Lance Stroll Racing Point 1:19.645
14 Daniil Kvyat AlphaTauri 1:19.717
15 Kevin Magnussen Haas 1:20.211
16 Kimi Raikkonen Alfa Romeo Racing 1:21.372
17 Sergio Perez Racing Point 1:21.607
18 Nicholas Latifi Williams 1:21.759
19 Antonio Giovinazzi Alfa Romeo Racing 1:21.831
20 Romain Grosjean Haas no time
Follow all the action from the Styrian Grand Prix with the PlanetF1 live centre