Qualy: That's 95 for Hamilton with first Tuscan pole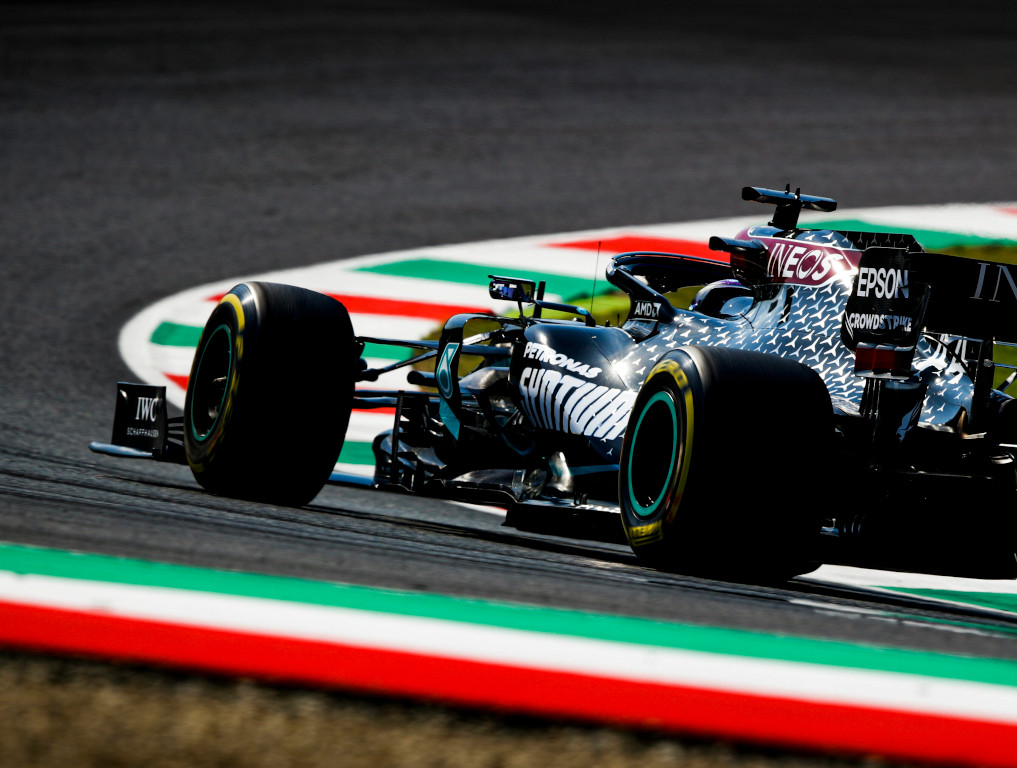 Lewis Hamilton produced the lap when it mattered, taking pole position for the Tuscan GP ahead of Valtteri Bottas while Sebastian Vettel once again dropped out Q2.
For the first time ever a Formula 1 qualifying session took place at the high-speed Mugello circuit with the battle on to see who would go down in history as the first pole sitter at the Tuscan Grand Prix.
Bottas went into qualifying as the one to beat, the Finn having topped all three practice sessions.
He continued that run into Q1, quickest ahead of Hamilton, however, that's where it ended.
In keeping with past form, Hamilton came to the fore when it mattered most, setting the pace in Q2, before beating his team-mate to pole position.
Slow out-laps was the order of the day as the drivers tried to keep all the life in their tyres for their hot laps.
Hamilton crossed the line with a 1:15.144 to sit on provisional pole by 0.059s ahead of his team-mate, the Brit finding a few tenths in the middle sector.
A yellow flag in the opening sector, the result of Esteban Ocon spinning, meant Bottas was forced to lift on his second run and was not able to challenge his team-mate for pole.
It was Hamilton's 95th pole.
Guess who? 👀 #TuscanGP 🇮🇹 #F1 pic.twitter.com/a365GzxXk3

— Planet F1 (@Planet_F1) September 12, 2020
Bottas had to settle for second place ahead of Max Verstappen and Alex Albon while Charles Leclerc surprised as his put his Ferrari up into fifth place.
Sergio Perez qualified P6, but has a one place grid penalty, while his team-mate Lance Stroll was seventh ahead of Daniel Ricciardo, Carlos Sainz and Ocon.
Sebastian Vettel didn't make it out of Q2 and only just managed to sneak out of the first segment by 0.053s.
Such was the German's lack of speed, coupled with his SF1000's oversteer, that he asked Ferrari if he was "through or not". He was, at least into Q2.
The excitement is unreal pic.twitter.com/Vt2VwDpA0k

— Ky (@FiftyBucksss) September 12, 2020
That, however, is whether his qualifying ended, the German finishing the afternoon in 14th place.
He dropped out along with Lando Norris, his first Q2 exit of the season, Daniil Kvyat, Kimi Raikkonen and Romain Grosjean.
But while Vettel's early exit was expected, the same cannot be said of Italian GP winner Pierre Gasly, who dropped out in Q1.
He was the man that Vettel pushed out of the top 15, "putain", not helped by a mistake on his final flying lap.
He will line up 16th ahead of Antonio Giovinazzi, George Russell, Nicholas Latifi and Kevin Magnussen.
Russell had a huge moment at Savelli, off the track and into the dirt, and yet still managed to improve his time to maintain his perfect record in qualifying against his team-mates.
I believe the technical term for this from George Russell is "the full send" #TuscanGP pic.twitter.com/XYGkHpenPV

— iGP Manager (@iGPManager) September 12, 2020
Times
1 Lewis Hamilton Mercedes 1:15.144
2 Valtteri Bottas Mercedes 0.059s
3 Max Verstappen Red Bull 0.365s
4 Alex Albon Red Bull 0.810s
5 Charles Leclerc Ferrari 1.126s
6 Sergio Perez Racing Point 1.167s
7 Lance Stroll Racing Point 1.212s
8 Daniel Ricciardo Renault 1.399s
9 Carlos Sainz McLaren 2.726s
10 Esteban Ocon Renault
11 Daniil Kvyat AlphaTauri 1:16.640
12 Carlos Sainz McLaren 1:16.854
13 Kimi Raikkonen Alfa Romeo Racing 1:16.854
14 Sebastian Vettel Ferrari 1:16.858
15 Romain Grosjean Haas 1:17.254
16 Pierre Gasly AlphaTauri 1:17.125
17 Antonio Giovinazzi Alfa Romeo Racing 1:17.220
18 George Russell Williams 1:17.232
19 Nicholas Latifi Williams 1:17.320
20 Kevin Magnussen Haas 1:17.348
Follow all the action from the Tuscan Grand Prix with the PlanetF1 live centre