Sebastian Vettel held off Valtteri Bottas to claim pole position for his home race, the German GP, while a hydraulic issue sidelined Lewis Hamilton in Q1.
After earlier rain marred final practice, the track had almost completely dried out ahead of Saturday's qualifying at the Hockenheimring. There was, however, a threat of rain in the air.
Q1 saw Ferrari dominate with Kimi Raikkonen holding down P1 ahead of Sebastian Vettel while there was drama for Hamilton.
Having climbed the kerbs, he reported that "the gears won't change" and stopped on the side of the track.
Both Hamilton and the Hockenheimring marshals tried to push his car back to the pits but were forced to give up on that endevour.
Hamilton's trying to push the car back to the pits 😲

It's looking like he won't make Q2!#GermanGP 🇩🇪 #F1 pic.twitter.com/BMOm7Kb4gp

— Formula 1 (@F1) July 21, 2018
His qualifying was over, Mercedes said due to a "loss of hydraulics."
Unable to take his place in Q2, the Mercedes driver finished Saturday's running in 15th place but, barring a penalty of his own, should start P14 due to Daniel Ricciardo's engine change penalty.
There was more drama in Q2 as the session had to be red flagged for a few minutes when Marcus Ericsson dragged gravel onto the racing line as he returned to the track after a spin.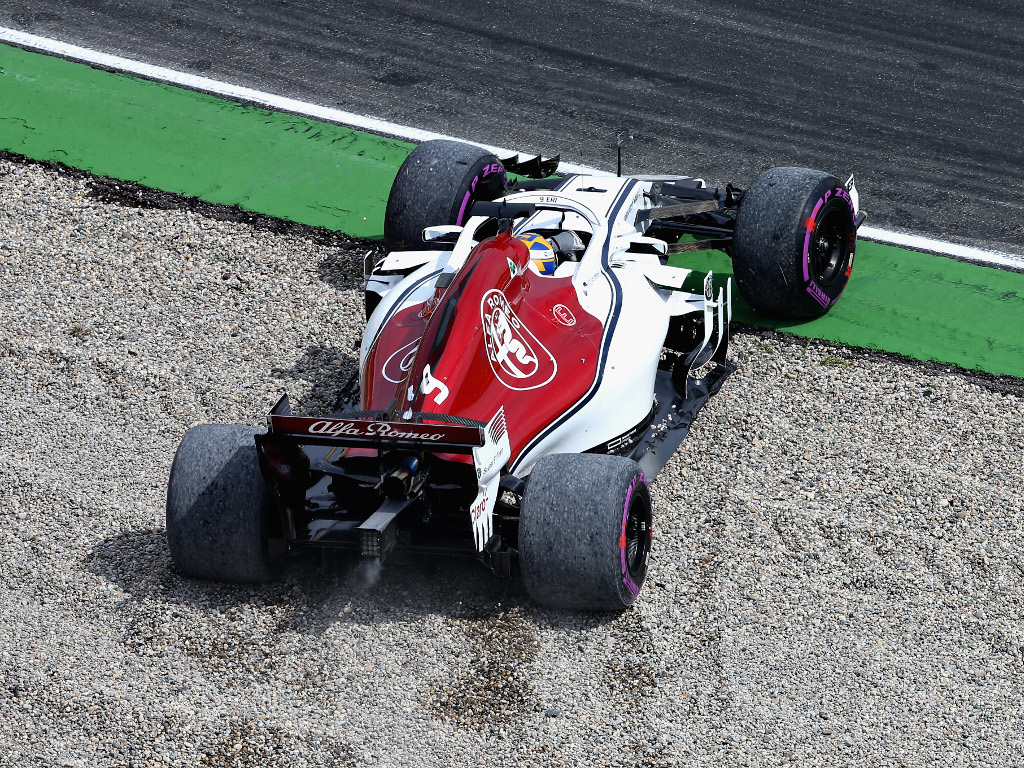 Q2 went the way of Valtteri Bottas ahead of Max Verstappen.
In Q3, the pole position shoot-out, Vettel sat on provisional pole with a 1:11.539, 0.170s up on Bottas while Raikkonen was third ahead of Verstappen. The quartet were separated by less than four-tenths of a second.
Heading out for a second run, Vettel and Verstappen were the last two to leave the pits while Raikkonen had to pull an overtake on Sergio Perez to get ahead of the Force India in the queue. Bottas was behind the two Haas cars who did extremely slow out-laps as both backed up to make space.
Vettel went purple in the first sector and again in the second. He crossed the line with a 1:11.212 while Bottas, despite improving his time, stayed second, 0.204.
It was a new lap record at the Hockenheimring for Vettel.
BREAKING: Sebastian Vettel storms to pole position at his home race with a new track record! 💪 #GermanGP 🇩🇪 #F1 pic.twitter.com/buc2iXCIpI

— Formula 1 (@F1) July 21, 2018
Raikkonen was third ahead of Verstappen, Kevin Magnussen and Romain Grosjean.
Nico Hulkenberg qualified P7 ahead of Carlos Sainz, the ever impressive Charles Leclerc and Perez.
There was a glimmer of hope for Williams with Sergey Sirotkin qualifying his FW41 in 12th place.
Follow all the German Grand Prix action with the PlanetF1 race hub
Times
1 Sebastian Vettel Ferrari 1:11.212
2 Valtteri Bottas Mercedes 0.204s
3 Kimi Raikkonen Ferrari 0.335s
4 Max Verstappen Red Bull 0.61s
5 Kevin Magnussen Haas 0.988s
6 Romain Grosjean Haas 1.332s
7 Nico Hulkenberg Renault 1.348s
8 Carlos Sainz Renault 1.48s
9 Charles Leclerc Sauber 1.505s
10 Sergio Perez Force India 1.562s
11 Fernando Alonso McLaren 1:13.657
12 Sergey Sirotkin Williams 1:13.702
13 Marcus Ericsson Sauber 1:13.736
14 Lewis Hamilton Mercedes no time
15 Daniel Ricciardo Red Bull no time
16 Esteban Ocon Force India 1:13.720
17 Pierre Gasly Toro Rosso 1:13.749
18 Brendon Hartley Toro Rosso 1:14.045
19 Lance Stroll Williams 1:14.206
20 Stoffel Vandoorne McLaren 1:14.401