After a win-less 2018 campaign, Valtteri Bottas came out fighting in Melbourne on Sunday, taking an easy victory ahead of Lewis Hamilton in Mercedes' first 1-2 of the season.
Bottas made a lightning start and got the jump on Hamilton to lead the Australian Grand Prix.
The Finn, who insisted throughout the pre-season that he can win this year's championship, showed fighting spirit after losing out on pole 24 hours earlier.
He built up a lead of more than four seconds over Hamilton when the Brit came into the pits for his stop on lap 16.
Mercedes reacted to Ferrari stopping Sebastian Vettel a lap earlier, lessening the impact of the Scuderia's attempts at an undercut. Vettel was just two seconds behind Hamilton having halved the deficit.
Back at the front Bottas stayed out as his soft Pirellis continued to deliver. While Hamilton seemed to struggle on his mediums, Bottas laid down a new fastest lap of the race on lap 19 and again on lap 22.
Bottas, leading Max Verstappen by 15s, pitted on lap 23 – seven laps later than Hamilton. Verstappen and Charles Leclerc also ran long first stints, coming in on laps 26 and 29. Leclerc put on the hard tyres, those he was racing against were all on the mediums.
As the stops played out Bottas was leading by 15 seconds ahead of Hamilton, who had Vettel in his mirrors. The Ferrari driver in turn was being hunted by Verstappen, who was on tyres that were 11 laps fresher.
Verstappen used DRS to take third off Vettel, the German unable to launch a defense of any sort.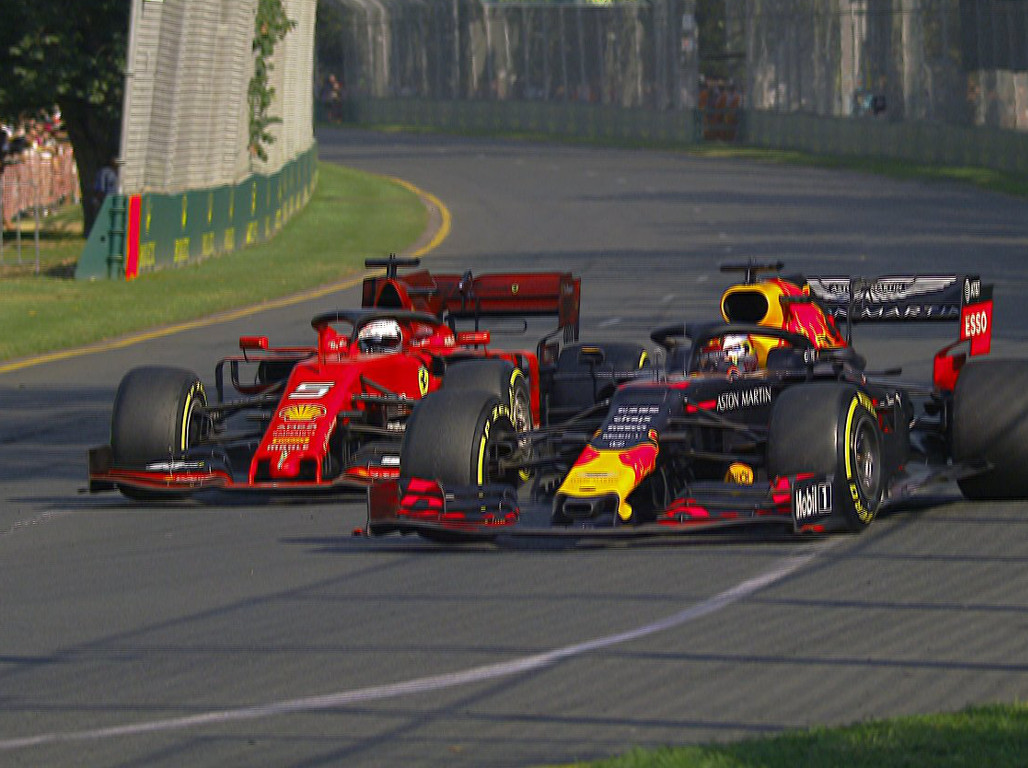 As Bottas romped ever closer to the win, Hamilton came under pressure from Verstappen. The Red Bull driver, in his Honda-powered RB15, closed the gap to just over a second only to make a mistake and run off the track.
That settled the podium with Bottas taking the win by 21 seconds ahead of Hamilton and Verstappen.
Utter. Dominance.

What a display from @ValtteriBottas! 💪

BOT 📻: "How about that! ****** yeah!"

20s+ lead, and the fastest lap of the race 👏👏👏#AusGP 🇦🇺 #F1 pic.twitter.com/JVhVh7vNkG

— Formula 1 (@F1) March 17, 2019
With Vettel struggling for pace, and asking Ferrari why, Leclerc closed the gap to seven-tenths only to seemingly be told to hold station. He backed off and finished the race fifth to Vettel's P4.
Kevin Magnussen was sixth ahead of Nico Hulkenberg, Kimi Raikkonen and Lance Stroll while Daniil Kvyat held off Pierre Gasly for the final point.
Lando Norris was P12 on his debut as he had fun playing with the Alfa Romeos, first with Raikkonen and then Antonio Giovinazzi. He wasn't able to pass Raikkonen but after several attempts made it stick against the other Alfa. Giovinazzi dropped back to 15th place.
LAP 27/58

Five drivers, five different cars!

This midfield battle is intense 😱

Norris, Grosjean and Perez all slip past Giovinazzi#AusGP 🇦🇺 #F1 pic.twitter.com/ioZ6yCUKxr

— Formula 1 (@F1) March 17, 2019
As to be expected, Williams claimed the wooden spoon with George Russell P16 while Robert Kubica, who damaged his front wing on the very first lap when he drove into the back of Pierre Gasly, was 17th. They were two and three laps down on race winner Bottas.
Carlos Sainz delivered the first retirement of the grand prix as his Renault-powered McLaren went up in smoke on lap 11. He pulled into the pit lane entrance before stopping the car while marshals rushed to the scene with fire extinguishers.
It was a wretched start for Australia's Daniel Ricciardo as he tried to sneak up the inside of Sergio Perez only to run onto the grass and lose his front wing. He was forced into the pits for a new nose and came out at the back of the pack.
Front wing delivered. And four new boots. Let's go Daniel; you know what to do. #RSspirit #AusGP pic.twitter.com/jEGML7XHds

— Renault F1 Team (@RenaultF1Team) March 17, 2019
Ricciardo retired on lap 31, parking his RS19 in the Renault garage.
Moments later Romain Grosjean, who had a tardy pit stop when Haas battled to change his front left, pulled off onto the side of the track. The front left wheel was wobbling as he came to a halt, reporting that the "suspension is broken".
As for the new point for the fastest lap, that went to Bottas on lap 57 to bring his tally to 26 points.
Result
1 Valtteri Bottas Mercedes
2 Lewis Hamilton Mercedes 20.886s
3 Max Verstappen Red Bull 22.520s
4 Sebastian Vettel Ferrari 56.417s
5 Charles Leclerc Ferrari 58.878s
6 Kevin Magnussen Haas 86.636s
7 Nico Hulkenberg Renault 1 LAP
8 Kimi Raikkonen Alfa Romeo Racing 1 LAP
9 Lance Stroll Racing Point 1 LAP
10 Daniil Kvyat Toro Rosso 1 LAP
11 Pierre Gasly Red Bull 1 LAP
12 Lando Norris McLaren 1 LAP
13 Sergio Perez Racing Point 1 LAP
14 Alex Albon Toro Rosso 1 LAP
15 Antonio Giovinazzi Alfa Romeo Racing 1 LAP
16 George Russell Williams 2 LAPS
17 Robert Kubica Williams 3 LAPS
Did not finish
Grosjean Haas
Ricciardo Renault
Sainz McLaren