Race: Hamilton wins as engine issue costs Leclerc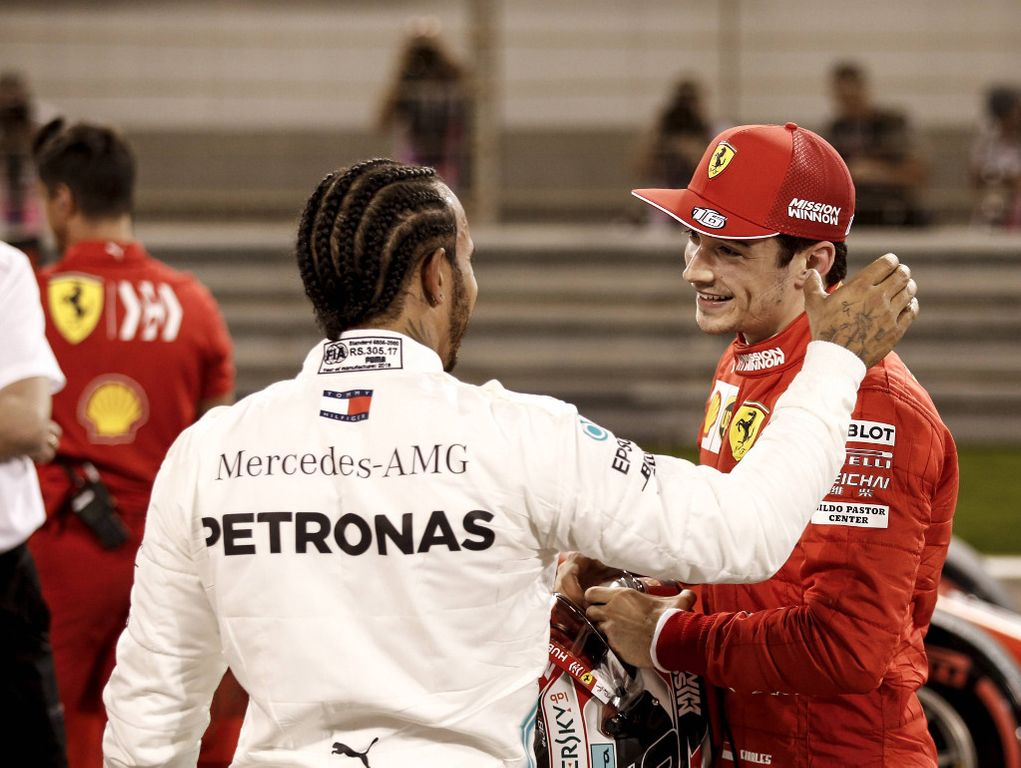 Lewis Hamilton was handed the Bahrain win as Charles Leclerc suffered a heart breaking engine issue while comfortably leading with 10 laps to go.
As the wind gusted across the Bahrain International Circuit, round two of the 2019 F1 World Championship began with one question: which Ferrari would win?
The gloves were off as the team-mates began Sunday's 57 lap first and second on the grid. While pole sitter Leclerc got a bit bogged down, Vettel took the lead.
Leclerc tried to fight back but was squeezed by his team-mate. He fell into Bottas' clutches with the Finn making short work of the Monaco driver.
But despite seeming to struggle, Leclerc overtook Bottas for P2 at the start of the second lap with the Mercedes driver then losing out to his team-mate, Hamilton.
THIS IS GOOD FORMULA ONE pic.twitter.com/0ysnKqwltl

— iGP Manager (@iGPManager) March 31, 2019
Behind them Max Verstappen and Carlos Sainz tangled over fifth place on lap 4, the latter coming off second best with a puncture. His limped back to the pits.
The Ferrari tussle was by no means done.
Leclerc was back into the lead on lap 6 when he used DRS to sit right on Vettel's rear wing before passing him into Turn 1. Vettel tried to fight back – how the two didn't touch! – as it looked as if Leclerc may have gone in too hot but it was the Ferrari rookie who won round 2 of their Bahrain battle.
Verstappen was the first of the front runners to pit, stopping on lap 12, which briefly put him ahead of Bottas when the Mercedes man stopped. However, Bottas was having none of that and easily passed Verstappen for fourth out on track.
Meanwhile Leclerc was next in, holding a lead of 3.5s ahead of Vettel with the German in on the very next lap. However, with Lewis Hamilton following Leclerc in, he got the jump on Vettel.
20 laps in it was Leclerc ahead of Hamilton, Vettel, Bottas and Verstappen. They were separated by 4.5; 2.5; 6.8; and 2.1s.
Vettel, though, had Hamilton's measure despite running the medium tyres to the Brit's soft. He closed up on his rival, who complained that his rears are "nearly done", and overtook him with the help of DRS. Ferrari 1-2 again with Vettel 7s behind Leclerc.
Sebastian Vettel Overtakes Lewis Hamilton for P2 at Bahrain #F1 #BahrainGP #Seb5 pic.twitter.com/1BRcDVBr5N

— Eau rouge (@Insidef1) March 31, 2019
The second round of pit stops saw Verstappen in first, followed by Hamilton and then Vettel. This time Mercedes didn't get the undercut on Ferrari with Vettel coming out ahead of the World Champion. Leclerc came in from the lead and returned to the track in P1 by 2s ahead of Bottas, who had yet to pit.
While that was going on, Hamilton challenged Vettel for third – effectively second in the race. The duo traded paint but both held onto their bodywork and Vettel held onto the position.
Bottas played a very brief blocking game on Vettel, allowing Hamilton another chance. Vettel tried to hold him at bay but spun. Hamilton took the position, Vettel tried to rejoin the race but lost his damaged front wing. He had to pit for repairs.
BOOM pic.twitter.com/yhJ8KZ7d5g

— iGP Manager (@iGPManager) March 31, 2019
Vettel was forced to launch a recovery while his team-mate Leclerc seemed to be racing towards an challenged victory. Until he wasn't.
Reporting that there is "something wrong with the engine," Leclerc lost time to Hamilton, dropping over a second a lap. It was heart break for the Ferrari newbie as he lost the lead on lap 49. He was half a minute ahead of Bottas at the time but still lost out to Bottas.
He was on course to lose out to Verstappen as well but a late Safety Car for the two Renaults retiring within seconds of one another while running inside the top ten, meant the race did not restart.
Leclerc was third ahead of Verstappen and Vettel.
Bahrain offered a thrilling battle amongst F1's midfield teams as the tussles continued further down the field as Daniel Ricciardo took seventh off Kimi Raikkonen in the opening laps before closing up on the Haas of Kevin Magnussen. Nico Hulkenberg was running P9 ahead of Sergio Perez.
Magnussen was soon swallowed up by Ricciardo, Raikkonen, Hulkenberg and then Lando Norris with drivers coming as early as lap 10 for a pit stop, hinting at a two-stop race.
Daniel Ricciardo brought his Renault into play as he ran a long first stint, Renault clearly wanting to try for a one-stopper.
Haas adopted the same approach with Magnussen as he went onto the medium tyres and nursed them. Hulkenberg made a good pass on Raikkonen and Norris did too as the new kid of the block challenged the oldest driver in the field.
After two stops for most, Magnussen and Ricciardo excluded, the midfield battle played out with Norris in sixth ahead of Raikkonen, Pierre Gasly, Alex Albon and Sergio Perez.
Romain Grosjean and Lance Stroll both pitted early as a result of damage from contact at the start. While Grosjean suffered a puncture, Stroll required a new front wing.
Grosjean later retired as a result of floor damage while Stroll finished P14. The Racing Point driver had his moment in the spotlight when he went to un-lap himself off Verstappen, the pink car having better pace due to tyre wear.
Thankfully unlike the last time a Racing Point, formerly known as Force India, driver unlapped themselves, this did not end in tears.
Result
1 Lewis Hamilton Mercedes
2 Valtteri Bottas Mercedes 2.980s
3 Charles Leclerc Ferrari 6.131s
4 Max Verstappen Red Bull 6.408s
5 Sebastian Vettel Ferrari 36.068s
6 Lando Norris McLaren 45.754s 2
7 Kimi Raikkonen Alfa Romeo Racing 47.470s
8 Pierre Gasly Red Bull 58.094s
9 Alex Albon Toro Rosso 62.697s
10 Sergio Perez Racing Point 63.696s
11 Antonio Giovinazzi Alfa Romeo Racing 64.599s
12 Daniil Kvyat Toro Rosso 1 LAP
13 Kevin Magnussen Haas 1 LAP
14 Lance Stroll Racing Point 1 LAP
15 George Russell Williams 1 LAP
16 Robert Kubica Williams 2 LAPS
Did not finish
Ricciardo Renault engine lap 55
Hulkenberg Renault engine lap 55
Sainz McLaren lap 55
Grosjean Haas crash damage lap 18