Race: George Russell takes thrilling maiden victory at Sao Paulo Grand Prix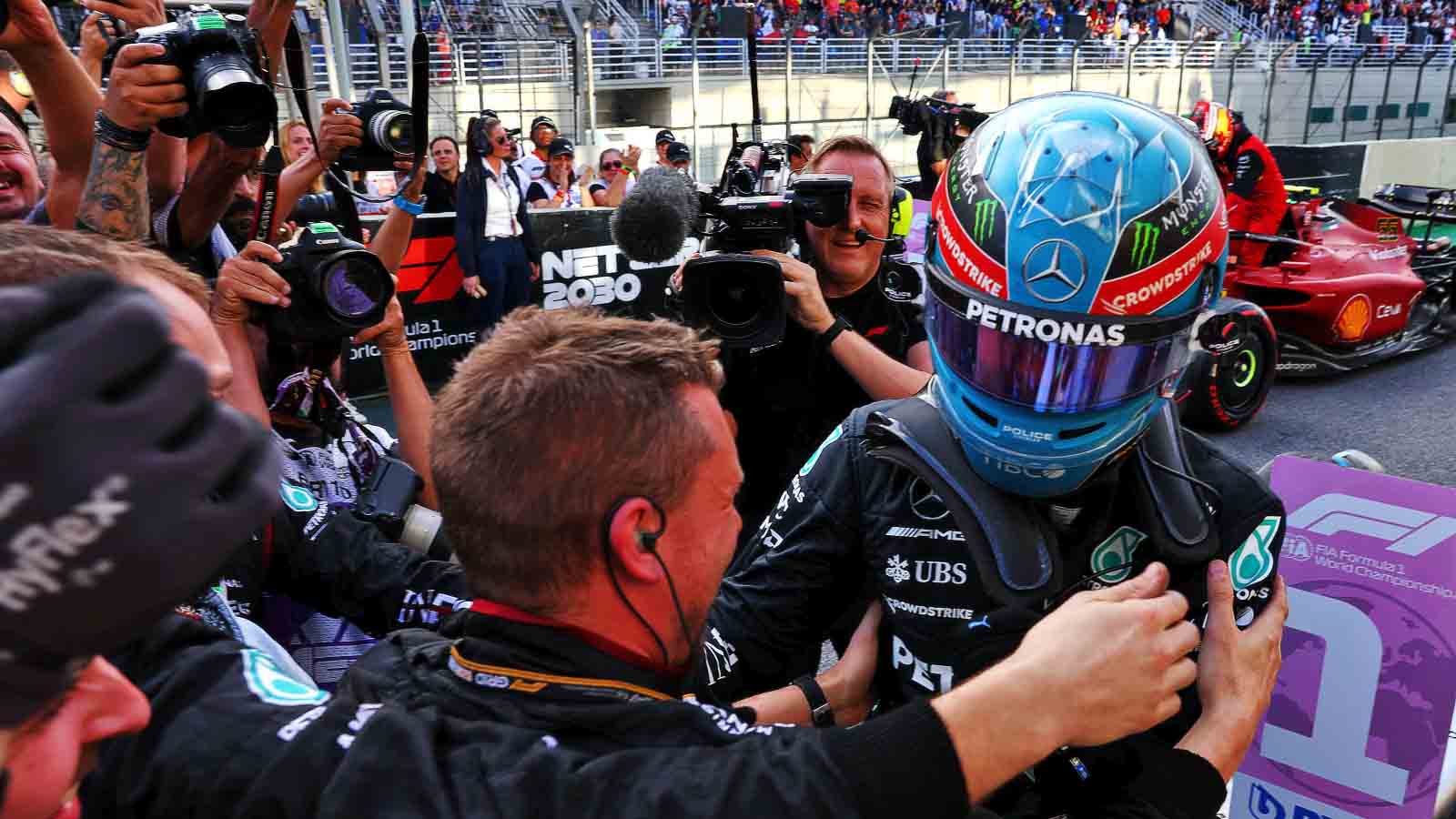 George Russell became Formula 1's newest race winner after an incident-packed Sao Paulo Grand Prix on Sunday.
Lewis Hamilton finished in behind his team-mate to complete a Mercedes one-two, though it took a strong recovery drive from the seven-time World Champion to regain second after early contact with Max Verstappen saw him drop down the field.
Carlos Sainz rounded off the podium in a thoroughly entertaining Sao Paulo Grand Prix that saw Mercedes take their first win of the season, and in dominant fashion.
After a scintillating sprint on Saturday, it was an all-Mercedes front row that started the race, with Russell and Hamilton ahead of the Red Bull pair of Max Verstappen and Sergio Perez at the race start.
And the drivers had to be on their toes at the start, with the fifth light barely staying on for a second before they went out. No matter for the Mercedes duo, however, as Russell led from Hamilton as the Silver Arrows got the start they were looking for.
There were despondent scenes at Haas, however, after Friday's pole-sitter Kevin Magnussen was spun around by Daniel Ricciardo at Turn 8, with the McLaren driver nudging the Dane's right-rear tyre on corner entry.
Magnussen was turned backwards and, as he rolled back onto the grass, Ricciardo's car remained on his outside and they both collided as a result, putting both drivers out of the race and bringing out the Safety Car on the first lap.
But when the restart did come around several laps later, shades of 2021 emerged when Russell bolted at the last possible moment. Hamilton was seemingly caught unaware, with Verstappen able to get a run and launch around the outside of Turn 1, getting alongside his former title rival for Turn 2 but the two made contact at the apex.
This damaged both cars, Hamilton had to take to the escape road, with damage to Verstappen's front wing forcing him into the pits. The Mercedes driver kept going, but he had dropped back to the lower reaches of the points, with another recovery drive to be done as the incident was investigated.
Further up the road, Leclerc and Norris came to blows at Turn 6 [Ferradura], with the McLaren driver seemingly tagging the inside kerb at the apex, suffering understeer and colliding with the side of Leclerc's Ferrari. The Monégasque driver voiced his anger on team radio, but while he was able to get himself out of the barrier, he was left right at the back when he got going again.
"That was no racing incident, mate" was Hamilton's assessment of his collision with Verstappen, and the stewards seemingly agreed – giving the Red Bull driver with a five-second time penalty, with Norris given the same punishment for his role in his crash with Leclerc.
By lap 15 of 71, Hamilton had managed to work his way back up to fourth, overtaking Pierre Gasly, Sebastian Vettel and Norris steadily while Russell led from Perez and Carlos Sainz at the front.
Sainz had started on the medium tyres which proved to be slower than hoped in the sprint, and pitted by lap 18 for softs – though this had been prompted by a plastic visor tear-off being lodged in one of his brakes, which could well have caused his retirement if left unremoved.
The pace shown by Sainz afterwards looked to slowly bring him into play, as he made light work of passing three cars in four laps. Such was his speed, Ferrari brought Leclerc in for another stop to swap him to soft tyres himself.
Perez prompted the first round of stops at the front on lap 24, with a flat two-second stop from Red Bull causing Mercedes to bring Russell in the lap afterwards.
Crucially for the Mercedes driver, he was able to come out just ahead of the not-yet-stopped Vettel, while Sainz's speed with his earlier stop had brought him back to within 1.5s of Perez ahead of him as the battle for the podium places heated up.
Hamilton, meanwhile, led until lap 30 on a set of soft tyres, which could have opened up the possibility of a one-stop strategy on his Mercedes. He rejoined a distant fourth, with the early-stopping Fernando Alonso having stealthily climbed all the way up to P5 once the first stops had shaken out.
Both Mercedes drivers began to stretch their legs, however, with Hamilton taking a second per lap out of those in front as 'Hammer Time' was initiated inside the cockpit, while Russell was gradually able to eke out his lead at the front beyond five seconds to Perez.
With another Sainz stop, Hamilton set about closing down Perez. He reeled in the Red Bull at a rate of knots, and duly made his way into second place to make it a Mercedes one-two on the road again.
It is a position to which Mercedes have become extremely accustomed in recent seasons, but something of a rarity in 2022.
But the prospect of a one-two was soon thrown into jeopardy when the Virtual Safety Car was deployed as Lando Norris retired with a power unit failure – prompting yet more pit stops before the full Safety Car was sent out once again, setting up a grandstand finish as the pack was bunched up while Norris' car was cleared away, a retirement certainly not what the McLaren driver wanted on his 23rd birthday.
Hamilton voiced his worries over radio about Perez and Sainz behind having pitted for fresher soft tyres than he had available, with Russell told in the sister car that team orders were not in play at Mercedes, but the racing just had to be "respectful" between the two of them.
Elsewhere, the law was very much being laid down for Esteban Ocon, who was instructed to not hold Alonso up – much to the chagrin of the French driver, though the team had made their position clear after the two came to blows in Saturday's sprint.
But despite his protests, after Russell and Hamilton led away at the restart, Ocon was able to leap past Vettel and subsequently let Alonso by, who then went on to launch his Alpine around the outside of Valtteri Bottas at Ferradura in a stunning move, to put him up to sixth.
For the final podium place, Perez appeared vulnerable on medium tyres and, after dicing closely, Sainz was able to pass with DRS assistance down towards Turn 4 and take third behind the two Mercedes, with Leclerc also making his way by as the battle for second in the World Championship between the two continues into the final race.
At the front, Russell had crucially been able to break the one-second barrier to Hamilton, meaning his team-mate could not use DRS against him as the younger Briton was going for his first victory.
Things quickly went from bad to worse for Perez, with a charging Alonso also able to make his way by – with the Mexican dropping from the podium down to P6 in just a few laps after the restart.
With Verstappen behind, rather than Red Bull taking the approach of team orders to maximise Perez's points haul, Verstappen's instruction was to pass and take what points he could off of those in front.
But at the front, Russell remained calm for the final part of the race and took a superb first ever victory in Formula 1, with Hamilton completing a one-two that has been a long time coming from Mercedes' point of view – with Russell becoming the sport's 113th Grand Prix winner.
Sao Paulo Grand Prix race classification
1 George RUSSELL Mercedes 1:38:34.044
2 Lewis HAMILTON Mercedes +1.529
3 Carlos SAINZ Ferrari +4.051
4 Charles LECLERC Ferrari +8.441
5 Fernando ALONSO Alpine +9.561
6 Max VERSTAPPEN Red Bull Racing +10.056
7 Sergio PEREZ Red Bull Racing +14.080
8 Esteban OCON Alpine +18.690
9 Valtteri BOTTAS Alfa Romeo +22.552
10 Lance STROLL Aston Martin +23.552
11 Sebastian VETTEL Aston Martin +26.183
12 ZHOU Guanyu Alfa Romeo +29.325
13 Mick SCHUMACHER Haas F1 Team +29.899
14 Pierre GASLY AlphaTauri +31.867
15 Alexander ALBON Williams +36.016
16 Nicholas LATIFI Williams +37.038
17 Yuki TSUNODA AlphaTauri +1 lap
18 Lando NORRIS McLaren DNF
19 Kevin MAGNUSSEN Haas F1 Team DNF
20 Daniel RICCIARDO McLaren DNF
Read more: Toto Wolff puts the 'controversial topic' of a driver salary cap back on the table