Hamilton wins dramatic race, Grosjean escapes fireball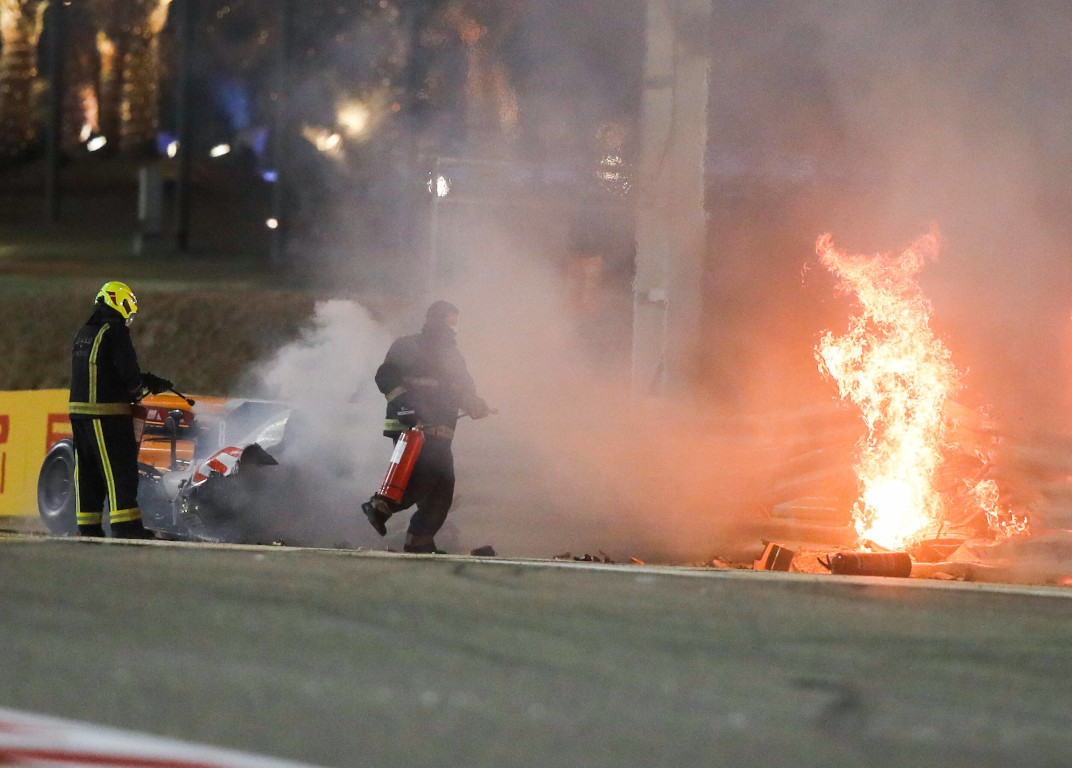 Romain Grosjean suffered suspected broken ribs in a fiery crash at the start of the Bahrain GP, a race won by Lewis Hamilton.
The race was red flagged for almost an hour-and-a-half with Grosjean airlifted to hospital while marshals replaced the barrier.
Hamilton romped to the victory ahead of Max Verstappen and Alex Albon, who benefitted from a late engine failure for Sergio Perez.
Nearing the end of a dramatic Formula 1 season, the circus lined up on the Bahrain grid for the start of its final triple header. One that yielded the biggest, and worst, drama of all.
Starting from 19th on the grid, Grosjean tried to make up positions but was forced to take avoiding action as a piece of debris from Lance Stroll's Racing Point lay on the track.
Moving across, he made contact with Daniil Kvyat and shot off the track and into an Armco barrier where his Haas, sheered in half by the impact, burst into flames, immediately bringing out the red flags.
As the drivers made their way back to the pit lane, the Medical Car was on the scene within seconds with the Dr Ian Roberts and Medical Car driver Alan van der Merwe assisting the Haas driver as he leapt from his burning car. 28 seconds! Helped towards a waiting ambulance, it was clear that Grosjean was shaken but he was walking.
Grosjean's car was torn in half 😳 pic.twitter.com/a3grOVftFe

— ESPN F1 (@ESPNF1) November 29, 2020
Haas initially reported that he had suffered "some minor burns on his hands and ankles" before later revealing that he had been taken to hospital with suspected broken ribs.
"The driver was immediately attended to by emergency and medical crews," read an FIA statement. "The driver self-extricated, and was conscious at all times.
"He was taken to the medical centre before being transferred to Bahrain Defence Force (BDF) Hospital by helicopter where he is undergoing further evaluation."
A lengthy delayed followed as the marshals had to replace, never mind repair, that section of the barrier, opting for temporary concrete blocks.
The race restarted an hour-and-a-half after the initial formation lap with Hamilton in P1 having made a flying getaway at the first start. It was the exact opposite for his team-mate Valtteri Bottas who fell from second to fourth, squeezed by Verstappen and Perez. He also lost positions to Alex Albon and Daniel Ricciardo, however, a countback to Safety Car Line 2 put him ahead of the duo.
UPDATE: The #BahrainGP will restart at 18:35 local time.

Lewis will start in P1 and Valtteri in P4. pic.twitter.com/N8Xq52B9WP

— Mercedes-AMG PETRONAS F1 Team (@MercedesAMGF1) November 29, 2020
A standing restart for lap 3 saw Hamilton again pull away from the chasing pack, led by Verstappen and Perez while Bottas held off Albon to run P4. Lando Norris, Esteban Ocon, Charles Leclerc, Ricciardo and Gasly made up the top ten while Stroll was hit by Kvyat and flipped over, his car ending up upside down.
"I'm hanging upside down," Stroll told Racing Point. "Are you OK?" "I'm OK." Once again Roberts and Van der Merwe were on hand to pull the driver out of his car, Stroll seemingly OK.
⚠️ SAFETY CAR ⚠️

Stroll has crashed

The Canadian has radioed the team to say he is ok and he's out of car #BahrainGP 🇧🇭 #F1 pic.twitter.com/C6fRGPjBL3

— Formula 1 (@F1) November 29, 2020
Bottas was into the pits having suffered a puncture caused by debris while Kevin Magnussen was also forced into the pits with damage to his front wing and the stewards announced they were investigating Kvyat v Stroll, the former handed a 10-second drive through penalty.
The race resumed on lap 9 again with Hamilton, Verstappen and Perez leading the way while Leclerc and Ocon went wheel-to-wheel with the Frenchman holding his position. Ricciardo tried to attack the Ferrari driver but instead lost P8 to Sainz. The McLaren driver's next pass was on his 2021 team-mate, Leclerc, for P7 with the Monégasque driver also overtaken by Ricciardo then Gasly.
While 'pass Leclerc' day continue with Kvyat also attacking the Ferrari driver, Sebastian Vettel spun and dropped all the way back to P18, reporting that his SF1000 is "undriveable". Verstappen, dropping three seconds behind Hamilton in the race for the win, told Red Bull that his car is "jumping around like a kangaroo." Perez was five seconds behind the Red Bull man.
Further back the field began to make their pit stops around lap 18 with Kimi Raikkonen putting on a new front wing as his old was damaged, Kvyat taking his 10-second penalty and Ocon having a small fire around a wheelnut.
Lap 18/57: @kvyatofficial comes in to serve his penalty and change to the hard compound #AlphaTauri #F1 #BahrainGP 🇧🇭 pic.twitter.com/0eHyJOxu4f

— Scuderia AlphaTauri (@AlphaTauriF1) November 29, 2020
Race leader Hamilton stopped on lap 20 for a fresh set of mediums with Verstappen and Perez opting to stay out. Albon, from P4, pitted. Hamilton came out third with Albon falling to P7. Verstappen and Perez were both in on the next lap, swapping to hard tyres. Verstappen came out P2, six seconds behind Hamilton, with Perez back up to third as others pitted.
Shaving two seconds off Hamilton's lead, Verstappen told Red Bull that "we have nothing to lose here, so let's go full send." Hamilton, going from medium to medium tyres, had to stop again while Red Bull's decision to put Verstappen's on the hards opened the door to a one-stopper.
The battle for third in the Constructors' Championship offered a lot of the in-race excitement with Perez holding down third place while McLaren ran fifth and sixth after passing Ricciardo and then Ocon. Ricciardo questioned why he was racing his own team-mate when Renault had bigger opposition to tackle, the team ordering Ocon to let Ricciardo through and up into seventh.
LAP 27/57

Sainz has got past Ricciardo (📸) and then Ocon and moves into P6 👏

With Norris currently P5, these could be crucial points for McLaren in the battle for third in the constructors' title race #BahrainGP 🇧🇭 #F1 pic.twitter.com/3SQhLrOKl3

— Formula 1 (@F1) November 29, 2020
Verstappen was the first of the top three to blink, stopping on lap 35 for a new set of hard tyres. He was stationary for five seconds with his team-mate coming in immediately after. Mercedes reacted with Hamilton in the very next lap, putting on a set of hard tyres. Hamilton rejoined in the lead ahead of Perez, who had only stopped once, and Verstappen who was 4.7s down.
Perez came in two laps after Verstappen, joining the leading duo in putting on new hard tyres. He came out 25s behind Verstappen, who had cut the gap to Hamilton too 3.7s with a new fastest lap of the race.
With 15 laps to go Hamilton was leading Verstappen by three seconds with Perez a further 24 off the pace. Albon was running in fourth ahead of Gasly, who had only stopped once, Norris, Sainz, Ricciardo, Ocon and Bottas, who had worked his way into the points.
Norris overtook Gasly at Turn 5, swooping around the outside, with Sainz following suit a few laps later. Bottas also made headway as he passed Ocon for ninth. With Hamilton maintaining a five second lead over Verstappen, the Dutchman pitted for a third time to put on a new set of the tyres and go for the fastest lap point.
Gasly's tyre struggles continued with AlphaTauri asking him if he thought he could make it another five laps. All the while Ricciardo was closing in on him for seventh.
The drama of the race, though, was by no means over with Perez's RP20 smoking on lap 54 of 57. As the smoke thickened and his engine went, his car caught fire and he retired on the side of the track. The Safety Car came out.
— Out of Context F1 (@f1nocontext) November 29, 2020
Hamilton took the win, his 11th of this season, ahead of Verstappen with Albon. With his race seat under threat, it was a perfect time for Albon to secure his second F1 podium.
Norris finished fourth ahead of Sainz, Gasly, Ricciardo, Bottas, Ocon and Leclerc.
The result meant McLaren moved up to third in the Constructors' Championship ahead of McLaren with Racing Point falling to fifth.
Result
1 Lewis Hamilton Mercedes
2 Max Verstappen Red Bull 1.620s
3 Alex Albon Red Bull 7.423s
4 Lando Norris McLaren 9.579s
5 Carlos Sainz McLaren 10.025s
6 Pierre Gasly AlphaTauri 18.990s
7 Daniel Ricciardo Renault 40.505s
8 Valtteri Bottas Mercedes 42.032s
9 Esteban Ocon Renault 43.569s
10 Charles Leclerc Ferrari 1 lap
11 Daniil Kvyat AlphaTauri 1 lap
12 George Russell Williams 1 lap
13 Sebastian Vettel Ferrari 1 lap
14 Nicholas Latifi Williams 1 lap
15 Kimi Raikkonen Alfa Romeo Racing 1 lap
16 Antonio Giovinazzi Alfa Romeo Racing 1 lap
17 Kevin Magnussen Haas 1 lap
Did not finish
Sergio Perez Racing Point engine lap 54
Lance Stroll Racing Point crash lap 3
Romain Grosjean Haas crash lap 1
Follow us on Twitter @Planet_F1 and like our Facebook page.