Race: Hamilton holds off Max for epic Bahrain win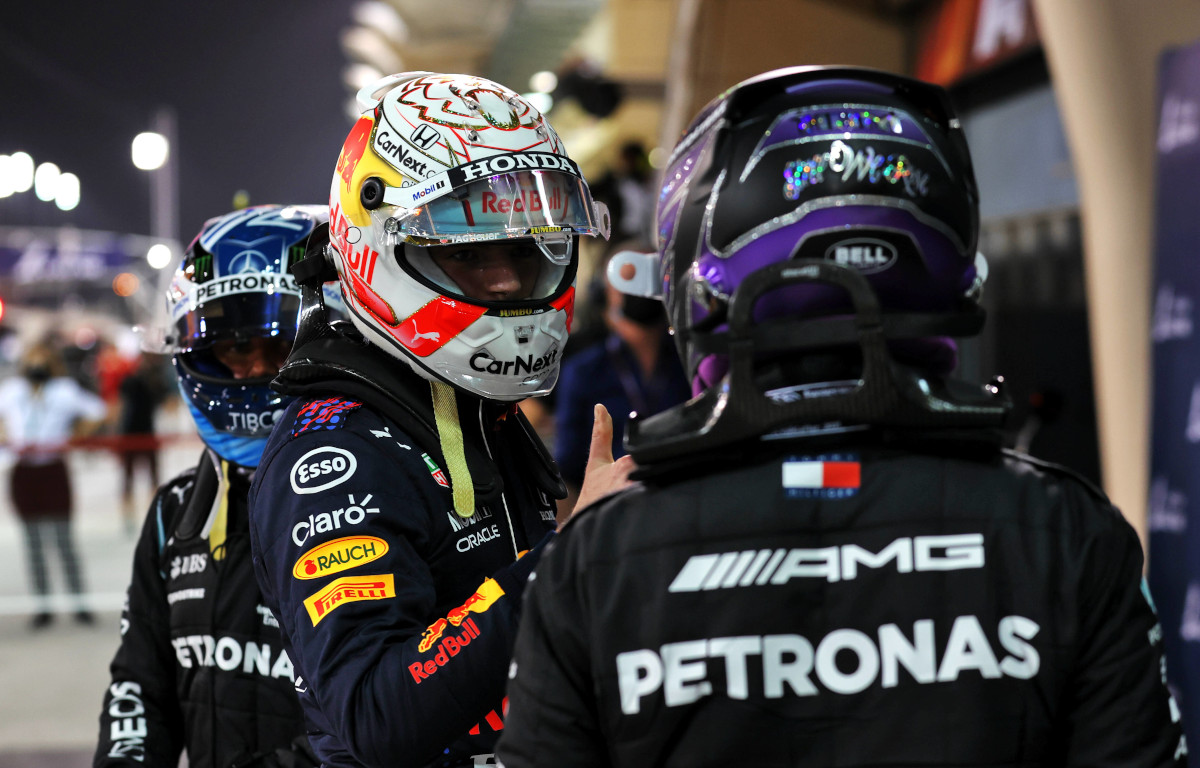 Lewis Hamilton and Max Verstappen did their talking on the track as, once the teams had played their strategy games, the two went head-to-head in the final 10 laps of the Bahrain Grand Prix.
Hamilton came out on top!
Verstappen and Hamilton gave fans the battle they've longed for for years, tussling from lap 1 through to lap 13 on the track, after which the strategy game came into play.
Mercedes opted to pit Hamilton before Verstappen with Red Bull taking the gamble not to respond, instead running their own race.
Taking turns to lead the race based on pit stops, the second and final stop played out with Hamilton having a nine-second lead but Verstappen was on tyres that were 11-laps younger.
Verstappen closed the gap to the World Champion to less than two seconds with six laps remaining, the on-track fight back on.
Although he did pass Hamilton for the lead it was off the track with the Red Bull driver immediately giving the position back. And that was that.
Verstappen wasn't able to launch another attack with Hamilton taking the Bahrain win by 0.7 seconds ahead of the Red Bull driver.
Valtteri Bottas was a lonely third, robbed of any chance of a potential fight with the two ahead by a botched pit stop.
HAMILTON WINS IN BAHRAIN!!

Verstappen chases him all the way to the line!

What. A. Duel. ⚔️#BahrainGP 🇧🇭 #F1 pic.twitter.com/TCtD3AYAjV

— Formula 1 (@F1) March 28, 2021
Red Bull entered the Bahrain weekend hoping to play a two-driver strategy. That ended on the formation lap. Sergio Perez, despite having a new ECU and battery, ground to a halt and parked his RB16B on the side of the track. He succeeded in getting the car going and had to start from the pit lane.
The led to a second formation lap, with the race reduced from 57 to 56 laps.
You've been Alboned. pic.twitter.com/gPO0Trx9L5

— Grand Prix Diary (@GrandPrixDiary) March 28, 2021
As expected for the opening race of the season there was a bit of chaos in the mix as Verstappen held off Hamilton, Nikita Mazepin, a four-time spinner in the build-up to the race, went off at Turn 3 and brought out the Safety Car, Verstappen again held off Hamilton, Bottas lost third to Charles Leclerc and then recovered it, Pierre Gasly lost his front wing, Mick Schumacher spun, and Carlos Sainz and Lance Stroll traded paint with the VSC coming out.
Lap 10 and Verstappen led Hamilton, Bottas, Lando Norris, Daniel Ricciardo and Leclerc. Worryingly for Verstappen, the Red Bull driver informed his team about a problem with his diff.
Charles vs Lando 🔥 #BahrainGP pic.twitter.com/gzw3OIbCzK

— tami. (@Vetteleclerc) March 28, 2021
Verstappen led the race by almost two seconds over Hamilton when Mercedes played the strategy card, bringing in Hamilton for a new set of hard tyres on lap 14. Red Bull, instead of responding immediately, stopped Verstappen some three laps later for new mediums. He came out seven seconds behind Hamilton.
Meanwhile there was a blast from the past as Fernando Alonso and Sebastian Vettel, who had yet to stop, battled for position with Sainz involved in the mix. Vettel didn't win the battle and pitted shortly after.
That Vettel and Alonso battle 👏 pic.twitter.com/s2tGF8ck3c

— tami. (@Vetteleclerc) March 28, 2021
Lap 28 of 56: Hamilton, Verstappen +2, Bottas +6, Norris, Leclerc, Ricciardo, Perez, Stroll, Raikkonen, Tsunoda, Alonso, Ocon, Giovinazzi, Russell, Latifi, Vettel, Gasly, Schumacher.
Mercedes were again the first to stop for round two, Hamilton coming in on lap 29 for a new set of hard tyres – Mercedes didn't have any mediums in play. Bottas pitted two laps later, stopping for 10.9s after a problem with his front right with his mechanics struggling to get the tyre off. He came out behind Leclerc but had one less car to worry about with Alonso parking his Alpine on lap 34 with brake issues.
Absolutely gutted. Fernando is wheeled back into the garage. Never something we want to see. #BahrainGP pic.twitter.com/vgniCtGZtU

— Alpine F1 Team (@AlpineF1Team) March 28, 2021
The pit walls got involved in the battle with Verstappen told by Red Bull to take more liberties with the Turn 4 run-off as the Mercedes drivers were using it. "How is that legal," he replied, before complying with the team's request. Shortly after Mercedes told its drivers not to take liberties with Turn 4 as the stewards are keeping an eye on it.
Verstappen stopped on lap 40, handing the lead back to Hamilton who was 8.8s ahead. Both drivers were on hard tyres with Verstappen's 11 laps fresher. With 15 laps remaining, Hamilton was told that Verstappen would catch him in 10 laps.
And still Bottas ran third, not involved in the battle ahead and not in the mix of the one behind which included Norris, Leclerc, Ricciardo, the recovering Perez, Stroll and Sainz. Yuki Tsunoda was running P10 on his debut.
Vettel and Ocon's chances of clawing their way into the top ten ended on lap 44 when Ocon moved in the braking zone and Vettel rear ended him at Turn 1. The Aston Martin suffered damage and spun – and was handed a 10-second time penalty.
Verstappen closed the gap to Hamilton 2.3s with seven laps remaining. Bono: "So Verstappen is the car behind." Hamilton: "Leave me to it Bono." 1.6s with six to go. 0.9s with five to go after Hamilton made a mistake, ran wide and allowed the Red Bull driver to close even further.
The championship hopeful made his move on lap 53 with Hamilton defending hard and Verstappen passing him but off the track. He immediately slowed to give the position back, the fight back on. Small mistakes from Verstappen cost him a chance of battling back, and that was that.
#BahrainGP 🇧🇭

[L'IMAGE DU JOUR]

Verstappen au large sur son dépassement et qui décide juste après de laisser passer Hamilton. Moment décisif dans la victoire. pic.twitter.com/iXMO8oLPu2

— DriveThrough (@DT_F1_) March 28, 2021
Hamilton held off the Dutchman to take the win by 0.7s with Verstappen left to rue his mistake. Bottas, who made a late pit stop for fresh tyres, was third and bagged the fastest lap point.
Norris was fourth ahead of Leclerc, Perez, Ricciardo and Sainz with Tsunoda and Stroll completing the points.
Result
1 Lewis Hamilton Mercedes
2 Max Verstappen Red Bull 0.745s
3 Valtteri Bottas Mercedes 37.383s
4 Lando Norris McLaren 46.466s
5 Sergio Perez Red Bull 52.047s
6 Charles Leclerc Ferrari 59.090s
7 Daniel Ricciardo McLaren 65.099s
8 Carlos Sainz Ferrari 67.100s
9 Yuki Tsunoda AlphaTauri 85.692s
10 Lance Stroll Aston Martin 86.713s
11 Kimi Raikkonen Alfa Romeo Racing 88.864s
12 Antonio Giovinazzi Alfa Romeo Racing 94.643s
13 Esteban Ocon Alpine 1 lap
14 George Russell Williams 1 lap
15 Sebastian Vette Aston Martin 1 lap
16 Mick Schumacher Haas 1 lap
Did not finish
Pierre Gasly AlphaTauri 53 laps
Nicholas Latifi1 Williams 52 laps
Fernando Alonso Alonso brakes lap 34
Nikita Mazepin Haas crash lap 1
Follow us on Twitter @Planet_F1 and like our Facebook page.