Lewis Hamilton had a high-speed Sunday afternoon stroll as he took the victory at the Belgian GP, a race in which George Russell was unhurt when he hit Antonio Giovinazzi's loose wheel as the Alfa Romeo driver crashed.
Valtteri Bottas was second as Mercedes clinched its second 1-2 result of the championship. Max Verstappen was third.
Only 19 drivers took the start grid as Carlos Sainz's McLaren suffered an exhaust problem on his out-lap with the Spaniard reporting "there's smoke coming out of the car", adding that "something broke".
Unfortunately, @Carlossainz55 will not start the #BelgianGP after an exhaust failure on the way to the grid. pic.twitter.com/xXPYNJDrkk

— McLaren (@McLarenF1) August 30, 2020
Despite Valtteri Bottas saying P2 on the grid could work in his favour, the Finn was no match for pole sitter Lewis Hamilton who led off the line ahead of his team-mate, Max Verstappen and Daniel Ricciardo. The top three on the medium tyres, Ricciardo on the softs.
Behind them Esteban Ocon got the jump on Alexander Albon while Charles Leclerc made a fantastic start from P13 to run eighth at the end of lap 1, just behind the Racing Point of Lance Stroll. Pierre Gasly took ninth off Sergio Perez while Lando Norris dropped outside the top ten to P11 after running wide and off the track. As for Sebastian Vettel, he moved up to 13th.
Gasly's next move was on Leclerc for eighth before Perez also overtook the Ferrari driver, who said he was "struggling so much on the straights". Norris was the next to take Leclerc with Daniil Kvyat following suit, powering past the Ferrari down the Kemmel Straight, while Gasly, although running the hard tyres, was all over the back of Stroll in the battle for seventh.
Lap 7/44

After a solid start Leclerc is slipping back a bit – Kvyat gets past and up to P11#BelgianGP 🇧🇪 #F1 pic.twitter.com/p4k1s82YvB

— Formula 1 (@F1) August 30, 2020
Running just over a second behind Hamilton in the race for the win, Bottas asked Mercedes for more power. He was told no.
Bottas: "We have one push now."
Engineer: "We do but we agreed not to use it against each other.
Bottas: I've never heard of that."
With Hamilton building the gap up to almost two seconds, he set about managing the gap to Bottas with Verstappen being dropped by the Mercedes drivers. He in turn sped away from Ricciardo to run yet another lonely Sunday race in third place.
Lap 11 and the Safety Car came out as Antonio Giovinazzi and George Russell had a huge crash, both cars significantly damaged. Giovinazzi dropped it at the corner at Les Fagnes and spun before hitting the barrier with a wheel coming loose in the shunt. Russell hit that wheel and crashed into the barriers himself.
That was scary. Thank goodness both Antonio Giovinazzi and George Russell are ok.#BelgianGP 🇧🇪 #F1pic.twitter.com/GGe9fQBWCd

— Planet F1 (@Planet_F1) August 30, 2020
"I'm OK," said the Williams driver. "There was nowhere I could go guys."
The medical car was deployed as the drivers triggered the G-Force sensor but thankfully both drivers climbed out of their cars unaided.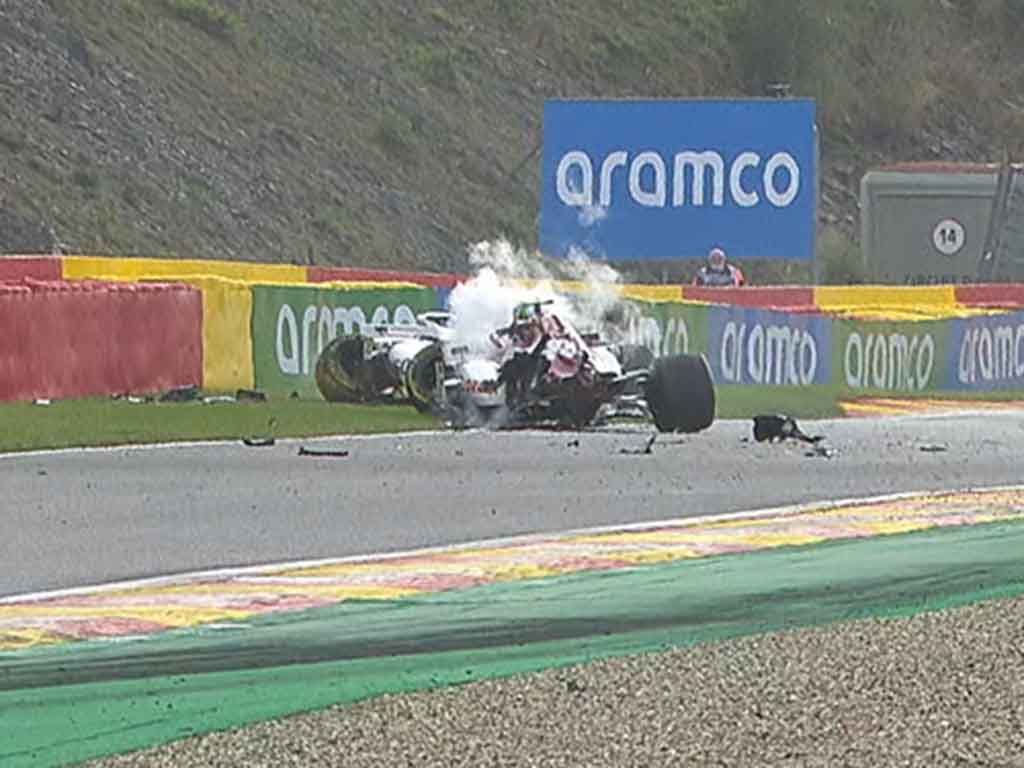 Several drivers took advantage of the Safety Car to pit for fresh tyres including Kimi Raikkonen, Leclerc, Romain Grosjean, Kevin Magnussen and Nicholas Latifi. Hamilton, Bottas, Verstappen, Ricciardo, Albon, Ocon, Stroll, Norris, Kvyat, Vettel were in the next lap. Gasly and Perez didn't pit to run fourth and fifth behind Hamilton, Bottas and Verstappen.
Despite the debris, Race Control opted for a Safety Car alone with the drivers having to pick their way through the carbon fibre shards. The race resumed at the end of lap 14.
Hamilton made a great start, Bottas had Verstappen all over his rear wing but held onto second, while Gasly and Perez ran fourth and fifth ahead of Ricciardo, Albon, Ocon, Stroll and Norris. Perez made a run at Gasly on the Kemmel Straight but couldn't find a way through.
Shortly after the restart Hamilton reported a "loss of power" but it wasn't a major issue with Mercedes telling him that it is energy management related. Meanwhile Raikkonen took 12th off Vettel who was running ahead of Leclerc. Only Grosjean, Magnussen and Latifi were behind the Ferraris in the running order.
Lap 17 and Ricciardo took fifth off Perez. Lap 18 and Albon took sixth off Perez at the Bus Stop chicane. Lap 19 and… Perez pitted before Ocon could attack him. He came out last, down in 17th place. He swapped to the hard tyres. Ricciardo's next move was on Gasly, retaking his earlier P4, while three laps later the AlphaTauri driver, who had yet to stop, was overtaken by Albon.
Despite clouds gathering overhead, Ferrari opted to bring Leclerc in for his second stop of the day on lap 25. Ferrari seemed to top up his hydraulic pressure at the same time with Leclerc questioning why he had to stop then. He was told that he'd be informed of the reason "later." He came out P17.
Ferrari: "As a precaution, we topped up pneumatic pressure on Charles' engine during pit stop."
Gasly stopped two laps later, his first and only stop of the day. He came out ahead of Leclerc in 16th. There were more problems down at Alfa Romeo with Raikkonen reporting water by his feet making life a bit "slippery".
On lap 28 Hamilton overtook the all-time record of the most kilometres in the lead of a grand prix. And he did it with a fastest lap of the race on that lap. Mercedes, though, momentarily forgot who they were fighting.
Lap 29/44 and Lewis is pumping in fastest laps out front and starting to stretch the advantage over VB to 4.6s

VET still lurking in undercut range in P3 though… 👀 pic.twitter.com/dbt5RgbNIx

— Mercedes-AMG F1 (@MercedesAMGF1) August 30, 2020
While Perez made good time working his way back into the top ten, including a pass on Vettel that led to a spicy exchange with his pit wall about Ferrari's race strategy, and Gasly also made inroads, Leclerc continued to run down in 17th place, struggling to even close the gap to the Williams of Latifi.
Seb: "Yeah I am not going to pass these guys in front. Fucking think about pitting…"

Strategist Seb is back#BelgianGP pic.twitter.com/PE9a2tkMV3

— tami. (@Vetteleclerc) August 30, 2020
With 10 to go Bottas reported that he had an "issue with numbness on my left leg from the brakes" while Verstappen had "vibrations" from his worn tyres and Vettel, well he just wanted to pit. Perez, though, was having no such issues as he stormed past Kvyat with Gasly the next to enter the points at a cost to the Russian driver with team orders playing a role in that one.
In the midst of a wretched afternoon there was a moment of a good news for one, a small one though as, on lap 37, Leclerc made the Scuderia's first overtake as he took 15th off Magnussen. Aside from his opening lap moves, that was Ferrari's first overtake since Leclerc's lap 1 dash.
Five laps to go and it was clear that the leaders were struggling with their tyres. Bottas was told to "avoid" all the kerbs while Hamilton had an off. The Brit later added that he doesn't "like the feeling of this right tyre".
Lewis is clearly bored pic.twitter.com/J97YcBiFQU

— Ky (@FiftyBucksss) August 30, 2020
Despite the concerns, Hamilton raced to the victory ahead of Bottas, claiming Mercedes second 1-2 result of this season. He once again extend his lead in the Drivers' Championship as, with his fifth win of the season, he took a step closer to a seventh World title.
Verstappen was third ahead of Ricciardo, who bagged the fastest lap point with a purple time on the final lap.
Ocon took fifth off Albon on the last lap with Norris trying to attack the Red Bull driver but unable to close the final few metres. He finished seventh.
Gasly made a late race pass on Stroll to claim eighth with Perez completing the points with Vettel 13th and Leclerc P14.
Result
1 Lewis Hamilton Mercedes 1:49.957
2 Valtteri Bottas Mercedes 8.448s
3 Max Verstappen Red Bull 15.455s
4 Daniel Ricciardo Renault 18.877s
5 Esteban Ocon Renault 40.650s
6 Alex Albon Red Bull 42.712s
7 Lando Norris McLaren 43.774s
8 Pierre Gasly AlphaTauri 47.371s
9 Lance Stroll Racing Point 52.603s
10 Sergio Perez Racing Point 53.179s
11 Daniil Kvyat AlphaTauri 70.200s
12 Kimi Raikkonen Alfa Romeo Racing 71.504s
13 Sebastian Vettel Ferrari 72.894s
14 Charles Leclerc Ferrari 74.920s
15 Romain Grosjean Haas 76.793s
16 Nicholas Latifi Williams 77.534s
17 Kevin Magnussen Haas 85.080s
Did not finish
George Russell Williams crash
Antonio Giovinazzi Alfa Romeo crash

Did not start
Carlos Sainz McLaren exhaust failure
Follow us on Twitter @Planet_F1 and like our Facebook page.