Race: Max Verstappen beats George Russell in an intriguing Dutch GP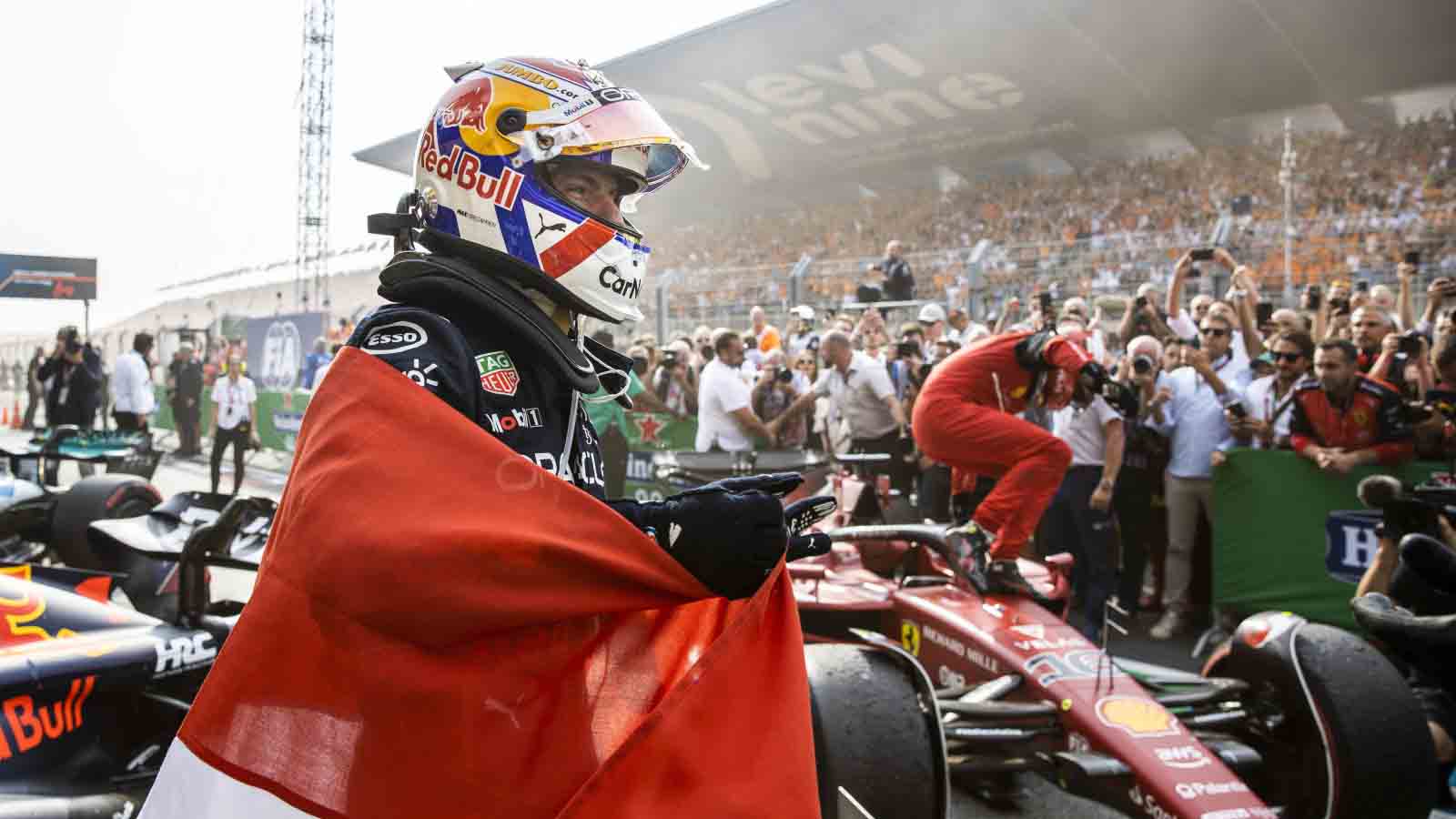 Max Verstappen won a game of chess at the Dutch Grand Prix, the Red Bull driver having to pass Lewis Hamilton after a late Safety Car period to regain the lead.
On a day when he had been expected to dominate, his Orange Army cheering for back-to-back Zandvoort wins for their driver, Verstappen found himself facing stiff competition from Mercedes, the Red Bull driver on a two-stopper to the Mercedes drivers' one-stop strategy.
But it was all turned on its head by a VSC for Yuki Tsunoda followed by a Safety Car for Valtteri Bottas.
Hamilton went into the restart leading, Mercedes opting not to pit him for soft tyres, leaving him unable to defend against Verstappen who took the lead and the race win. George Russell also overtook him to finish P2, Charles Leclerc then adding to his misery as he bagged the final spot on the podium.
Verstappen shot across the track at the start to block Leclerc, the other Ferrari of Carlos Sainz tangled with Hamilton, the two bouncing off each other, Sergio Perez fifth ahead of Lando Norris. Mick Schumacher lost positions at the start, down to 10th, while his team-mate Kevin Magnussen went bouncing off the barriers at Turn 2 on the second lap, the Dane falling to the back of the field.
Russell made the first DRS pass of the grand prix, taking sixth from Norris. The teams had said before the weekend the revamped zone would be a bit more powerful this year. Russell made it look easy, Leclerc and Hamilton not so much so.
While the Monégasque driver kept Verstappen within DRS range, he was unable to close the final metres, a problem Hamilton was also having with the other Ferrari as Perez fell away in fifth.
Ten laps in, Yuki Tsunoda was leading a DRS train, the cars from 11th to Valtteri Bottas in 18th each with a gap of less than a second to the car ahead. Fernando Alonso was up to P12 as he overtook Pierre Gasly, then 11th as he took that off Tsunoda…and then he stopped for hard tyres and fell to P16, the AlphaTauris also in and coming out behind Alonso.
More pit-stops and this time a bad one for Schumacher, who lost around eight seconds with a problem at the rear. He fell to 18th, only Daniel Ricciardo and Nicholas Latifi behind him. He was up to P17 a lap later, winning a wheel-to-wheel tussle with Sebastian Vettel.
Carlos Sainz was first of the podium contenders to stop but had a problem with the left rear, the tyre not there while the others were changed. Perez stopped too, driving over Ferrari's wheel gun on his way out. Sainz fell to 11th, Perez P8. Mattia Binotto summed it up: "A mess."
🚨 The incident in the pit lane involving Sergio Perez and Carlos Sainz will be investigated after the race by the stewards, after Perez ran over a Ferrari wheel gun which was in his path.#DutchGP 🇳🇱 #F1

— PlanetF1 (@Planet_F1) September 4, 2022
With Verstappen's lead up to five seconds, Ferrari pitted Leclerc in a problem-free stop. Verstappen stopped a lap later, flawless although not Red Bull's quickest. He came out P3, behind the yet-to-pit Mercedes drivers and ahead of Leclerc. Perez was P5 with Sainz passing Albon to run P6.
Verstappen set about hunting down the Mercedes team-mates but not as rapidly as expected. It took him eight laps to get within a second of Russell's rear wing but only one corner to take the position off him. Next target Hamilton, that made easier by the Briton stopping on lap 30 for hard tyres. Verstappen was back up into P1 and Russell in two laps later, P5 for the Mercedes driver who came out ahead of Sainz.
But Hamilton and Russell closed in on Perez and Leclerc, and Ferrari began to run through their alphabet of strategies, up to Plan C. Hamilton's first target was Perez, the Mexican driver pushing the Mercedes wide. It was a case of third time lucky, only for Hamilton to come up behind Vettel as the German exited the pits and blocked the Briton's path. Vettel got out of the way. Russell also passed Perez, who stopped for hard tyres.
The yellow flags came out on lap 44, Tsunoda crying "tyres not fitted". The driver, having stopped at the side of the track, got going again. He returned to the garage, the team checking something in his cockpit before sending him back out. Ferrari pitted Sainz and then Leclerc for a second time, both taking on hard tyres. They came out P4 and P9.
The focus was back on Tsunoda, the driver telling AlphaTauri something was "broken" as he pulled over. The VSC was deployed and Verstappen pitted from the lead, able to retain it with both Hamilton and Russell also pitting. The order shook out with Verstappen, Hamilton, Russell, Leclerc, Perez, Esteban Ocon, Sainz, Norris, Alonso and Lance Stroll.
LAP 48/72

Tsunoda comes back in to the pits for running repairs before coming out again and immediately encountering problems again. He's parked up at the side of the track.

⚠️ VIRTUAL SAFETY CAR ⚠️ pic.twitter.com/iWdoYsfImt

— Formula 1 (@F1) September 4, 2022
Hamilton on his medium tyres immediately began to eat into Verstappen's 12-second lead with Russell staying with his team-mate. The yellow flags were back out for Bottas' stricken Alfa Romeo, the car stopping on the pits straight. Sainz passed Ocon as it happened, the driver told by Ferrari to "let him by". Safety Car deployed…Verstappen pitted for new soft tyres, Hamilton up into the lead. Leclerc, Perez and Ocon also stopped. Then Russell pitted, as did Sainz, the Spaniard in a near-miss with Alpine.
Hamilton on the mediums took the restart ahead of Verstappen, Russell and Leclerc on softs. Perez on mediums and the rest of the field on softs. Back under pressure with 12 laps to go, Hamilton was immediately attacked by Verstappen with the reigning World Champion taking the lead into Turn 1. Hamilton was not happy, "I can't tell you how p*ssed I am", as Russell closed on his rear wing and passed him into Turn 1 with eight to go. Two laps later Hamilton was off the podium, overtaken by Leclerc through Turn 1.
— Out of Context F1 / 200k 🤟 (@f1nocontext) September 4, 2022
Verstappen raced to the victory, his 10th of his season and fourth in a row, ahead of Russell with Leclerc joining them on the podium. Hamilton was fourth with Sainz crossing the line in fifth place only to drop down the order due to a five-second time penalty for an unsafe release in the pits.
Perez was elevated to fifth ahead of Alonso, Norris, Sainz and Ocon.
Result
1 Max Verstappen Red Bull 1:36:42.773
2 George Russell Mercedes + 4.071
3 Charles Leclerc Ferrari +10.929
4 Lewis Hamilton Mercedes +13.016
5 Sergio Perez Red Bull +18.168
6 Fernando Alonso Alpine +18.754
7 Lando Norris McLaren +19.306
8 Carlos Sainz Ferrari +20.916
9 Esteban Ocon Alpine +21.117
10 Lance Stroll Aston Martin +22.459
11 Pierre Gasly AlphaTauri +27.009
12 Alex Albon Williams +30.390
13 Mick Schumacher Haas +32.995
14 Sebastian Vettel Aston Martin + 36.007
15 Kevin Magnussen Haas +36.869
16 Guanyu Zhou Alfa Romeo Racing +37.320
17 Daniel Ricciardo McLaren +37.764
18 Nicholas Latifi Williams + 1 Lap
Did not finish
Valtteri Bottas Alfa Romeo lap 55
Yuki Tsunoda AlphaTauri lap 48