Race: Hamilton equals Schumi with a 91st F1 victory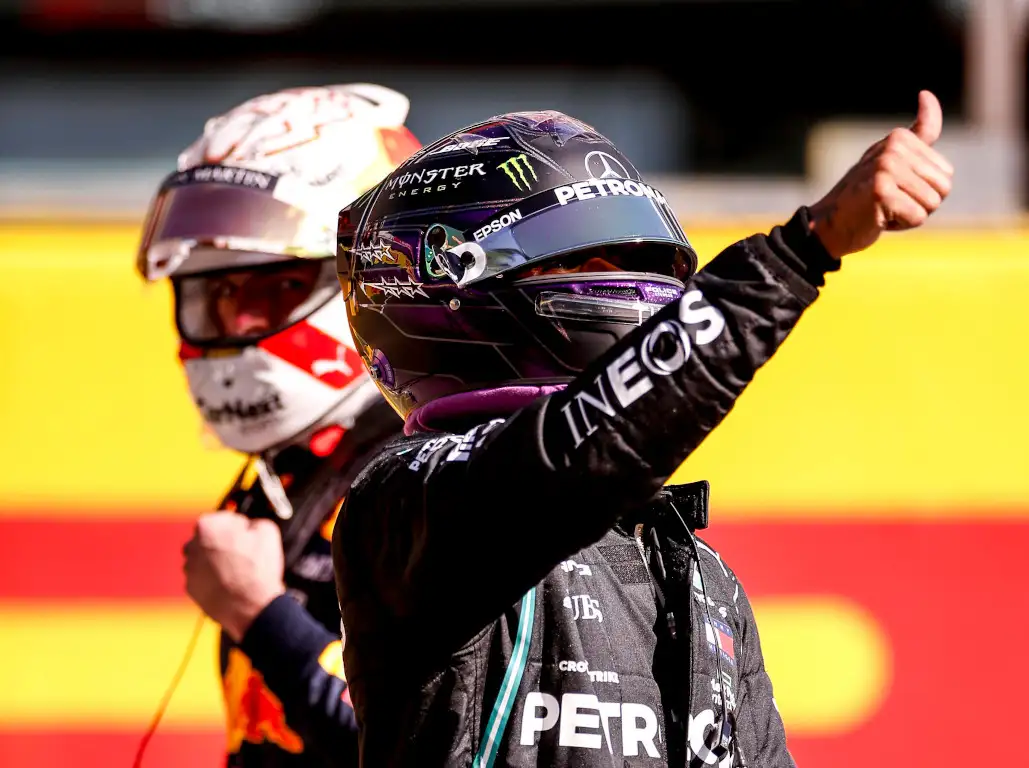 Lewis Hamilton wrote his name into F1's record books as he cruised to his 91st race win at the Eifel GP, equalling Michael Schumacher's all-time win record.
The Mercedes driver took his seventh win of this season ahead of Max Verstappen while Renault team boss Cyril Abiteboul was the race's big winner, or loser, as he'll soon be getting a tattoo thanks to Daniel Ricciardo's P3.
Pole sitter Valtteri Bottas went from good, elbows out to hold onto the lead at the start, to bad, locking up to lose the lead, to unlucky, retiring with an engine issue.
Cold tarmac, heavy cloud cover and yet more pre-race drama for Hamilton set the stage ahead of the Eifel Grand Prix, this time the Brit's steering wheel the topic of conversation.
Lewis Hamilton on his way to grid…

Hamilton: "A lot of movement in my steering wheel. Were you not able to fix my steering wheel last night?"

Team radio: "Negative, Lewis, we didn't get permission for that."#EifelGP🇩🇪 #F1

— Planet F1 (@Planet_F1) October 11, 2020
Hamilton made a great start from second place but Bottas cut him off to sneak ahead of his team-mate and build up a clear lead on the opening lap. Surprisingly all the drivers got through the first corner without any corner with any drama as Verstappen lined up third ahead of Charles Leclerc, Ricciardo, Alex Albon, Lando Norris and Sergio Perez. Nico Hulkenberg, starting P20, jumped up to 17th.
Leclerc, despite his great qualifying performance, struggled in race trim as he fell back from Verstappen and into Ricciardo's clutches. The Renault driver made his move on Lap 6 but Leclerc survived the initial attack.
There was a strange one for Romain Grosjean who reported that Kimi Raikkonen had gone off the track into the gravel, kicking up stones his return that hit Grosjean's hand. "I got hit badly by some gravel from Kimi, and it's fucking hurting my finger," he said. "I don't know, I hope it's not broken. I can't use my left index basically."
Albon was the first driver to pit, stopping on Lap 8, swapping his soft tyres for a set of mediums despite reports that rain was on the way. He fell to 20th.
Ricciardo attacked Leclerc again on Lap 9, this time making it stick as he made use of the switch back at Turn 1. He was 16s behind Verstappen when he made the move. The battle between Norris and Perez heated up a lap later as the Racing Point driver and the McLaren bounced off one another not once but twice, Norris staying ahead.
Leclerc took himself out of the action as he pitted, putting on a set of medium tyres and falling down to 19th place with Raikkonen, who had also pitted, behind him. His team-mate Sebastian Vettel went spinning around as he tussled with Antonio Giovinazzi. A flat spot on Vettel's mediums tyres meant he pitted for hard tyres in a possible one-stop strategy.
— Out of Context F1 (@f1nocontext) October 11, 2020
Back at the front Hamilton closed up on Bottas before passing his team-mate at Turn 1 for the lead on Lap 13. A lock up for Bottas allowed Hamilton to slide on through while Verstappen gained on both Mercedes drivers.
And now the world feed misses Hamilton passing Bottas for the lead!

This could be win #91 for Lewis gifted to him! #EifelGP pic.twitter.com/b2UFOFMjbY

— iGP Manager (@iGPManager) October 11, 2020
Bottas boxed while George Russell had a spun and suffered car damage. Replays showed he received a whack from Raikkonen and was forced to park his Williams on the side of the track, bringing out the Virtual Safety Car. The collision was a moment of fortune for Hamilton and Verstappen who both pitted and returned to the track ahead of Bottas. Ricciardo also pitted, coming back out in fourth.
The drama continued as Albon tangled with Daniil Kvyat and took off the AlphaTauri's front wing, leaving that lying on the track. And it didn't stop there as Bottas slowed, reporting "no power". He fell from third to fifth and then seventh. He boxed to retire car. Game over for the pole sitter on Lap 18.
Nooooo 😔

PU issues force @ValtteriBottas to retire the car. His #EifelGP is over. pic.twitter.com/lWb6IZp17k

— Mercedes-AMG F1 (@MercedesAMGF1) October 11, 2020
Running 15th, Raikkonen was slapped with 10-second time penalty for causing a collision with Russell while Albon tried to take out the other AlphaTauri of Gasly, locking up his own tyres, and Esteban Ocon retired with a gearbox problem. "I lost something. I don't have braking. The gears are not working guys," he said.
Albon was handed a five-second penalty for his earlier moment with Kvyat and took it immediately. Nope, he pulled into the pits and retired the car.
Norris joined the drama list as he reported a loss of power only to be told it was a "sensor" issue and to keep pushing. Norris stopped on Lap 30, McLaren put fresh mediums on his car and sent him back out. He continued to complain about his engine, McLaren continued to tell him how to manage it.
He fell back to sixth, passed by Perez, and running just ahead of his team-mate Carlos Sainz. Perez's next target was Leclerc but the Monégasque driver fought back with DRS to retake P4. Perez attacked again later in the lap, taking – and keeping – P4. Leclerc pitted for a second time, falling to 10th.
With 15 to go Hamilton was leading Verstappen by nine seconds with the Dutchman 50s ahead of third placed Ricciardo, opening the door for Red Bull to bring him in for a free pit stop if they choose to. Ricciardo was running 12s ahead of Perez with the Mexican driver lapping seven-tenths faster as the battle for the podium was by no means decided.
Sainz was P5 as Norris added his name to the list of retirements, parking his McLaren and grabbing a deckchair as he tried to relax after a difficult afternoon. The location of Norris' car meant the Safety Car was deployed.
⚠️ SAFETY CAR DEPLOYED (LAP 44/60) ⚠️

Lando Norris retires after battling car troubles for the majority of the race#EifelGP 🇩🇪 #F1 pic.twitter.com/jWVVH92TuJ

— Formula 1 (@F1) October 11, 2020
Hamilton, Verstappen, Ricciardo and Sainz all pitted with Racing Point opting to box Hulkenberg but not Perez. The team realised a lap later that would leave the Mexican racer a sitting duck and stopped him too. Hamilton lined up ahead of Verstappen, Ricciardo, Perez, Sainz, Leclerc, Grosjean who did not stop, Gasly, Hulkenberg and Giovinazzi for an 11-lap shoot out.
Hamilton easily pulled away with a squiggly Verstappen coming under attack from Ricciardo. The Dutchman held off his former team-mate with Perez then challenging Ricciardo for third. It was, however, all hold for the top six while behind them Gasly and Hulkenberg both passed Grosjean. Their next target was Leclerc with Gasly through easily while Hulkenberg found the going a bit more difficult.
Laying down fastest laps, Hamilton raced to his 91st grand prix victory, equalling Schumacher's record as he also took another step closer to a seventh World title.
He's done it! Lewis Hamilton has tied the all-time record of 91 #F1 race wins after victory at the #EifelGP 🇩🇪 pic.twitter.com/l4jahLABZz

— Planet F1 (@Planet_F1) October 11, 2020
Verstappen was second ahead of Ricciardo, his first podium result since Monaco 2018. Perez was fourth ahead of Sainz and Gasly.
Leclerc scored for Ferrari, holding off Hulkenberg, who raced his way from 20th on the grid to P8 at the chequered flag. Grosjean scored his first points of the season in ninth with Giovinazzi P10.
Result
1 Lewis Hamilton Mercedes
2 Max Verstappen Red Bull 4.470s
3 Daniel Ricciardo Renault 14.613s
4 Sergio Perez Racing Point 16.070s
5 Carlos Sainz McLaren 21.905s
6 Pierre Gasly AlphaTauri 22.766s
7 Charles Leclerc Ferrari 30.814s
8 Nico Hulkenberg Racing Point 32.606s
9 Romain Grosjean Haas 39.081s
10 Antonio Giovinazzi Alfa Romeo Racing 40.035s
11 Sebastian Vettel Ferrari 40.810s
12 Kimi Raikkonen Alfa Romeo Racing 41.476s
13 Kevin Magnussen Haas 49.585s
14 Nicholas Latifi Williams 54.449s
15 Daniil Kvyat2 AlphaTauri 55.588s
Did not finish
Lando Norris McLaren engine
Alex Albon Red Bull engine
Esteban Ocon Renault gearbox
Valtteri Bottas Mercedes engine
George Russell Williams accident
Follow us on Twitter @Planet_F1 and like our Facebook page.