Bottas wins again in Russia, Hamilton penalised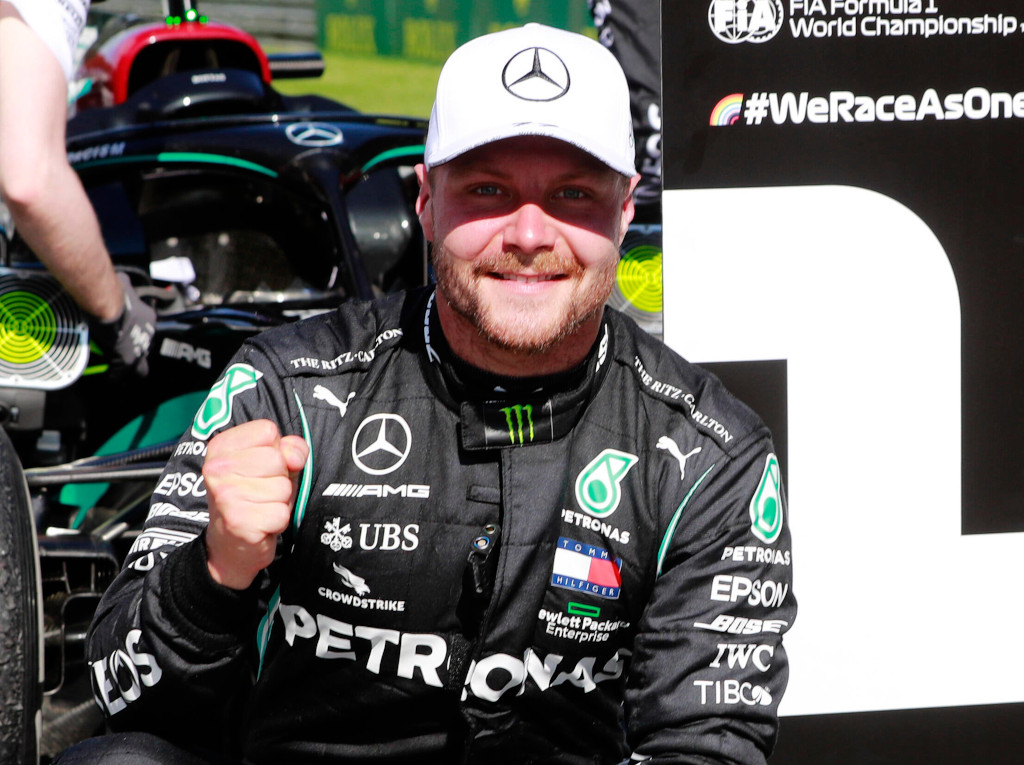 Valtteri Bottas has won the Russian GP, his first victory since round one of this season, taking advantage of Lewis Hamilton's penalty for a pre-race infringement.
Heading to the grid chasing his record-equalling 91st grand prix win, pole sitter Lewis Hamilton caught the attention of the stewards when he practiced a start outside the designated area. The Brit was under investigation as he took his place on the grid.
Hamilton on the soft tyres made a great getaway but found himself under pressure from Bottas as the Finn used the tow to close up on his team-mate and challenge for the lead. Trying to pass around the outside, Bottas put wheels off the track and Hamilton stayed ahead.
Verstappen also ran off the track but managed to rejoin in third place ahead of Esteban Ocon, Daniel Ricciardo and Sergio Perez. Pierre Gasly, Charles Leclerc, Kevin Magnussen and Romain Grosjean made up the top ten.
Carlos Sainz and Lance Stroll were both out on the first lap, Sainz at Turn 2 after misjudging the space in the run-off area and Stroll at Turn 4. Lando Norris was also caught up, falling to P18. The Safety Car was deployed with Norris, Alex Albon and George Russell pitting.
Carlos Sainz has completed the latest phase of his Ferrari initiation programme.#RussianGP 🇷🇺 #F1pic.twitter.com/CLFRuYykCZ

— Planet F1 (@Planet_F1) September 27, 2020
Get your hands on the official McLaren 2020 collection via the Formula 1 store
The Safety Car pitted at the end of lap 5 with Hamilton bunching up the field with Bottas almost alongside him and Verstappen trying to do the same with Bottas. Hamilton accelerated between Turns 15 and 16 while Bottas was still navigating the corner. He easily pulled away, unchallenged.
Lap 7 saw the stewards hand down a two 5-second time penalties to Hamilton for his pre-race practice start infringements. Informed of his penalties, Hamilton replied: "That's bulls**t, where's that in the rulebook?"
Daniil Kvyat moved into the top ten with a pass on Grosjean, Kimi Raikkonen, racing his 322nd grand prix, overtook Nicholas Latifi for 14th while Albon and Norris challenged Russell for 16th. The Williams driver holding them off. Russell made a mistake at Turn 13, locking up and allowing Albon through with Norris also attacking and taking a position.
Look at these boys having fun! pic.twitter.com/ZTQIsYt9zJ

— Ky (@FiftyBucksss) September 27, 2020
Hamilton looked to be the first of the front runners to pit, his mechanics out, only for the Brit to say in a rather tense tone: "Do not stop me now, do not!" He went purple.
Perez took fifth off Ricciardo, gently squeezing the Renault driver onto the dirty part of the track to make it stick at Turn 4. Ricciardo pitted, swapping his soft tyres for a set of the hard rubber.
Hamilton stopped on lap 16, hards going on. He took his 10-second penalty and came out P11 ahead of Ricciardo. "This is just ridiculous man," was his assessment. Hamilton was almost immediately back into the points as Grosjean, who was running ahead, pitted. Four laps later he was up to P5, making up more positions through others stopping and also passing Sebastian Vettel out on track.
"I don't want any info anymore Bono"

— tami. (@Vetteleclerc) September 27, 2020
At the very front on lap 25 of 53, Bottas had built up a 10 second lead over Verstappen, both still on their first set of medium tyres, with Leclerc and Kvyat, also yet to pit, ahead of Hamilton, Perez, Vettel, who hadn't stopped, Ricciardo, Ocon and Raikkonen.
Ricciardo was given the go-ahead by Renault to pass his team-mate but botched it as he ran off the track at Turn 2 and didn't return as per the stewards instructions. He was under investigation.
Verstappen stopped on lap 26, coming out behind Kvyat and six seconds ahead of Hamilton. Bottas was the next one in and came out P1, ahead of Leclerc, Kvyat and Verstappen – make that Verstappen and Kvyat, and Hamilton. Ricciardo, handed a 5-second penalty, made short work of Vettel with Ocon following him through.
Informed of his penalty he told Renault: "I'll drive faster. That's my bad. I'll make up for it."
As the last of the field pitted, Leclerc made his pit stop from second, coming out P7 in the middle of a Renault sandwich. Kvyat, who had been running third and doing a good job for Red Bull in holding up Hamilton, came out P8, and Vettel, who was in the top ten, came back out in 16th place.
Bottas continued to pull away from Verstappen with the Dutchman told he is "losing six-tenths" in a straight line. Verstappen responded by saying he's just "trying to do my own race here". That race had him 13s behind Bottas and 10 ahead of Hamilton.
Behind them Perez was running a comfortable P4 ahead of Ricciardo and Leclerc while Ocon was seventh ahead of Kvyat with Gasly and Norris running inside the points.
Behind them Albon overtook Grosjean before Antonio Giovinazzi and Vettel did the same, both moves at Turn 2, and Raikkonen followed suit. Albon then took 11th off Magnussen, make that 10th as Gasly pitted for a second time, the AlphaTauri driver was P9 and came out P11. Gasly pitted as the VSC came out for injured bollard that needed saving.
Albon tried to attack Norris but instead lost P10 to Gasly. The Frenchman then attacked Norris and took ninth. Albon then took 10th off the McLaren driver who immediately putted for fresh tyres.
As the laps counted down Bottas raced to a comfortable victory, taking the chequered flag eight seconds ahead of Verstappen with Hamilton a further 15 seconds back. It was only the third time this season that the Finn had beaten his team-mate with Hamilton's lead slashed to 44 points.
Perez raced his way to fourth place ahead of Ricciardo, who despite his penalty, held onto P5 ahead of Leclerc, Ocon and Kvyat. Gasly and Albon completed the top ten. Albon received a late five-second penalty but it didn't impact the result.
Result
1 Valtteri Bottas Mercedes
2 Max Verstappen Red Bull 7.729s
3 Lewis Hamilton Mercedes 22.729s
4 Sergio Perez Racing Point 30.558s
5 Daniel Ricciardo Renault 47.267s
6 Charles Leclerc Ferrari 61.635s
7 Esteban Ocon Renault 66.352s
8 Daniil Kvyat AlphaTauri 66.777s
9 Pierre Gasly AlphaTauri 89.307s
10 Alex Albon Red Bull 92.474s
11 Antonio Giovinazzi Alfa Romeo Racing 1 LAP
12 Kevin Magnussen Haas 1 LAP
13 Sebastian Vettel Ferrari 1 LAP
14 Kimi Raikkonen Alfa Romeo Racing 1 LAP
15 Lando Norris McLaren 1 LAP
16 Nicholas Latifi Williams 1 LAP
17 Romain Grosjean Haas 1 LAP
18 George Russell Williams 1 LAP
Did not finish
Carlos Sainz McLaren crash lap 1
Lance Stroll Racing Point crash lap 1
Follow us on Twitter @Planet_F1 and like our Facebook page.