Race: Spanish stroll for Hamilton, siesta for fans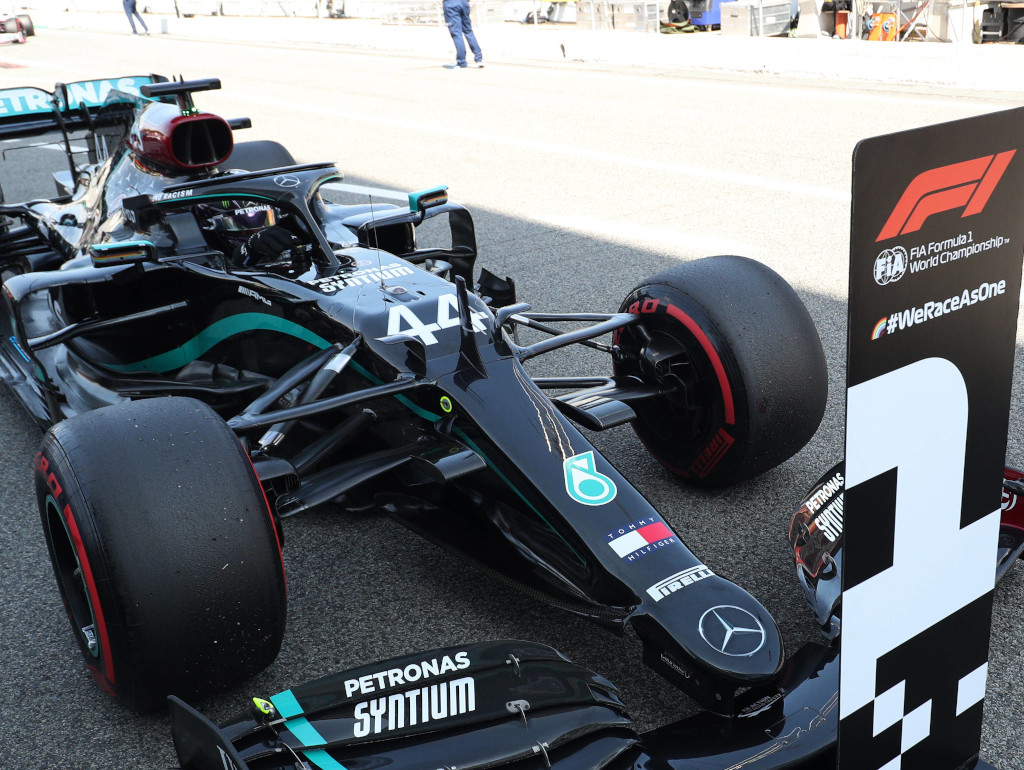 Lewis Hamilton added a fifth Spanish GP victory to his growing tally, lapping everyone except his fellow podium finishers.
Bottas was third with Racing Point's Lance Stroll giving Max Verstappen a helping hand by keeping the Finn behind him for the first few laps of the race.
Sweltering heat, tyre wear and tyre management set the tone for Spanish Grand Prix, round six of the 2020 F1 World Championship.
Hamilton led from pole position with Verstappen, P3 on the grid, sweeping around the outside to take second as Valtteri Bottas had to hold off the Racing Points, losing out to Lance Stroll but staying ahead of Sergio Perez. Pierre Gasly made a great start to move up from 10th to eight, Lando Norris not so much, dropping from eighth to 10th.
That was first and second decided.
"Important to get through Stroll, we can still have a race," was the message to Bottas but it was easier said than done with the 2020 Mercedes trying to pass the 2019 edition. He eventually made it through at the start of Lap 5.
Bottas dropped the Racing Point almost immediately while Verstappen complained that Hamilton was driving "super slow", the Brit backing up the Red Bull driver into his team-mate, opening the door for Bottas to undercut Verstappen in the pit stops.
"He is driving super slow."

Only Verstappen would say that to a Mercedes 😂#SpanishGP pic.twitter.com/Oz7DGvj56Q

— tami. (@Vetteleclerc) August 16, 2020
With tyre management in play across the field by lap 10, Hamilton led Verstappen by two seconds with Bottas roughly a further two bad. Stroll was six seconds down on Bottas and dropping with every lap as he was chased by Perez, Alex Albon, Carlos Sainz and Pierre Gasly. Charles Leclerc and Lando Norris were in the top ten with Sebastian Vettel, first driver on the mediums, knocking on the door in 11th.
15 laps in and Hamilton, having looked after his tyres, upped his pace – "keep building that gap and we can extend" – with Verstappen, who was complaining about his rubber, unable to stick with him. The Dutchman losing tenths lap by lap but still keeping Bottas two seconds behind him.
His Red Bull team-mate Albon was the first man to pit, swapping his softs for hards on lap 17, and coming out P16 behind the Renault of Esteban Ocon. It was, on the face of it, a strange swap given that the drivers all complained about the hard tyres on Friday.
Alex is the first to pit on Lap 17 and takes on a set of the @pirellisport hard tyres. He returns to track in P16 #SpanishGP pic.twitter.com/vetsEfLUfa

— Aston Martin Red Bull Racing (@redbullracing) August 16, 2020
Verstappen's tyre complaints rose in volume and intensity but the team told him to stay out as they did not have a safe gap. "I'm losing so much time, who cares about traffic, I'll easily pass them," was his assessment. Verstappen stopped on lap 21, 1.9s!!!, and he came out on the medium tyres ahead of the Racing Point team-mates.
Gasly, Norris were the next from the top ten to stop as too did Daniil Kvyat after several failed attempts at taking P11 off Vettel. Sainz was the next in and then Hamilton at the end of lap 23. A bit of a slow left rear, 4.3s, and he came out P1 as Bottas also stopped, both putting on medium tyres. Hamilton, Verstappen, Bottas was the order.
Verstappen wasn't charmed with his pit wall: "How about we just focus on our race instead of constantly looking at Lewis?" The response: "Get your head down Max, please".
Stroll pitted on lap 27 coming out well ahead of Albon, whose hard tyre strategy seemed ever more to be making him a bit of a sacrificial lamb. Sainz, running the soft tyres, also moved ahead of Albon.
Stroll, Leclerc and Vettel added their names to the list of those pitting. Perez came out behind Sainz but ahead of Albon with the Ferraris P13 and 14, both dropping behind Kvyat. Leclerc quickly passed Kvyat. Vettel was almost seven seconds behind him.
With the top three managing their tyres and Racing Point running a race of their own, Sainz, Albon, Gasly, Norris and Leclerc delivered the mid-race excitement.
LAP 35/66

Leclerc. Norris. Racing.

That's it. That's the Tweet.#SpanishGP 🇪🇸 #F1 pic.twitter.com/AhfAOYUkm5

— Formula 1 (@F1) August 16, 2020
Leclerc and Ferrari upped the ante on lap 38 as the Monégasque driver's engine died and he spun. "Engine stopped, broken, I don't know what happened," he said before getting the car going but he was down in 20th place. He boxed, game over.
His team-mate Vettel was warned that rain should arrive around lap 50. We waited… Verstappen was told to stop tyre managing and up his pace. We waited for that too… Sainz pitted, Albon in next, then Verstappen, followed by Stroll as one by one the two-stopping drivers made their moves. Verstappen relinquishing P2 to Bottas in the process while Sainz and Albon had a near miss as the Red Bull driver tried to overtake the McLaren around the outside. Oh so very close.
Mercedes finally pitted Bottas on lap 48, putting a set of soft tyres on the W11. He came out behind the Dutchman, seven seconds down. Hamilton stopped two laps later, coming out on a set of mediums, which he requested having told Mercedes he was happy with the yellow-walled tyres.
With 15 to go the Mercs ran 1-3 with Verstappen in the sandwich followed by Perez, who had a five-second penalty for ignoring blue flags, and Vettel who was on a one-stopper with both the driver and Ferrari questioning whether he could finish the lap on his current soft tyres.
"I fucking asked you this before!"

Seb's team radio this year is gold 😂 pic.twitter.com/QkHyXYVLPv

— tami. (@Vetteleclerc) August 16, 2020
Vettel: "I can do that. Let's try. There's nothing to lose." Engineer: "Exactly, you're P5, that's what I was asking for." But with tyres that were some 30 laps old, Stroll easily took fifth off Vettel on lap 57 with Sainz then taking P6 on lap 60.
Hamilton took the victory, his fifth in Spain, lapping everyone except Verstappen and Bottas, who joined him on the podium. Hamilton was 24s ahead of Verstappen at the chequered flag.
But while the Brit took the win, Bottas claimed the fastest lap point as he pitted on the penultimate lap for a brand new set of medium tyres and clocked a 1:18.183 on the final lap – a new race lap record.
Perez crossed the line in fourth but it was Stroll who took P4 due to his team-mate's penalty. Perez was fifth ahead of Sainz and Vettel.
Albon, Gasly and Norris completed the top ten.
Romain Grosjean had an eventful end to his grand prix that included an incident with Antonio Giovinazzi that is being investigated and a few laps later a ride over the kerbs and came with a spin. He was P19, last.
Result
1 Lewis Hamilton Mercedes
2 Max Verstappen Red Bull 24.177s
3 Valtteri Bottas Mercedes 44.752s
4 Lance Stroll Racing Point 1 Lap
5 Sergio Perez Racing Point 1 Lap
6 Carlos Sainz McLaren 1 Lap
7 Sebastian Vettel Ferrari 1 Lap
8 Alex Albon Red Bull 1 Lap
9 Pierre Gasly AlphaTauri 1 Lap
10 Lando Norris McLaren 1 Lap
11 Daniel Ricciardo Renault 1 Lap
12 Daniil Kvyat AlphaTauri 1 Lap
13 Esteban Ocon Renault 1 Lap
14 Kimi Raikkonen Alfa Romeo Racing 1 Lap
15 Kevin Magnussen Haas 1 Lap
16 Antonio Giovinazzi Alfa Romeo Racing 1 Lap
17 George Russell Williams 1 Lap
18 Nicholas Latifi Williams 2 Laps
19 Romain Grosjean Haas 2 Laps
Did not finish
Charles Leclerc Ferrari lap 38 engine
Follow us on Twitter @Planet_F1 and like our Facebook page.