Race: Hamilton chases down Max for Spanish GP win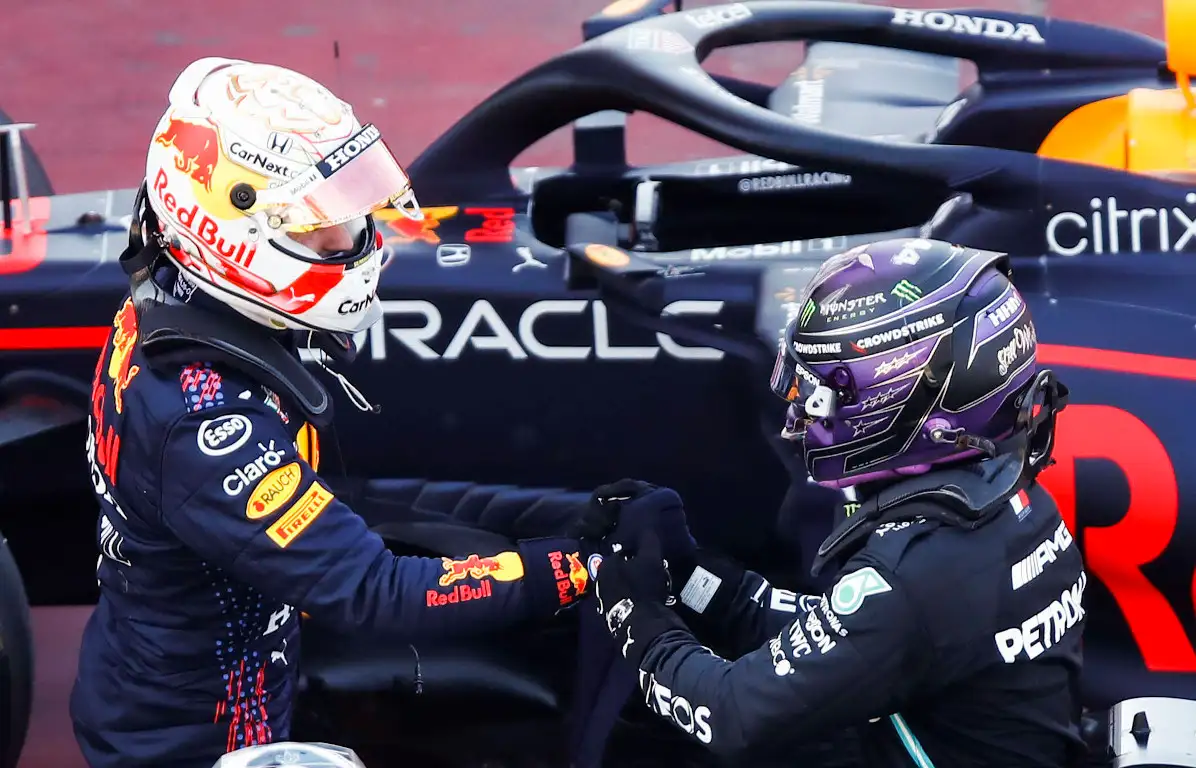 Lewis Hamilton lost the early battle to Max Verstappen, overtaken at Turn 1, but fought back to win the war, taking the Spanish Grand Prix victory ahead of his title rival.
Verstappen must have been smiling at the start of the Barcelona race, up into the lead on lap 1 at Turn 1 having made an aggressive pass on Hamilton – the two almost touching.
The grand prix turned into a game of cat and mouse, as Mercedes pitted Hamilton's two-stop strategy against Red Bull's one-stopper for Verstappen.
Chasing down the Red Bull in the closing laps, Hamilton took the lead on lap 60 with Verstappen unable to defend and Red Bull responding by pitting  him for the fastest lap point.
The reigning World Champion claimed the race win, his third of his season, to extend 14 points in the title race with Verstappen second on the day. Valtteri Bottas finishing third.
𝓤 𝓝 𝓑 𝓔 𝓐 𝓣 𝓐 𝓑 𝓛 𝓔@LewisHamilton 2⃣0⃣2⃣1⃣ #SpanishGP winner! 🏆 pic.twitter.com/HVuXRrZnuL

— Circuit de Barcelona-Catalunya (@Circuitcat_eng) May 9, 2021
Despite starting P2, Verstappen once again won the opening corner, squeezing Hamilton through Turn 1 to lead the Spanish GP. Charles Leclerc got the jump on Bottas around the outside at Turn 3, with Daniel Ricciardo up to fifth ahead of Sergio Perez. Esteban Ocon and Carlos Sainz both dropped two places, running ahead of Lando Norris and Fernando Alonso.
👀⏪ LAP 1/TURN 1

Verstappen and Hamilton at the start 💪#SpanishGP 🇪🇸 #F1 pic.twitter.com/eIN5aAmZzn

— Formula 1 (@F1) May 9, 2021
The stewards announced four laps in that Pierre Gasly was being investigated for being 'out of position at the start'. Running P13, he was handed a five-second time penalty.
The second AlphaTauri was also in trouble with Yuki Tsunoda stopping on the outside of Turn 10. "Engine stopped, engine stopped," was his complaint. The Safety Car was deployed, good news for Leclerc and Bottas who had dropped some eight seconds off the race for the lead.
Antonio Giovinazzi used the moment to come in for a stop only for Alfa Romeo to realise that his brand new front left medium tyre had a puncture. The mechanics had to fetch another set of tyres, Giovinazzi stationary for 35.1s and dropping to the very back of the field.
The race resumed on lap 11 with Verstappen breaking the tow from Hamilton to hold onto the lead. Leclerc stayed third ahead of Bottas with the only change inside the top ten being Lance Stroll's pass on Alonso for P10.
With a blistering right rear tyre, Hamilton began his traditional tyre complaints – while closing the gap on Verstappen in the battle for the lead. The Brit informed Mercedes that he wanted a little less front wing when he comes in for his pit stop.
Bottas, 10 seconds off the pace, was the first of the top four to stop, coming in on lap 24. With Hamilton half a second behind him, Verstappen pitted on lap 25 for new medium tyres. A moment on the rear left meant he was stationary for 4.2s, a huge mistake from Red Bull.
But with Nikita Mazepin getting blue flags, and not exactly jumping to move over for Hamilton – "Mikey, blue flags" team boss Toto Wolff said to FIA race director Michael Masi, Mercedes opted to keep the Brit out for a longer first stint.
THAT'S A FIRST pic.twitter.com/Mp0bq9qRLL

— tami. (@Vetteleclerc) May 9, 2021
Hamilton stopped on lap 28, with 16.8 gap to Verstappen. Stationary for 2.7s, he came out five seconds behind Verstappen but on tyres that were five laps fresher. Leclerc pitted and came out P4, losing a position to Bottas. Hamilton immediately set about closing the gap to Verstappen, reducing it to less than three seconds in five laps.
Two laps later, lap 35, Hamilton was a second behind but as everyone knows passing at the Barcelona circuit is easier said than done. Chasing the Red Bull driver, he bounced in and out of DRS range.
It is "amazing how they have more grip" was Verstappen's complaint to Red Bull only for Mercedes to call Hamilton into the pits for fresh mediums. Red Bull left Verstappen out, his gap to the reigning World Champion sitting at 23 seconds with 23 laps.
.@LewisHamilton pits for a new set of tyres and the chase continues 👊#F1 #Formula1 #SpanishGP @F1 pic.twitter.com/4Uyw9vKzku

— Yas Marina Circuit (@ymcofficial) May 9, 2021
Meanwhile further back Ricciardo was warned "no weaving on the straight" as he tried to break the tow from Perez in their tussle over fifth place. Sainz was right behind them, waiting to pounce. With Ricciardo and Sainz pitting for a second time, Perez, Ocon and Norris all moved ahead before Ricciardo and Sainz both passed Norris, the Brit shown the black-and-white flag for his robust – read dangerous – attempt to block Sainz.
Taking a second off Verstappen with each lap, Hamilton was told that "at this rate you'll catch up on the last lap". With the fresher tyres, Hamilton chased and passed Bottas for second, Mercedes telling the Finn not to hold up his team-mate, but it did look as if Bottas made him work for it. The gap to Verstappen 11s with 13 to go. Bottas pitted immediately after, fresh tyres in the race for the fastest lap point.
Hamilton caught and overtook Verstappen on lap 60, the Red Bull unable to defend on his old tyres. Verstappen responded by boxing, coming out P2, and putting in an effort for the fastest lap point. He got it. Hamilton took the win, his third of this season, with Verstappen P2 for the third time this season. Bottas was third.
Leclerc was fourth ahead of Perez, Ricciardo, Sainz, Norris, Ocon and Gasly completed the top ten.
Result
1 Lewis Hamilton Mercedes
2 Max Verstappen Red Bull 15.841s
3 Valtteri Bottas Mercedes 26.610s
4 Charles Leclerc Ferrari 54.616s
5 Sergio Perez Red Bull 63.671s
6 Daniel Ricciardo McLaren 73.768
7 Carlos Sainz Ferrari 74.670s
8 Lando Norris McLaren 1 Lap
9 Esteban Ocon Alpine 1 Lap
10 Pierre Gasly AlphaTauri 1 Lap
11 Lance Stroll Aston Martin 1 Lap
12 Kimi Raikkonen Alfa Romeo Racing 1 lap
13 Sebastian Vettel Aston Martin 1 Lap
14 George Russell Williams 1 Lap
15 Antonio Giovinazzi1 Alfa Romeo Racing 1 Lap
16 Nicholas Latifi Williams 1 Lap
17 Fernando Alonso Alpine 1 Lap
18 Mick Schumacher Haas 1 Lap
19 Nikita Mazepin Haas 2 Laps
Did not finish
Yuki Tsunoda AlphaTauri engine
Follow us on Twitter @Planet_F1 and like our Facebook page.