Sebastian Vettel made the most of a Virtual Safety Car to snatch the Australian Grand Prix win from Lewis Hamilton in Melbourne on Sunday.
Despite the tension and anticipation on the grid, it was a clean start to the season with all 20 drivers coming through the opening laps without drama. Hamilton held off the charging Kimi Raikkonen to lead while Vettel hounded his team-mate.
The biggest change inside the top ten was Kevin Magnussen taking fifth off Max Verstappen ahead of Romain Grosjean, Nico Hulkenberg, Daniel Ricciardo, Carlos Sainz and Fernando Alonso. Valtteri Bottas, "playing it cool early on" according to a tweet from Mercedes, lined up P15 and was still P15 until lap 5 when he overtook Lance Stroll.
The Williams driver's team-mate Sergey Sirotkin recorded the first retirement of the campaign as he lost brakes, parking his FW41 at Turn 13. Marcus Ericsson retired moments later, pulling into the pits without power steering.
10 laps in, Verstappen, having earlier complained about hot tyres, spun and dropped from fifth to eighth. Told to "save your overtake for where you think Magnussen is most vulnerable", Verstappen instead ran wide, lost it and spun.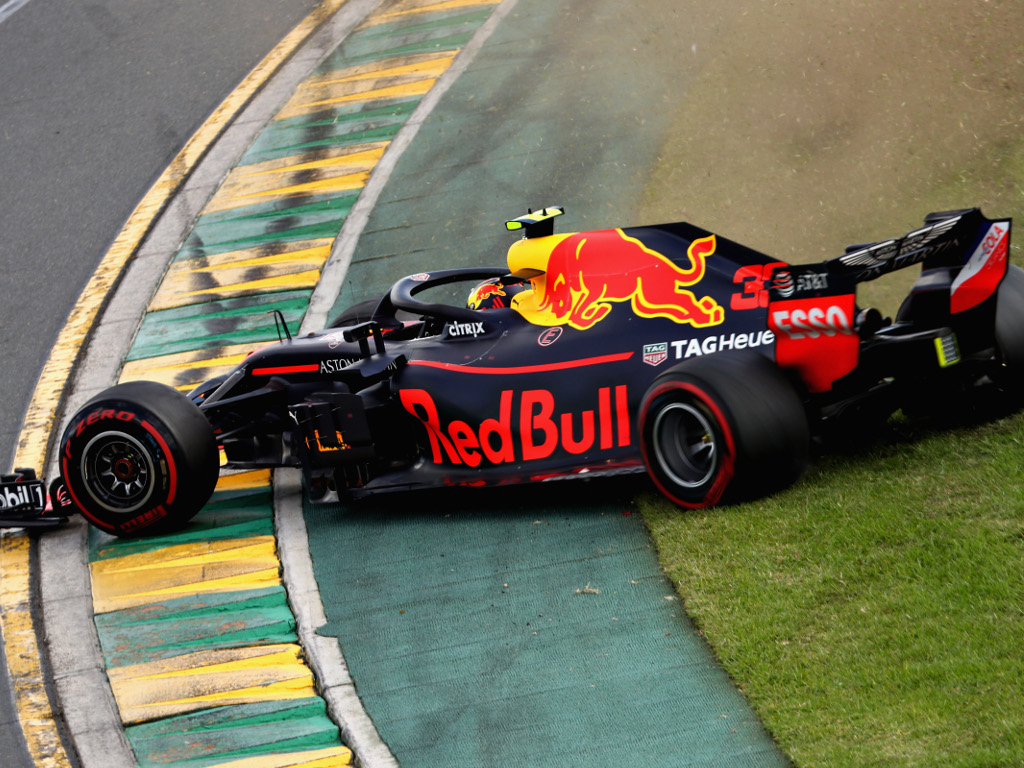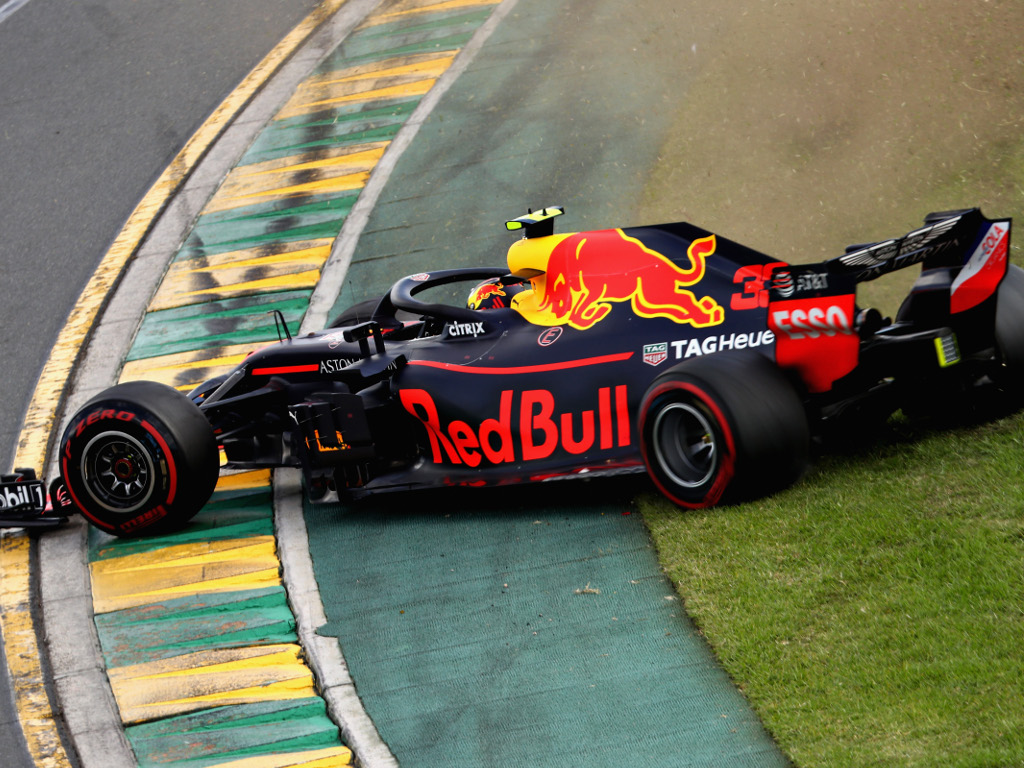 Pierre Gasly added his name to the list of retirements when on lap 14 he reported he was "stuck, what's happening?" He was told to box, game over for the Frenchman and his smoking Toro Rosso-Honda.
Back at the front Hamilton was told to up his pace to the 1:27s as Mercedes looked to avoid the under, or over, cut from Ferrari. Raikkonen, three seconds behind Hamilton, pitted on lap 19 for soft tyres. Mercedes boxed Hamilton a lap later for soft tyres putting Vettel into the lead.
Magnussen's incredible run came to a halt on lap 23 when his rear left wheel wasn't properly attached after his pit stop. Haas' day went from bad to shocking as Grosjean then stopped after his pit stop. A visibly frustrated Frenchman took the time to wave to the crowd while Guenther Steiner put his head in his hands.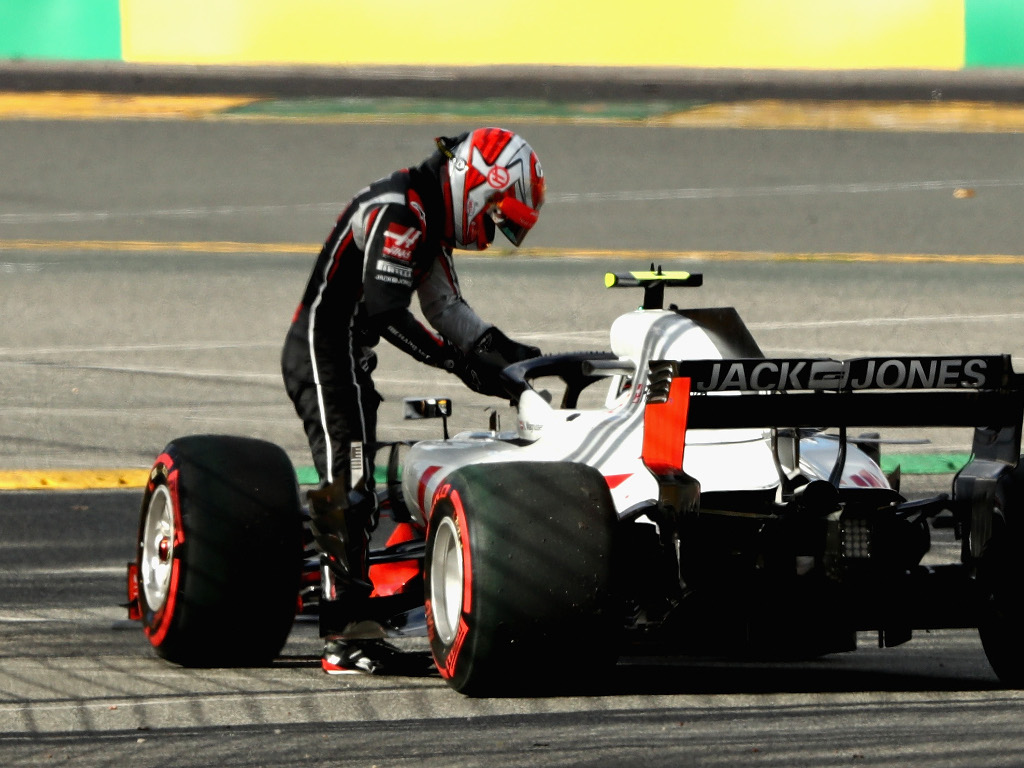 The VSC was shown prompting Vettel to pit from the lead. Ultras for softs and he came out ahead of Hamilton as the Ferrari driver didn't have to adhere to the VSC limits in the pit lane. Ricciardo also benefitted, coming out P4.
The VSC was changed to a full blown Safety Car to clear Grosjean's stricken Haas. Top ten: Vettel, Hamilton, Raikkonen, Ricciardo, Alonso, Verstappen, Hulkenberg, Vandoorne, Bottas and Sainz.
The Safety Car was in at the end of lap 31 with Vettel pulling away from Hamilton and Raikkonen while Ricciardo and Alonso held position ahead of the battling Verstappen and Hulkenberg.
Despite Hamilton staying within 1.2s of Vettel, the Ferrari driver with his fresher soft tyres was able to keep the Mercedes driver at bay. That seemed to be the picture for the entire field barring Bottas who overtook Vandoorne.
Hamilton declared he was ready to make his move on Vettel, closing the gap to half a second only to lock up and drop 2.6s behind the Ferrari driver. Racing to the chequered flag Vettel safely navigated backmarker traffic to race to the win, his second successive in Australia.
Hamilton was second while Raikkonen finished third, keeping Ricciardo off the podium despite the Ausise putting in a late spate of fastest laps to close the gap.
Alonso was fifth ahead of Verstappen, Hulkenberg and Bottas while Vandoorne and Sainz completed the top ten.
Charles Leclerc finished his debut race in 13th place ahead of Lance Stroll and Brendon Hartley.
Result
1 Sebastian Vettel Ferrari
2 Lewis Hamilton Mercedes 5.036
3 Kimi Raikkonen Ferrari 6.309
4 Daniel Ricciardo Red Bull 8.733
5 Fernando Alonso McLaren  29.406
6 Max Verstappen Red Bull 30.162
7 Nico Hulkenberg Renault 32.013
8 Valtteri Bottas Mercedes 33.756
9 Stoffel Vandoorne McLaren 36.108
10 Carlos Sainz Renault 45.654
11 Sergio Perez Force India 46.460
12 Esteban Ocon Force India 54.793
13 Charles Leclerc Sauber  74.678
14 Lance Stroll Williams 75.860
15 Brendon Hartley Toro Rosso 1 lap
Did not finish
Grosjean Haas tyre
Magnussen Haas tyre
Gasly Toro Rosso engine
Ericsson Sauber power steering
Sirotkin Williams brakes