Ralf saw Max/Leclerc tussle as a 'duel of equals'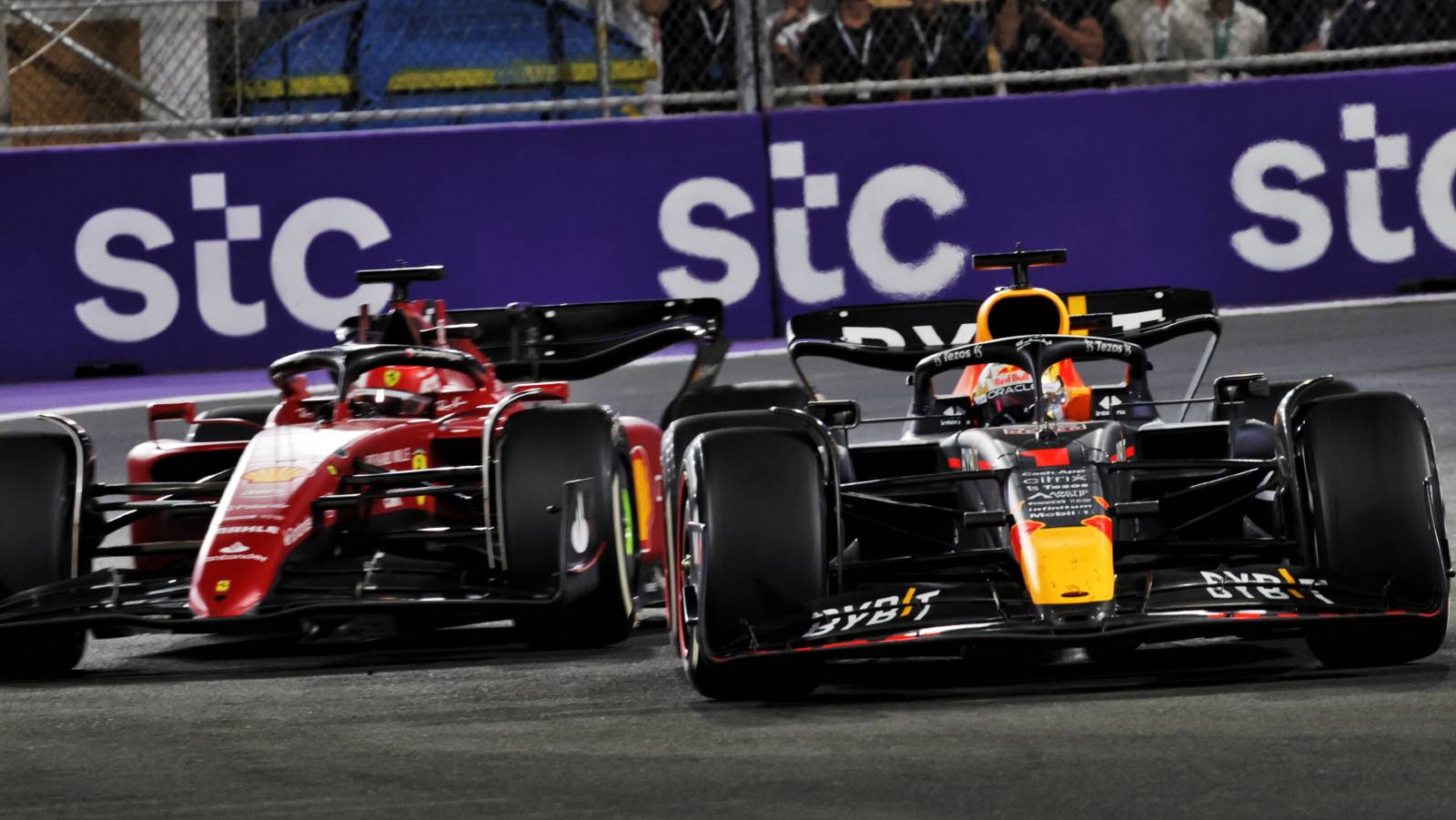 Ralf Schumacher enjoyed the "great cinema" provided by Max Verstappen and Charles Leclerc in what he thought was a Saudi Arabian Grand Prix "duel of equals".
Verstappen and Leclerc engaged in a battle for the lead on a second consecutive Sunday – only in Jeddah it went right the way to the chequered flag with the Red Bull coming out on top by half a second.
A week earlier in Bahrain, it had been Leclerc's turn to celebrate as Verstappen was denied a late thrust following a Safety Car period when he had to retire his RB18 with a fuel pump issue.
With Red Bull and Ferrari looking so closely matched this year, Schumacher, who decided to leave Jeddah on Saturday morning and head home following a missile attack on a nearby oil facility, thinks there could be several more tussles between Verstappen and Leclerc.
The ex F1 driver turned German TV pundit thought the Saudi Arabian action had made for terrific viewing.
"That was great cinema from both of them," said the 46-year-old former Williams, Jordan and Toyota driver, quoted by Speedweek. "It was awesome – driving art at the highest level.
"These two drivers will give us a lot of pleasure this season. I could well imagine we will see the duel here that will ultimately decide the World Championship.
"It was really a treat to see how Leclerc was able to counter the attacks from Max, and how Verstappen then understood he had to tackle the opponent differently on the day if he wanted to stay in front. He tried a couple of times to pass Charles before the last corner, but that always allowed Leclerc to counter.
"Then Max changed tactics. He made sure he got very close to Leclerc but didn't pass him immediately. The decisive attack then came on the start-finish straight, and in the end Leclerc couldn't hold anything against it."
Schumacher thinks the battles so far are showing the sport's new regulations to be a success, with a driver able to fight back once he has been overtaken.
"What you also have to say is with these new cars, other duels are possible," added the six-time grand prix winner.
"The chaser can stay on and think calmly about what he wants to do to his opponent. In the past, the attacker would have had to drop back because otherwise the tyres would break or the car would get too hot.
"The new Pirelli tyres are less sensitive and the cars are aerodynamically better suited for attacking. That's where the drivers can counter-attack – we didn't have that in the last few years.
"I also thought Max was very clever in saving his tyres to have a better chance against Leclerc at the end. That was really pure joy to watch.
"It was a duel of equals and both know exactly what tricks they have to pull on the other."
Horner calls for DRS review after Saudi 'cat and mouse' game
Christian Horner is calling for a DRS review after the 'cat and mouse' game being played between Charles Leclerc and Max Verstappen.