Readers' Theories: The finale of the Rosberg/Hamilton saga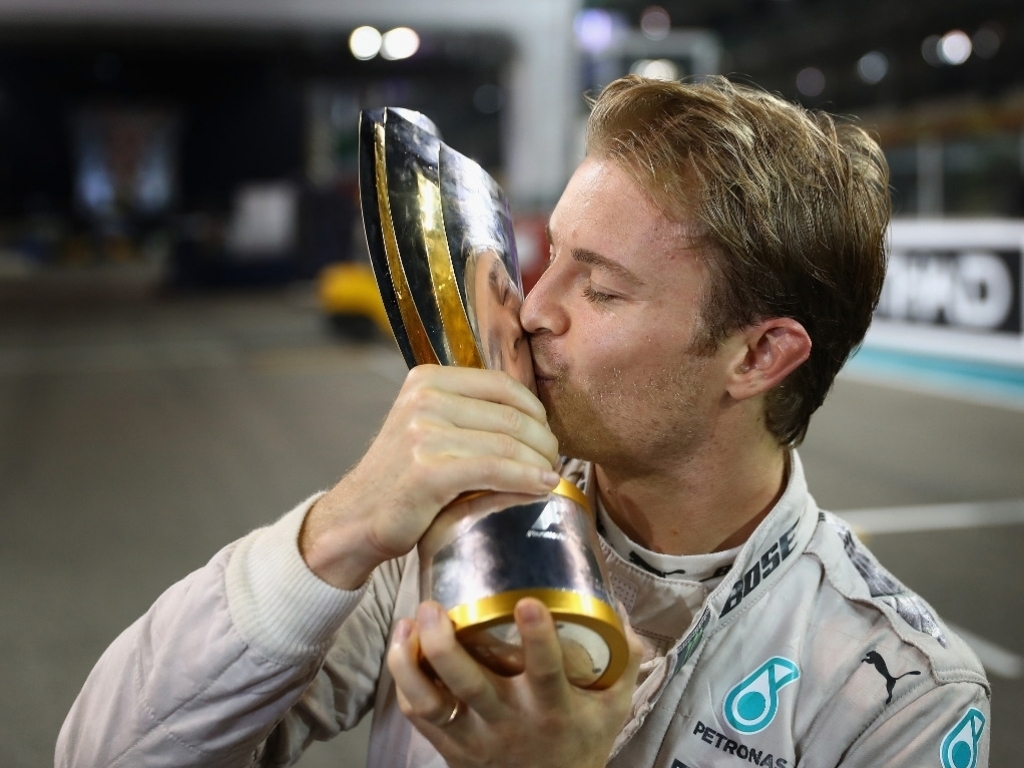 Why does James Hunt get a free pass? Was Lewis Hamilton unethical in the closing stages of the Abu Dhabi Grand Prix? Where to next for Jenson Button? And finally, much like Arsenal FC, Force India secure fourth spot.
Does Johan have a point?
Johan Björk
British James Hunt won his only championship during a season during which his main rival crashed seriously at Nurnberg Ring , missed several races, came back literally from deaths door to race to loose the championship at a rain soaked final race when he said F it, this is to dangerous. I can't remember there being much talk about Hunt not being a worthy world champion or Lauda deserving the title instead. But I guess now we have generation Snowflake watching F1 , and possibly racing in it as well .I doubt very much they will make a film about this season in 40 years time.
Will the real World Champion please stand up…
Scott Kilmurray
I don't understand people saying Nico deserves it. What does that mean…he never earned it. He was gifted it through Hamilton's misfortune. That is F1, but let's be realistic…just because you hold the trophy doesn't mean you're a champion.
Dane Turner
It seems the Rosberg fanboys are more interested in b&tching than celebrating their hollow champions victory, I guess I just explained it in one word, hollow!
Kevin Farley
Lewis inability to come to grips with the clutch and Rosberg's consistency was the difference this year. Should be fun off-season listening to the pathetic Hamilton fanboys scramble to explain how their hero lost to a driver they've said time and time again is no good.
Love struck stalkers aside, a well deserved title, although he only had one car to beat.
Johnny Alexandersson
Call it what you want . But Lulu tried to win the championship by using dirty tactics today. I don't call that racing. I call that doing anything to win. Something he can be proud of when he writes his book in Ten years. Same kind of crap Maxypad pulled on Sed a few weeks ago. Desperate moves.
Doug Sa
Lewis reliability issues for those with short memories:
1. China….. Power unit issue in qualy left him last on grid
2. Russia…..power unit issue in qualy leaves him 10 on the grid
3. Monaco….. power unit problem limits Q3 runs
4. Baku……wrong engine mode caused by team error
5. Belgium…..starts last on grid cos of engine penalties
6. Malaysia ….engine failure while in the lead DNF
Nb…..I didn't even bother to mention point lost to that highly suspicious and dodgy clutch.
If Rosberg is your hero….good luck with that!!!!!
Dane Turner
The F1 Brotherhood would like to give a round of applause, to our No1 Pilot #44. The real 2016 Drivers Championship winner!
Pete Norriss
You Hamilton haters can kid yourslef all you want, fact is HE is the REAL World Champion. More wins…more breakdowns (not forgetting his blown engine when he had a 30 sec. lead) Less penalties (zero against Rosberg's 3 if i remember rightly) Cars rammed out of the way = 0 to Rosberg's 3……No rules changed because of his illegal ativities (illegal radio communication by Rosberg but Hamilton had to sit and suffer with his problem in Baku). Must be a Rosberg family trait of lucking into a World Championship!!!
Damian McColgan
Always paints himself as a victim when he loses, gets bloody boring after a while.
How far-fetched is this theory?
Andrew Campbell
Ferrari wants to win a WDC badly and would readily take Hamilton on board. Hamilton should leave Mercedes now and let Rosberg develope next year's car. At least he would get a fair break at Ferrari because of their desire to win a WDC
Driver of the Day, Sebastian Vettel
iro Apuzzo
Got to say Vettel got a bit of luck with this into to this podium, another terrible strategy call from Ferrari screwed Kimi
Mudassar Ahmed
Well Seb tough year but well done in the end considering you are doing two jobs, driving a car and then being your own strategist. Had you left the strategy to your team you would have finished 6th in Abu Dhabi. Too bad the vibes from the paddock for next year are not positive for Ferrari as the pundits are favouring Mercedes and/or RBR for next year.
Nuno Becker
Driver of the race!! No one is a 4 times WDC by chance!! Well done, Seb!!
Sujith Sabanayagam
Not taking anything away from Kimi for what he has done this year, but this is the difference between kimi and vettel. Seb is emotional, aggressive and always on the attack. He is super
competitive by nature, and it shows! Kimi has been the far more consistent driver this year while Seb has been erratic at the starts, but this race tells you why he is rated so high, made a decision to stay out and then blitzed past kimi, Dan and max. Ferrari need him for the next 2 years at least and I hope they don't disappoint him like they did with Alonso.
Bye-bye, Jenson
Richard S. Elkin
While I do hope that Jenson finds his way back into a competitive car, I can understand why he's tired…The last 3 years, McLaren has let him down with cars that didn't even belong in an F1 race…If the 2017 McLaren is not better than this years car, then I think you will also be saying sayonara to Alonso as well…McLaren will end up being the "New" Manor Racing…I would love to see Button in a Ferrari or Red Bull…He's not old and is in better physical shape than many of the much younger drivers in F1….That will be my Christmas wish this year!!!!!
Terry Murry
Would not be surprised to see Jenson in a senior role at McLaren next season and even in a seat again come 2018!
Tony Hewis Willi Schnauzer · 
I was pleased to see him paying tribute to his WDC by having his helmet design in Brawn green just like in 2009. Well done Jenson you were a gentleman ( bit low on grip sometimes but hey).
Mohammed Ata
In the face of Alonso and Ferrari not winning; I'm at least glad that force India and Carlos sainz have had a great season…well done force India, onwards and upwards…
Maybe the fourth be with you Force India
Bryan Anthony Morice
This is a great story in the team championship. A team with a small budget beat the likes of Williams and McLaren with their much larget budgets. Congrats to Force India for this awesome accomplishment. Maybe they can get a big reliable sponsor for next year as a result. They sure could use the extra financial help for next year's car.
Phil Tom
I think the team deserves a mention. Without a decent car and only good drivers, they would be like Mclaren.
Damian Klop
I also think the team deserves a mention for hiring two of the best team mate matchups in F1. Hulkenberg and Perez seldom both let the team down in the same race. Ocon has big boots to fill.
William Hunt
Congrats to them. Easy to forget they always perform well despite their small budget.