Christian Horner said everyone at Red Bull wanted Alex Albon to retain his seat, but he just was not consistent enough.
The Thai driver was drafted in to replace Pierre Gasly midway through the 2019 season, at that stage with only half a campaign of Formula 1 experience having debuted with Toro Rosso at the 2019 Australian Grand Prix.
But after encountering the same difficulties that Gasly did as he struggled to match the pace of team-mate Max Verstappen, Albon was demoted to a test and reserve role at Red Bull for 2021 while his seat was given to Sergio Perez.
"We all wanted Alex to keep his seat. He has potential, but he lacked consistency," Horner explained to Auto Motor und Sport.

"That's why he'll keep his place in the team, be a reserve and simulator driver, and test the tyres.
"He has accepted this role and will try to make the most of it. It was an unusual gift to have a driver like Sergio Perez on the market. We didn't even have to rush into it, but were able to explore the whole season and analyse our driver situation.
"The bottom line is that it made the most sense for us to pair Sergio with Max."
And with Perez in the team, Horner hopes to return to the days of having two competitive drivers to make a balanced line-up, something the Austrian outfit last had with Verstappen and Daniel Ricciardo back in 2018.
"Sergio has huge experience. He can carry a car to the finish line and caress the tyres. He's a tough fighter," Horner explained.
"We hope that he brings more balance to the team, similar to what we once had with Max Verstappen and Daniel Ricciardo. Sergio will hopefully get the chance to sit in a good car. It's up to us to make that available to him."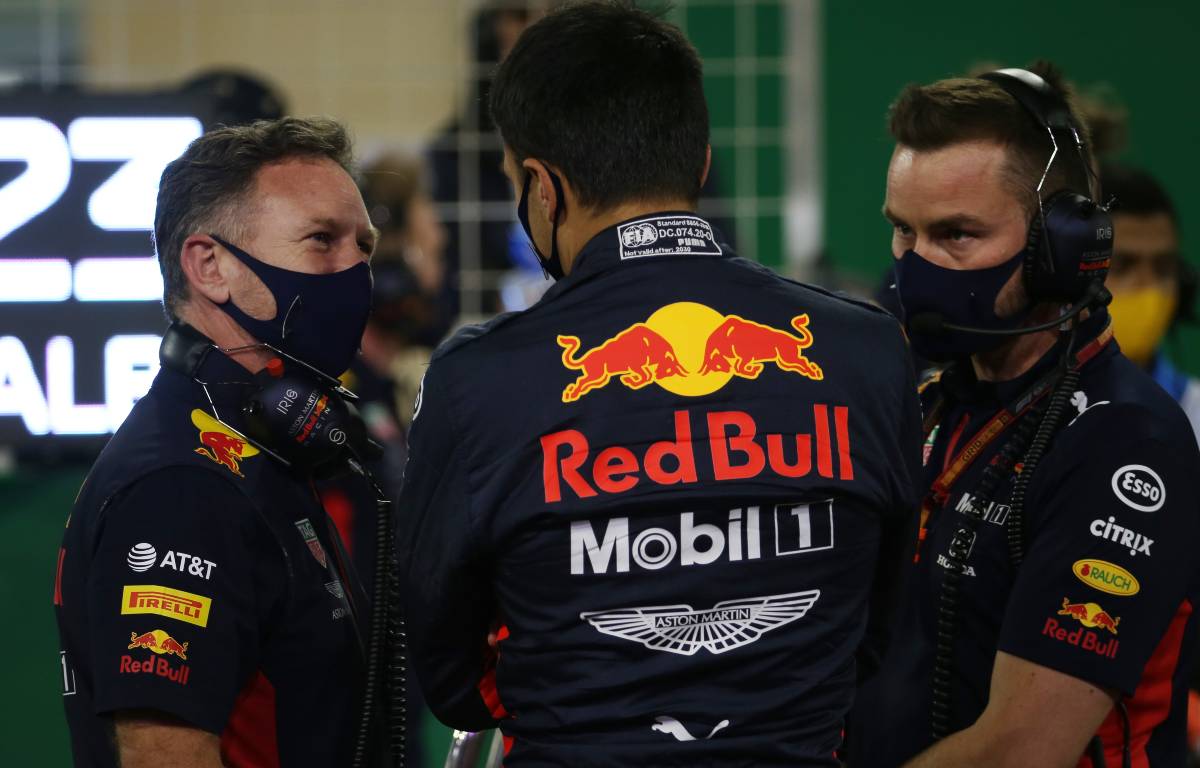 Driver and team face coverings are available now on the official Formula 1 store!
Throughout 2020 Horner used the Red Bull machinery as a defence for Albon, and he maintains that the RB16 was a difficult car for any inexperienced driver to master.
"It's hard for a young driver to be thrown into such a situation. We had a car the last two years that wasn't easy to drive. More so in 2020 than in 2019," he explained.

"When Alex got into our car in the middle of the season in 2019, he did a good job. Last season was tougher for him."
In choosing Perez over Albon, Red Bull took the rare decision of looking outside their junior programme, but Horner does not believe this highlights any flaws in their system.
"I think our junior programe fulfills its purpose and Helmut also selects the right people. It is unrealistic to expect a new world champion or winner every season. Our hit rate is right," he said.
"The fact that we are now stepping out of line and taking someone outside the squad as the best option doesn't mean we are doubting the system. I would rather say that we have the size to make an exception with Sergio.
"Pierre Gasly and Alex Albon are still permanent members of our squad. And there are also promising talents coming in. First and foremost, of course, Yuki Tsunoda. But Liam Lawson and Jüri Vips also make a very good impression. I'm not worried about our young talent."
Follow us on Twitter @Planet_F1, like our Facebook page and join us on Instagram!