Horner wants DRS rethink after Saudi 'cat and mouse' game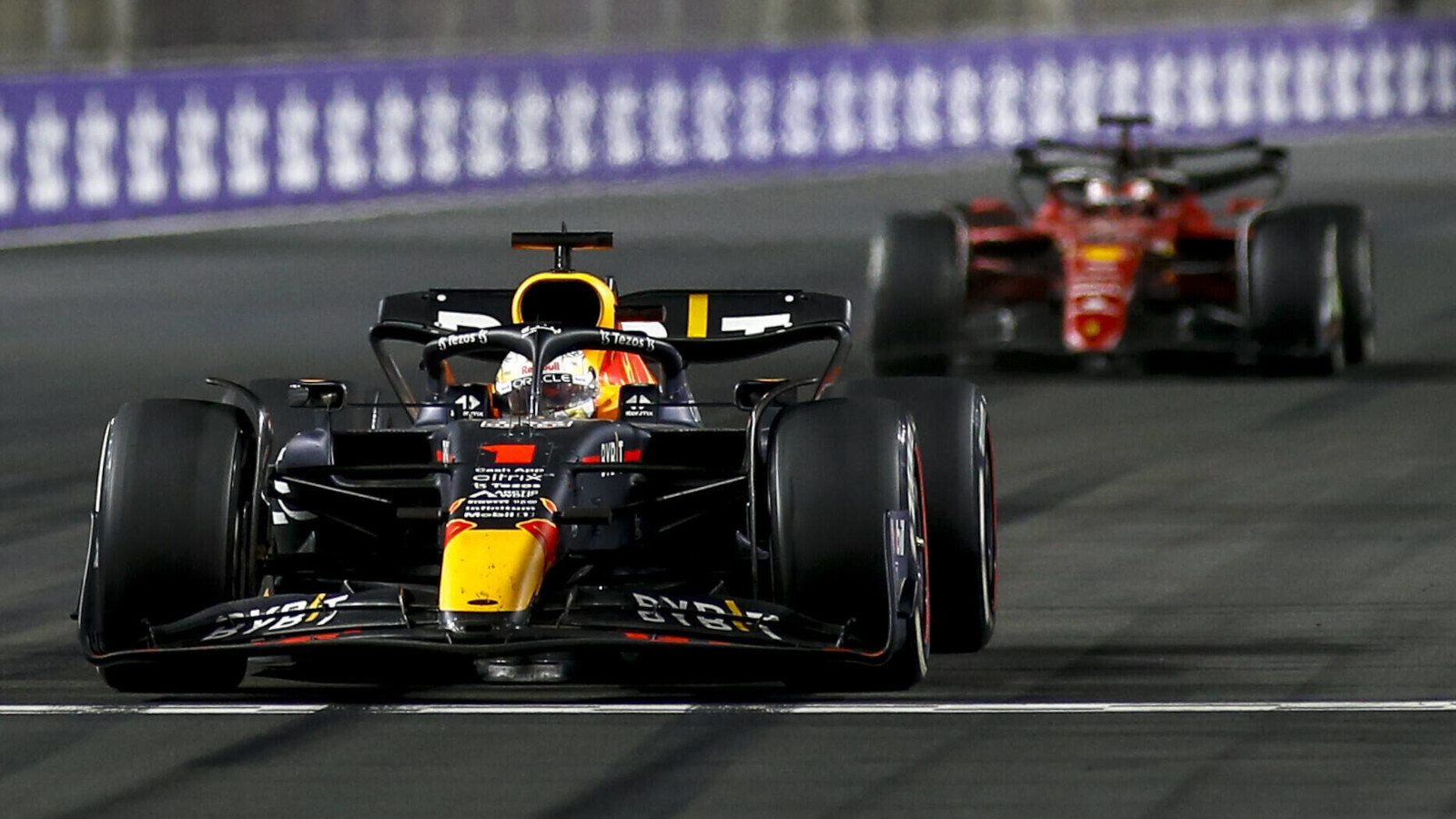 Christian Horner has called for a rethink of DRS after Max Verstappen and Charles Leclerc's "game of cat and mouse" at the Saudi Arabian Grand Prix.
With all-new cars on the grid this season, designed around ground-effect aerodynamics, Ferrari have emerged as Red Bull's main rival – at least in the opening two races of the season.
While Leclerc claimed victory at the season-opening Bahrain Grand Prix, it was Verstappen who was triumphant at the Jeddah Corniche Circuit on Sunday night.
The Dutchman came out on top in what Horner has described as a "game of cat and mouse" given the advantage of the DRS in Saudi.
With a long pit straight followed by a DRS zone that runs all the way towards Turn 1, between the slipstream and the DRS, passing into the last corner only set up the leader to be overtaken into the first.
Such is the advantage of the DRS that the protagonists even locked up their tyres as they both slammed on the brakes to avoid being first to cross the DRS detection point.
After you… 😇

No, after you… 🧐

The battle for DRS between @Charles_Leclerc and @Max33Verstappen 😅#SaudiArabianGP #F1 pic.twitter.com/8PaKNs8COP

— Formula 1 (@F1) March 28, 2022
Horner has called for Formula 1 to rethink the DRS zones.
"The DRS is so powerful [and] you could see there was a game of cat and mouse going on between the drivers where they would actually brake to a point where they accelerated into the corner," said Horner.
"I think maybe we should look at where that DRS detection is for future years because you definitely want to avoid being in that situation."
Verstappen, though, reckons he would not have been able to pass Leclerc for the lead had it not been for DRS.
"If I didn't have DRS I would have never passed," said the race winner.
"I think we are still too sensitive for that. And of course, some tracks are easier to pass on than others.
"But for me at the moment, if DRS wouldn't be there I would have been second."
Verstappen ultimately won the game, the Dutchman getting his title defence up and running with a 25-point haul.
"I thought it was a very mature drive by Max," added Horner.
"He looked after the tyres during the race, he made sure he had got tyres left for him at the end of the grand prix and he worked things out.
"There was a bit of cat and mouse going on at the DRS line, but then he worked out where he needed to be and nailed the pass and then just had enough to hold off Charles."
Planet F1 Verdict
Horner calls for DRS review after Saudi 'cat and mouse' game
Christian Horner is calling for a DRS review after the 'cat and mouse' game being played between Charles Leclerc and Max Verstappen.